Annie Smith Peck
By: Elina Shatkin
October 19, 2013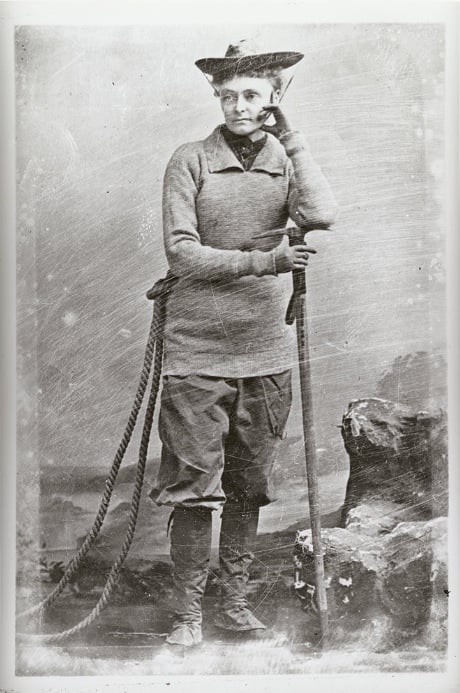 Remember when President Obama wanted to nominate Elizabeth Warren as director of the Consumer Financial Protection Bureau but certain politicians and financial institutions quashed that idea. Instead, Warren ran for and won a Senate seat in Massachusetts. ANNIE SMITH PECK (1850–1935) wanted to attend Brown University like her brothers but was denied admission because she was a woman. (In his 1873 bestseller Sex in Education, Harvard professor Edward H. Clarke had "proven" that higher education ruined women's minds and shriveled their reproductive organs.) Instead, Peck left Providence, R.I., behind and went on to earn a Master's degree in Greek from the University of Michigan, becoming a professor of archaeology and Latin. Along the way, the intrepid philologist took up mountaineering, scaling peaks in the Tyrolean Alps, volcanoes in Mexico, and eventually the Matterhorn — which she did while wearing trousers. At a time when women could be arrested for donning men's clothes, this sartorial act didn't land Peck in jail but she did earn a certain notoriety. At age 58, after five failed attempts, she finally summited the north peak of Mount Nevado Huascarán in Peru. Although it was not as high as she had estimated, Peck became the only woman to make the first ascent of one of the world's major peaks. Three years later when she reached the top of Mount Coropuna, the suffragette mountaineer planted a flag that proclaimed, "Votes for Women." That dream would become a reality when Peck was 70.
***
ADVENTURERS as HILO HEROES: Katia Krafft | Freya Stark | Louise Arner Boyd | Mary Kingsley | Bruce Chatwin | Hester Lucy Stanhope | Annie Smith Peck | Richard Francis Burton | Isabella Lucy Bird | Calamity Jane | Ernest Shackleton | Osa Helen Johnson | Redmond O'Hanlon | Gertrude Bell | George Mallory | Neta Snook | Jane Digby | Patty Wagstaff | Wilfred Thesiger | Joe Carstairs | Florence "Pancho" Barnes | Erskine Childers | Jacques-Yves Cousteau | Michael Collins | Thor Heyerdahl | Jean-Paul Clébert | Tristan Jones | Neil Armstrong
On his or her birthday, HiLobrow irregularly pays tribute to one of our high-, low-, no-, or hilobrow heroes. Also born this date: Karl Wallinger and Divine.
READ MORE about members of the New Promethean Generation (1844–53).