Osa Helen Johnson
By: Elina Shatkin
March 14, 2013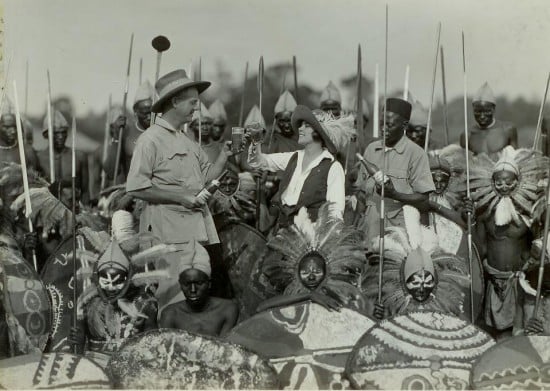 Before the safari became a rich man's game or a fashion trend, it was an arduous quest — and no one made it look as thrilling as Martin and OSA JOHNSON (Osa Helen, 1894–1953). As she wrote in her bestselling (and distinctively bound) 1940 memoir, I Married Adventure, Osa was 16 when Martin Johnson showed up in Chanute, Kansas on a lecture tour after sailing the South Pacific with Jack London. Osa and Martin married after only three weeks. Their first major expedition, a nine-month trip around the Solomon Islands and Vanuatu, might have ended abruptly when warriors from a tribe known as the Big Nambas (named for the large penis sheath worn by the men) wanted to hold the Johnsons hostage. With the help of a British gunboat, they escaped; the result was their salaciously named film Among the Cannibal Isles of the South Pacific. For two decades, the pair of self-described "motion picture explorers" forged one of the most unique partnerships in the annals of travel. Between voyages to film Pygmies in northern Uganda, mountain gorillas in the Belgian Congo, and the first airborne images of Mount Kilimanjaro and Mount Kenya, they would return to the U.S. to give talks, write books, and screen their footage. Martin was usually the director, Osa the producer. Rarely was the action staged. When a rhinoceros charged them as they were filming, Osa (a crack shot) picked up a rifle and calmly killed the animal while Martin kept the camera rolling. Martin died in 1937 on a commercial flight that crashed in California. Though severely injured in the crash, Osa continued their tour. Nine months later, she was once again sending dispatches from Africa. For a woman who married into adventure, she made it all her own.
***
ADVENTURERS as HILO HEROES: Katia Krafft | Freya Stark | Louise Arner Boyd | Mary Kingsley | Bruce Chatwin | Hester Lucy Stanhope | Annie Smith Peck | Richard Francis Burton | Isabella Lucy Bird | Calamity Jane | Ernest Shackleton | Osa Helen Johnson | Redmond O'Hanlon | Gertrude Bell | George Mallory | Neta Snook | Jane Digby | Patty Wagstaff | Wilfred Thesiger | Joe Carstairs | Florence "Pancho" Barnes | Erskine Childers | Jacques-Yves Cousteau | Michael Collins | Thor Heyerdahl | Jean-Paul Clébert | Tristan Jones | Neil Armstrong
On his or her birthday, HiLobrow irregularly pays tribute to one of our high-, low-, no-, or hilobrow heroes. Also born this date: Algernon Blackwood, Robert Bingham, Maurice Merleau-Ponty, Diane Arbus.
READ MORE about men and women born on the cusp between the Modernist (1884–93) and Hardboiled (1894-1903) Generations.