Florence "Pancho" Barnes
By: Peggy Nelson
July 22, 2010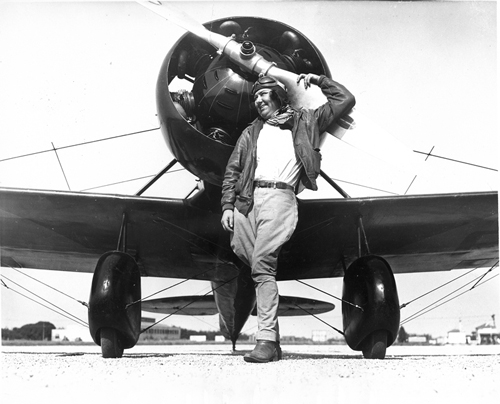 High society was no match for the high spirits of Florence Lowe "Pancho" Barnes (1901-1975),
the heiress-turned-adventuress-turned-aviatrix. Alarmed parents, perhaps sensing the future, married her off at 18 to a minister. But the minute she came into her inheritance she was off, disguised as a man, working her way via tramp steamer and donkey down the coast and across Mexico, acquiring her nickname when her companion misremembered the name of Don Quixote's sidekick. Having conquered the earth and sea Barnes turned to the air; 6 hours after hatching the idea she was flying solo. Against regulations, of course. Running her own air show, racing, and besting Earhart's women's speed record, she delighted equally in barnstorming her husband's church during services, just for the hell of it. Having succeeded as a stunt pilot she then played one in the movies, flying in such fare as Howard Hughes' Hell's Angels. Even the Great Depression and loss of her fortune couldn't ground her. She opened up a fly-in dude ranch and bar in the Mojave desert, nicknamed it the "Happy Bottom Riding Club," and served up the right stuff to Chuck Yeager and friends. Posthumously, Barnes's legend lost ground to Earhart's early death, and is past due for a rematch.
***
ADVENTURERS as HILO HEROES: Katia Krafft | Freya Stark | Louise Arner Boyd | Mary Kingsley | Bruce Chatwin | Hester Lucy Stanhope | Annie Smith Peck | Richard Francis Burton | Isabella Lucy Bird | Calamity Jane | Ernest Shackleton | Osa Helen Johnson | Redmond O'Hanlon | Gertrude Bell | George Mallory | Neta Snook | Jane Digby | Patty Wagstaff | Wilfred Thesiger | Joe Carstairs | Florence "Pancho" Barnes | Erskine Childers | Jacques-Yves Cousteau | Michael Collins | Thor Heyerdahl | Jean-Paul Clébert | Tristan Jones | Neil Armstrong
On his or her birthday, HiLobrow irregularly pays tribute to one of our high-, low-, no-, or hilobrow heroes. Also born this date: James Whale
READ MORE about members of the Hardboiled Generation (1894-1903).