Todd Rundgren
By: Gary Panter
June 22, 2012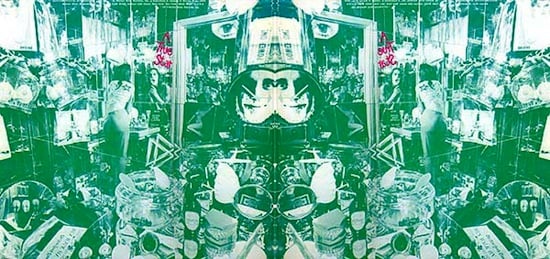 Tall, good looking, gifted with an edgy high-ceilinged white-boy soul voice, independent thinker, musical whiz, technical visionary, and self-proclaimed understander of women, TODD RUNDGREN (born 1948) can write on his tax return, resume, or taxonomy: ROCK STAR. His avid cult started in the late '60s with his Philly-based psych-R'n'B-styled rock combo Nazz, but really kicked into high scream with the 1970 solo album Runt, which previewed all his hooks. 1973's A Wizard, A True Star is an LSD trip that zags from Broadway to Dali and beyond; the album is best kept with the gatefold bent backwards to feature the photo of a bathroom where Todd is shaving in a lysergic vortice. The forceful slowdown transitioning between the rocking opener "International Feel" and the animated dream "Never Never Land" lets us know in the gut this is not a normal record; it over-delivers in a good way. Though many of us in the Seventies sported amazing and terrible iterations of hippie garb — threatening to fly to Mars on the longest lapels and from the highest platform shoes — no one has gone deeper into the glamhole than Rundgren (his piano revolving upside down onstage with him strapped to it, his body covered in intricate patterns of ostrich feathers, his plugged-in technautical expeditions) and survived. Those fans who lost the trail when he formed the prog outfit Utopia in 1974 have missed some fine songs, a phony Beatles album (1980's Deface the Music), and the 1976 mindblower Faithful, on which he recreates — note for note and arrangement-wise — some of his favorite pop songs. Today, Rundgren remains ahead of the glitter-rock curve and pulling away.
***
HILO HERO ITEMS by GARY PANTER: Tadanori Yokoo | Peter Saul | Yasuji Tanioka | H.C. Westermann | Öyvind Fahlström | Cal Schenkel | Eduardo Paolozzi | Tod Dockstader | Yayoi Kusama | Walter Lantz | Richard Lindner | Shigeru Sugiura | Todd Rundgren | Yoshikazu Ebisu | Jim Nutt | Judy Henske | Tod Dockstader | Jesse Marsh | Tetsumi Kudo | Larry Poons | Ed Sanders | Dick Briefer | Dick Briefer
On his or her birthday, HiLobrow irregularly pays tribute to one of our high-, low-, no-, or hilobrow heroes. Also born this date: Octavia Butler and Schoolly D.
READ MORE about members of the Blank Generation (1944–1953).