12 Days of Significance (11)
By: Lucy Sante
January 4, 2013
Eleventh in a holiday-season series of posts that will reprint short fiction written — by twelve HiLobrow contributors — for the collection Significant Objects: 100 Extraordinary Stories About Ordinary Things, eds. Rob Walker and HILOBROW's Joshua Glenn (Fantagraphics, August 2012).
The following story is by Luc Sante. Enjoy!
*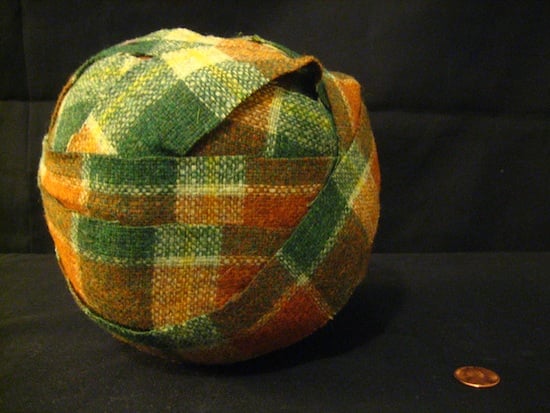 *
After my friend Claude had his accident I went to visit him in the hospital. When I saw him I had to cough to divert a laugh. He looked like a guy in a cartoon, his entire body wrapped in bandages. He had broken everything that could be broken, from his skull to his toes. Somehow he was conscious and could speak, although to hear him I had to put my ear right up to his mouth-hole. I thought he said "door," so I shut it, but he was still agitated. Eventually I got it: "drawer." The one in his bedside stand contained a single object, a ball of wrapped flannel that looked like his head, only more colorful. I went to pick it up with my fingertips, but then had to readjust. Astonishingly, the thing weighed at least five pounds. I gaped at it, but Claude was making noises. I finally understood: "Don't unwrap it."
Claude went to glory a week later, felled by some hospital bug. The ball sat on the shelf next to my bowling trophies. Occasionally I'd blow the dust off and pick it up just to feel its weird heft. After a while I forgot about it, as stuff got parked in front of it and stayed there. One night I was rooting around trying to find my paintball gun and there it was. When I picked it up it seemed twice as heavy. I got spooked and reburied it.
Time passed. The seasons came and went: hockey, muskrat, sweeps week, estrus. I grew a mustache and shaved it off, twice. I enjoyed the stylings of eight cars for varying lengths of time. I fell in love with Sheila, Bambi, Marla, Candy, Darla, Brandy, and Concepción. At work I climbed from office boy to field officer to regional sales manager to CFO, and then back down again. My apartment grew ever denser with stuff. I could barely move around, and tended to use and wear only things from the top layer, a fleeting category. One time I was poking around for some itch cream when my hand grasped the ball. I couldn't move it.
Then, on a dark November morning, as I was lying in bed watching paragliding accidents on TV, the crash came. My shelves buckled and caved in the middle, one by one. There appeared a sinkhole in the floor, which sucked piles and piles of stuff down to hell, or at least the garage level. Then cracks appeared in the walls.
As the other residents and I huddled across the street in our bathrobes, watching the fire department string caution tape around the building, the whole thing shuddered briefly and then dissolved in a blizzard of concrete. We stood transfixed and mute as the dust died down, what seemed like hours. Then something emerged from the ruins, a colorful little ball that seemed to shoulder its way out and then rolled straight to my feet. I picked it up. It weighed nothing.
*
Original price: $1.50. Final price: $51.00.
HILO HERO ITEMS by LUC SANTE: Dashiell Hammett | Pancho Villa | James M. Cain | Georges Bataille | Félix Fénéon | Émile Henry | A.J. Liebling | Jim Thompson | Joe Hill | Nestor Makhno | Hans Magnus Enzensberger | Captain Beefheart | William Burroughs | Ring Lardner | Lee "Scratch" Perry | Serge Gainsbourg | Kathy Acker | Arthur Cravan | Weegee | Alexander Trocchi | Ronnie Biggs | George Ade | Georges Darien | Zo d'Axa | Petrus Borel | Blaise Cendrars | Alexandre Jacob | Constance Rourke | Damia | J-P Manchette | Jean-Paul Clebert | Pierre Mac Orlan | Comte De Lautreamont | André Breton | Robert Desnos | Arthur Rimbaud |