12 Days of Significance (2)
By: Patrick Cates
December 26, 2012
Second in a holiday-season series of posts that will reprint short fiction written — by twelve HiLobrow contributors — for the collection Significant Objects: 100 Extraordinary Stories About Ordinary Things, eds. Rob Walker and HILOBROW's Joshua Glenn (Fantagraphics, August 2012).
The following story is by Patrick Cates. Enjoy!
*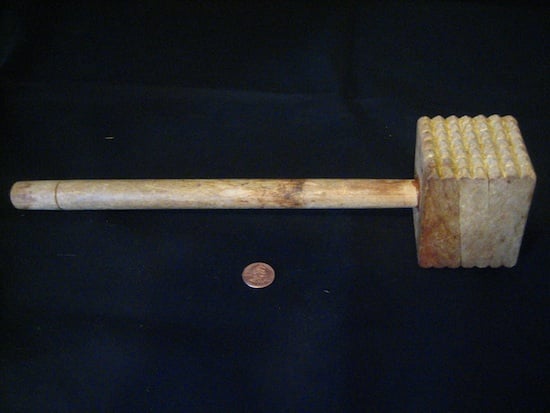 *
"Gastro-wot, Tone?"
The regular punters were not happy when Tony told them that he couldn't afford to run the Haunch of Venison any more and that, after 20 years as landlord, he had no choice but to sell up to some toff who'd made a fortune in the City and now wanted his own gastropub. The Haunch of Venison was undoubtedly a rough old boozer that needed sharpening up — yellow walls from the days before the smoking ban; crumbling plaster on the Victorian, molded ceiling; carpet that was more stain than carpet. But it was a hub. A vital organ. A satellite of Smithfield meat market that tucked itself away up Charterhouse Street and brought together butchers, drivers, packers, farmers — anyone who had anything to do with the trade and who needed to soothe the pain of a seriously early start with a couple of pints and a fry-up.
"Jesus, Tone. The old man'll be turning in his grave."
Ray Burkiss had run the pub for 43 years until he retired. And in that time he had peppered the place with all manner of meat memorabilia. Tony was born upstairs, had started collecting glasses when he was still in shorts and, as soon as he had left school without so much as an O-level, had assumed the predictable position of Ray's heir. And, when Ray died in 1980, Tony was crowned governor and carnal curator of the Haunch.
***
The Haunch's final day came and whistled by. An all-day and all-night procession of meat-industry men lining up with chokes and tears to clench Tony tightly and tell him that it was a shocking state of affairs. At ten to eleven, a defeated Tony followed his usual routine. He pulled the wooden meat tenderizer out of the lamb skull where it sat all day, held it back over his shoulder and smashed it down on the brass bell that hung above the bar. Over the top of the fading clang, he bellowed "Last orders!" like a sergeant major and awaited the onrush. And then, ten minutes later, another smash with the hammer. "Time at the bar!"
When there were just five of us left, gathered silently in a boozy huddle on the public side of the bar, Tony pulled out an unopened litre of Teacher's from under the counter and set it down in front of us. He unscrewed the cap, reached up for a glass with one hand and filled it with the other. He threw the glass up to his lips, bolted the contents and slammed the glass down. Another: fill, bolt, slam. And another. And another.
"Steady on, Tone."
Sean broke the silence. Tony glared at him and, without looking away, picked up the bottle, put it to his lips and started glugging. A few shocked seconds elapsed before Sean reached over the bar and tried to yank the bottle away from Tony's mouth. Tony yanked back, and in the fumble that followed, the bottle flew behind him, crashed into two of the optics, knocked them off their mountings and cracked a sprawling web across the Haunch's most valuable artifact: a giant, wall-mounted mirror engraved with the image of a startled buck hemmed in by the name of the pub.
In a one-two of disbelief and devastation, Tony let out a violent roar, reached for the nearest weapon he could find, the meat tenderizer, and, with a backbeat of regular, heaving sobs, whirled round and round swiping at everything within his reach.
*

Original price: $1.00. Final price: $29.00.