12 Days of Significance (21)
By: Dan Reines
January 2, 2017
One in a holiday-season series of posts that will reprint stories written — by 12 HILOBROW contributors — for the 2009–2010 SIGNIFICANT OBJECTS project. (In 2012–2013, we reprinted 12 stories by HILOBROW contributors that were also to be found in the Fantagraphics-published collection Significant Objects: 100 Extraordinary Stories About Ordinary Things.)
The following story is by Dan Reines. Enjoy!
*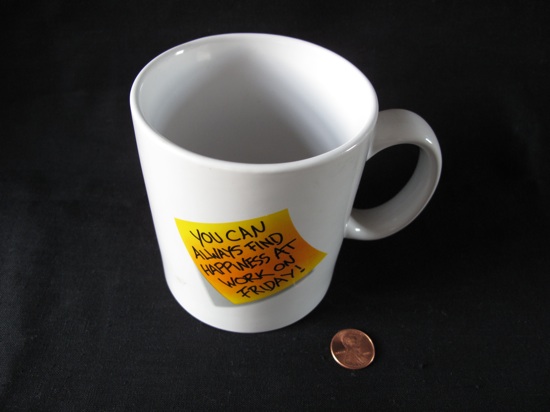 *
I think it was Ted Spain's to start with, though I'm not sure. He used to take it to meetings, and on Fridays before the all-staff I'd see him filling it with gin from a bottle he kept in his second drawer.
No, serious! He knew I knew, too — he looked up once and I was staring at him like you're looking at me, and he just sort of, you know — you want some? With a big smile on his face. I didn't take him up on it, but sometimes I think I should have. I mean, pretty much that whole year before you got here, I should have.
Anyway. So Ted had it, and he did that pretty much every week for five months until he got laid off when they got rid of the design staff. Remember? Right before Easter, too. And when he left, on his last day, he walked by my cube on his way out and set it on my desk, and it was full, and he winked at me and that's the last time I saw him.
So that's kinda how the Death Mug became the Death Mug. When Lara got fired, her and Manny and me went to the parking lot and did about five tequila shots each from it, and then when Sharon left to go take care of her mom in Seattle, she brought in some box wine and a bunch of us went over to the Piper and sat on the patio and drank it, and she drank out of the mug. And then she came back after her mom died, and they laid her off about six weeks later, and we did it again, only me and Tracey brought the wine this time and we made sure it was good wine.
"Nothing pink!" That was Tracey's rule. Good rule, right? For wine? "Nothing pink!" Only he said it the way Tracey would say it.
So I don't know. I guess it's a, a thing now. It's the Death Mug. We break it out every time this happens, or whatever. Three rounds of layoffs, plus Lara and then Tracey. And when Bette left to marry Evil Eye — God, she drank like half a bottle!
Anyway. I was wondering if you'd want to meet me outside. I have some gin in my car. It's been there since Easter.
And then, you know. I figured I'd leave it with you, right?
***
SIGNIFICANT OBJECTS at HILOBROW: PROJECT:OBJECT homepage | PROJECT:OBJECT newsletter | PROJECT:OBJECT objects (Threadless shop — all profits donated to the ACLU) | POLITICAL OBJECTS series (1Q2017) | TALISMANIC OBJECTS series (2Q2017) | ILLICIT OBJECTS series (3Q2017) | LOST OBJECTS vol. 1 series (4Q2017) | FLAIR series (2Q2018) | FOSSIL series (4Q2018). 12 DAYS OF SIGNIFICANCE | 12 MORE DAYS OF SIGNIFICANCE | 12 DAYS OF SIGNIFICANCE (AGAIN) | ANOTHER 12 DAYS OF SIGNIFICANCE . ALSO SEE: SIGNIFICANT OBJECTS website | SIGNIFICANT OBJECTS collection, ed. Rob Walker and Josh Glenn (Fantagraphics, 2012) | TAKING THINGS SERIOUSLY, ed. Josh Glenn (Princeton Architectural Press, 2007) | TAKING THINGS SERIOUSLY excerpts.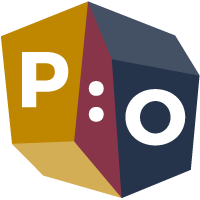 CURATED SERIES at HILOBROW: UNBORED CANON by Josh Glenn | CARPE PHALLUM by Patrick Cates | MS. K by Heather Kasunick | HERE BE MONSTERS by Mister Reusch | DOWNTOWNE by Bradley Peterson | #FX by Michael Lewy | PINNED PANELS by Zack Smith | TANK UP by Tony Leone | OUTBOUND TO MONTEVIDEO by Mimi Lipson | TAKING LIBERTIES by Douglas Wolk | STERANKOISMS by Douglas Wolk | MARVEL vs. MUSEUM by Douglas Wolk | NEVER BEGIN TO SING by Damon Krukowski | WTC WTF by Douglas Wolk | COOLING OFF THE COMMOTION by Chenjerai Kumanyika | THAT'S GREAT MARVEL by Douglas Wolk | LAWS OF THE UNIVERSE by Chris Spurgeon | IMAGINARY FRIENDS by Alexandra Molotkow | UNFLOWN by Jacob Covey | ADEQUATED by Franklin Bruno | QUALITY JOE by Joe Alterio | CHICKEN LIT by Lisa Jane Persky | PINAKOTHEK by Luc Sante | ALL MY STARS by Joanne McNeil | BIGFOOT ISLAND by Michael Lewy | NOT OF THIS EARTH by Michael Lewy | ANIMAL MAGNETISM by Colin Dickey | KEEPERS by Steph Burt | AMERICA OBSCURA by Andrew Hultkrans | HEATHCLIFF, FOR WHY? by Brandi Brown | DAILY DRUMPF by Rick Pinchera | BEDROOM AIRPORT by "Parson Edwards" | INTO THE VOID by Charlie Jane Anders | WE REABSORB & ENLIVEN by Matthew Battles | BRAINIAC by Joshua Glenn | COMICALLY VINTAGE by Comically Vintage | BLDGBLOG by Geoff Manaugh | WINDS OF MAGIC by James Parker | MUSEUM OF FEMORIBILIA by Lynn Peril | ROBOTS + MONSTERS by Joe Alterio | MONSTOBER by Rick Pinchera | POP WITH A SHOTGUN by Devin McKinney | FEEDBACK by Joshua Glenn | 4CP FTW by John Hilgart | ANNOTATED GIF by Kerry Callen | FANCHILD by Adam McGovern | BOOKFUTURISM by James Bridle | NOMADBROW by Erik Davis | SCREEN TIME by Jacob Mikanowski | FALSE MACHINE by Patrick Stuart | 12 DAYS OF SIGNIFICANCE | 12 MORE DAYS OF SIGNIFICANCE | 12 DAYS OF SIGNIFICANCE (AGAIN) | ANOTHER 12 DAYS OF SIGNIFICANCE | UNBORED MANIFESTO by Joshua Glenn and Elizabeth Foy Larsen | H IS FOR HOBO by Joshua Glenn | 4CP FRIDAY by guest curators