12 DAYS OF SIGNIFICANCE (52)
By: Blake Butler
December 28, 2019
One in an ongoing, seasonal series via which we cross-post stories originally written — by HILOBROW contributors and friends — for Josh Glenn and Rob Walker's 2009–2010 anthropological-literary experiment SIGNIFICANT OBJECTS. This 2019–2020 installment of 12 stories will bring the series total to 60.
See below for links to more info about both SIGNIFICANT OBJECTS and PROJECT:OBJECT.
*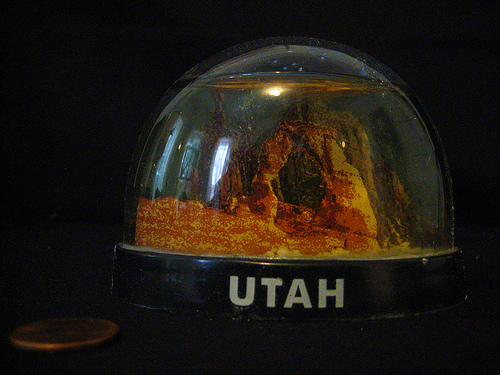 UTAH SNOW GLOBE
My granddad's granddad had a box under his bed. If you got to open the box (you had to beg) you would find a little door. The little door had a combination on it that you had to know to get inside the second box, which I did. I had the combination tattooed on my spinemeat when I was four while on a trip to see the circus. The tattoo was free. My granddad's granddad was very powerful and rich.
With granddad's granddad in the bed asleep above me, I opened up the box inside the box. My knees were bloody from the begging. I could see way down into the box. There was a black pattern, then a ladder. I fell forward and grabbed ahold. The inside of the box smelled like the backyard where the money got made from skin. I began to climb along the ladder, getting older every rung. I was a very special boy.
The room under my granddad's granddad's room was octagon-shaped. As I climbed into the room, the mouth to it closed. The walls along the room were lined with little cubbies. There were more cubbies than I have days I've lived, or hairs that I have grown, which is also more than how many mouths I'd put my mouth against if I lived to be very, very old.
In each of the cubbies there was a little globe. Each globe held another little thing, each named with a label for what the thing was. There was a cubby with a globe containing FIRST EVER REDWOOD TREE. One containing PERRY MASON. One containing PEAS. The globe containing JOYOUS LONGING held a bright pink liquid smoke. PERRY MASON looked pissed off.
The globe containing UTAH made a burning sound against my head, and there were all these people chanting, and my face got all sandy and all wet. I shook it and it made my blood tingle and some coins appeared in my hands. I had so many gold coins I could live forever. Some of the coins were chocolate, which was food.
The ladder would not come back down. I could find no door in all the cubbies. No doorbell or key or gun.
In one cubby I could see out of the room beneath granddad's granddad's room. I could see back into the house where I'd grown up. In a little mirror on the counter across from where I was I could see back onto the label underneath the cubby in the house that held the globe I was inside now: MY GREAT GREAT GREAT GRANDSON.
***
CROSS-POSTED FROM SIGNIFICANT OBJECTS: Matthew Battles on CANDYLAND | Patrick Cates on MEAT TENDERIZER | Matthew De Abaitua on PIGGY BANK | Mark Frauenfelder on JUG | Jason Grote on DOME DOLL | Mimi Lipson on HALSTON MUG | Annie Nocenti on JFK BUST | Gary Panter on DIVE MASK | James Parker on KITTY SAUCER | Greg Rowland on MUSHROOM SHAKER | Luc Sante on FLANNEL BALL | Douglas Wolk on PORTABLE HAIR DRYER | Annalee Newitz on COCONUT CUP | Cintra Wilson on TROPHY | Jen Collins on UNCOLA GLASS | Joanne McNeil on GRAIN THING | Jonathan Lethem on MISSOURI SHOTGLASS | Sarah Weinman on UNICORN FIGURINE | Shelley Jackson on CRUMB SWEEPER | Barbara Bogaev on JUST MARRIED CUP | Dan Reines on FRIDAY MUG | Jenny Offill on MINIATURE TURKEY DINNER | Katie Hennessey on WOODEN FIGURINE | James Hannaham on NAPKIN RING | Bruce Sterling on METAL BOOT | Colson Whitehead on WOODEN MALLET | Jenny Davidson on TOY HOT DOG | Kate Bernheimer on PINK HORSE | Lydia Millet on CHILI CAT | Matthew Sharpe on MULE FIGURINE | Meg Cabot on WOODEN ANIMAL | Sara Ryan on POPSICLE STICK CONSTRUCTION | Ed Park on COW VASE | Jessica Helfand on ELVIS CHOCOLATE TIN | Sheila Heti on CAPE COD SHOE | William Gibson on "HAWK" ASHTRAY | Ben Greenman on SMILING MUG | Dean Haspiel on KENTUCKY DISH | Doug Dorst on RUSSIAN FIGURE | Kurt Andersen on SANTA NUTCRACKER | Matt Brown on CRUMPTER | Chris Adrian on KANGAMOUSE | Nicholson Baker on MEAT THERMOMETER| Rachel Axler on FORTUNE TELLING DEVICE | Sean Howe on PABST BOTTLE OPENER | Susannah Breslin on NECKING TEAM BUTTON | Tim Carvell on ROUND BOX | Susanna Daniel on SHARK AND SEAL PENS | Curtis Sittenfeld on SPOTTED DOGS FIGURINE | Matthew Klam on DUCK VASE | Merrill Markoe on FLIP-FLOP FRAME | Blake Butler on UTAH SNOW GLOBE | Neil LaBute on RABBIT CANDLE | Rob Agredo on LIGHTER SHAPED LIKE SMALL POOL BALL | Rosecrans Baldwin on PRAYING HANDS | Rob Baedeker on FOPPISH FIGURINE | Scarlett Thomas on BIRTHDAY CANDLES | Wayne Koestenbaum on DUCK NUTCRACKER | Jeff Turrentine on "WOMEN & INFANTS" GLASS | Joe Lyons on LETTERS AND NUMBERS PLATE
SIGNIFICANT OBJECTS at HILOBROW: PROJECT:OBJECT homepage | PROJECT:OBJECT newsletter | PROJECT:OBJECT objects (Threadless shop — all profits donated to the ACLU) | POLITICAL OBJECTS series (1Q2017) | TALISMANIC OBJECTS series (2Q2017) | ILLICIT OBJECTS series (3Q2017) | LOST OBJECTS vol. 1 series (4Q2017) | FLAIR series (2Q2018) | FOSSIL series (4Q2018). 12 DAYS OF SIGNIFICANCE | 12 MORE DAYS OF SIGNIFICANCE | 12 DAYS OF SIGNIFICANCE (AGAIN) | ANOTHER 12 DAYS OF SIGNIFICANCE . ALSO SEE: SIGNIFICANT OBJECTS website | SIGNIFICANT OBJECTS collection, ed. Rob Walker and Josh Glenn (Fantagraphics, 2012) | TAKING THINGS SERIOUSLY, ed. Josh Glenn (Princeton Architectural Press, 2007) | TAKING THINGS SERIOUSLY excerpts.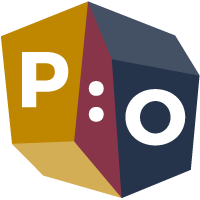 CURATED SERIES at HILOBROW: UNBORED CANON by Josh Glenn | CARPE PHALLUM by Patrick Cates | MS. K by Heather Kasunick | HERE BE MONSTERS by Mister Reusch | DOWNTOWNE by Bradley Peterson | #FX by Michael Lewy | PINNED PANELS by Zack Smith | TANK UP by Tony Leone | OUTBOUND TO MONTEVIDEO by Mimi Lipson | TAKING LIBERTIES by Douglas Wolk | STERANKOISMS by Douglas Wolk | MARVEL vs. MUSEUM by Douglas Wolk | NEVER BEGIN TO SING by Damon Krukowski | WTC WTF by Douglas Wolk | COOLING OFF THE COMMOTION by Chenjerai Kumanyika | THAT'S GREAT MARVEL by Douglas Wolk | LAWS OF THE UNIVERSE by Chris Spurgeon | IMAGINARY FRIENDS by Alexandra Molotkow | UNFLOWN by Jacob Covey | ADEQUATED by Franklin Bruno | QUALITY JOE by Joe Alterio | CHICKEN LIT by Lisa Jane Persky | PINAKOTHEK by Luc Sante | ALL MY STARS by Joanne McNeil | BIGFOOT ISLAND by Michael Lewy | NOT OF THIS EARTH by Michael Lewy | ANIMAL MAGNETISM by Colin Dickey | KEEPERS by Steph Burt | AMERICA OBSCURA by Andrew Hultkrans | HEATHCLIFF, FOR WHY? by Brandi Brown | DAILY DRUMPF by Rick Pinchera | BEDROOM AIRPORT by "Parson Edwards" | INTO THE VOID by Charlie Jane Anders | WE REABSORB & ENLIVEN by Matthew Battles | BRAINIAC by Joshua Glenn | COMICALLY VINTAGE by Comically Vintage | BLDGBLOG by Geoff Manaugh | WINDS OF MAGIC by James Parker | MUSEUM OF FEMORIBILIA by Lynn Peril | ROBOTS + MONSTERS by Joe Alterio | MONSTOBER by Rick Pinchera | POP WITH A SHOTGUN by Devin McKinney | FEEDBACK by Joshua Glenn | 4CP FTW by John Hilgart | ANNOTATED GIF by Kerry Callen | FANCHILD by Adam McGovern | BOOKFUTURISM by James Bridle | NOMADBROW by Erik Davis | SCREEN TIME by Jacob Mikanowski | FALSE MACHINE by Patrick Stuart | 12 DAYS OF SIGNIFICANCE | 12 MORE DAYS OF SIGNIFICANCE | 12 DAYS OF SIGNIFICANCE (AGAIN) | ANOTHER 12 DAYS OF SIGNIFICANCE | UNBORED MANIFESTO by Joshua Glenn and Elizabeth Foy Larsen | H IS FOR HOBO by Joshua Glenn | 4CP FRIDAY by guest curators