12 DAYS OF SIGNIFICANCE (41)
By: Matt Brown
December 29, 2018
One in a 2018–2019 series of posts reprinting stories originally written — by 12 HILOBROW contributors and friends — for Josh Glenn and Rob Walker's 2009–2010 anthropological-literary experiment SIGNIFICANT OBJECTS. See below for more info about this ongoing project.
*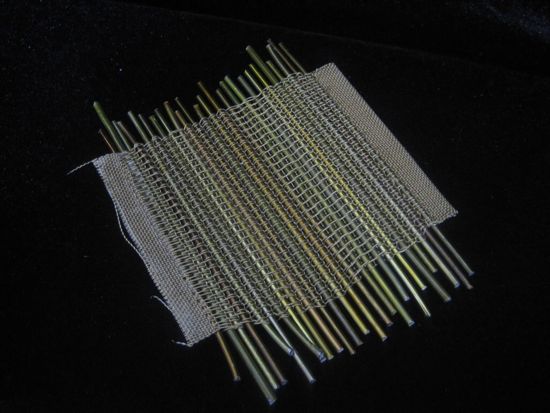 When I first met Ron Chutney I was 16 and looking to cut a record. Sang a few songs for him at his studio and I remember my voice being horrible and embarrassing, so imagine my excitement when Ron heard the first track and said, "Yeah we can Crumpter that up just fine." Crumpters. Today auto-tuned vocals are all the rage, but no one remembers the analog version Chutney created back in the late '50s. It was a way for guys like me to get an acceptable track out. You see, if you sang through it, your voice would be pitch perfect every time, "like an angel," Ron would say. Nowadays they teach advanced harmonics in the third grade, so I probably don't have to explain to you how a Crumpter works — but I will anyway. Each one has to be made by hand, in the winter, in Detroit. The metal rods all have a special resonance, like tuning forks, and they're all connected with this special metal mesh. When a note is sung into a Crumpter, it sort of corrects it and adds a little bit of a chorus effect — something that you cannot get rid of. If you have the time, do a Google search for "Harmonic Shuffling" or "Lowbrow Harmonizers."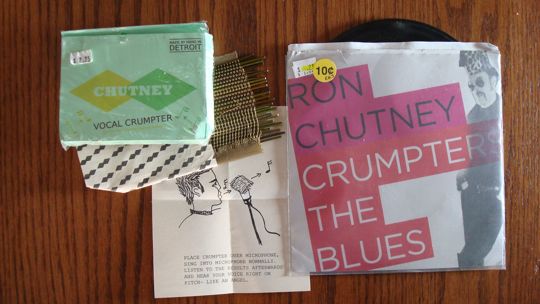 Thanks to vocoders and other new technologies, the Crumpter ceased to exist. Like the cloudberries of Sweden or truffles, Crumpters couldn't be mass-produced. Each one took about two months of labor to make and it kills me to see them selling at garage sales for less than five bucks. Just last week I picked up a copy of Ron's first album for ten cents at a thrift store. Ten cents!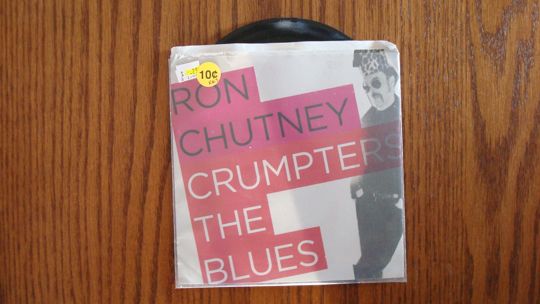 This Crumpter is one that I saved from way back. Over the years a lot of famous people have sang through it: Betty Hunk, "Ambi" Davis, Thumbs/Fingers, and Shoots Donsson, to name a few. The package is actually newer, got that for a dollar about five years ago — it still has the shrink wrap, but has been slit open on the side, not a bad box considering how rare these things are.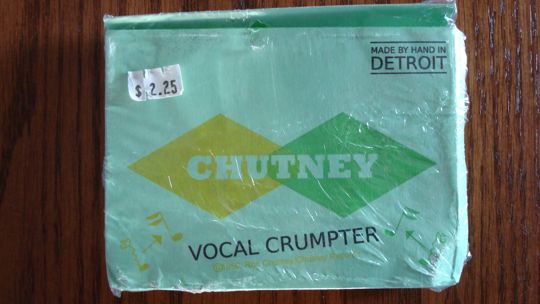 I have absolutely no idea what ever happened to Ron Chutney. No one knows — I've been trying to find out for the last 20 years. I'm hoping that someone, somewhere, reading this, can give me some information on what happened to Ron. And even if we never find out, I hope that someone can start Crumptering again in his honor. Thanks for reading.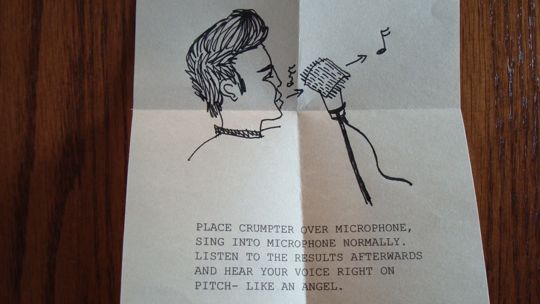 ***
ANOTHER 12 DAYS OF SIGNIFICANCE: Ben Greenman on SMILING MUG | Dean Haspiel on KENTUCKY DISH | Doug Dorst on RUSSIAN FIGURE | Kurt Andersen on SANTA NUTCRACKER | Matt Brown on CRUMPTER | Chris Adrian on KANGAMOUSE | Nicholson Baker on MEAT THERMOMETER | Rachel Axler on FORTUNE-TELLING DEVICE | Sean Howe on PABST BOTTLE OPENER | Susannah Breslin on NECKING TEAM BUTTON | Tim Carvell on ROUND BOX | Susanna Daniel on SHARK AND SEAL PENS
SIGNIFICANT OBJECTS at HILOBROW: PROJECT:OBJECT homepage | PROJECT:OBJECT newsletter | PROJECT:OBJECT objects (Threadless shop — all profits donated to the ACLU) | POLITICAL OBJECTS series (1Q2017) | TALISMANIC OBJECTS series (2Q2017) | ILLICIT OBJECTS series (3Q2017) | LOST OBJECTS vol. 1 series (4Q2017) | FLAIR series (2Q2018) | FOSSIL series (4Q2018). 12 DAYS OF SIGNIFICANCE | 12 MORE DAYS OF SIGNIFICANCE | 12 DAYS OF SIGNIFICANCE (AGAIN) | ANOTHER 12 DAYS OF SIGNIFICANCE . ALSO SEE: SIGNIFICANT OBJECTS website | SIGNIFICANT OBJECTS collection, ed. Rob Walker and Josh Glenn (Fantagraphics, 2012) | TAKING THINGS SERIOUSLY, ed. Josh Glenn (Princeton Architectural Press, 2007) | TAKING THINGS SERIOUSLY excerpts.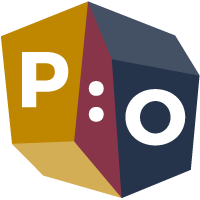 CURATED SERIES at HILOBROW: UNBORED CANON by Josh Glenn | CARPE PHALLUM by Patrick Cates | MS. K by Heather Kasunick | HERE BE MONSTERS by Mister Reusch | DOWNTOWNE by Bradley Peterson | #FX by Michael Lewy | PINNED PANELS by Zack Smith | TANK UP by Tony Leone | OUTBOUND TO MONTEVIDEO by Mimi Lipson | TAKING LIBERTIES by Douglas Wolk | STERANKOISMS by Douglas Wolk | MARVEL vs. MUSEUM by Douglas Wolk | NEVER BEGIN TO SING by Damon Krukowski | WTC WTF by Douglas Wolk | COOLING OFF THE COMMOTION by Chenjerai Kumanyika | THAT'S GREAT MARVEL by Douglas Wolk | LAWS OF THE UNIVERSE by Chris Spurgeon | IMAGINARY FRIENDS by Alexandra Molotkow | UNFLOWN by Jacob Covey | ADEQUATED by Franklin Bruno | QUALITY JOE by Joe Alterio | CHICKEN LIT by Lisa Jane Persky | PINAKOTHEK by Luc Sante | ALL MY STARS by Joanne McNeil | BIGFOOT ISLAND by Michael Lewy | NOT OF THIS EARTH by Michael Lewy | ANIMAL MAGNETISM by Colin Dickey | KEEPERS by Steph Burt | AMERICA OBSCURA by Andrew Hultkrans | HEATHCLIFF, FOR WHY? by Brandi Brown | DAILY DRUMPF by Rick Pinchera | BEDROOM AIRPORT by "Parson Edwards" | INTO THE VOID by Charlie Jane Anders | WE REABSORB & ENLIVEN by Matthew Battles | BRAINIAC by Joshua Glenn | COMICALLY VINTAGE by Comically Vintage | BLDGBLOG by Geoff Manaugh | WINDS OF MAGIC by James Parker | MUSEUM OF FEMORIBILIA by Lynn Peril | ROBOTS + MONSTERS by Joe Alterio | MONSTOBER by Rick Pinchera | POP WITH A SHOTGUN by Devin McKinney | FEEDBACK by Joshua Glenn | 4CP FTW by John Hilgart | ANNOTATED GIF by Kerry Callen | FANCHILD by Adam McGovern | BOOKFUTURISM by James Bridle | NOMADBROW by Erik Davis | SCREEN TIME by Jacob Mikanowski | FALSE MACHINE by Patrick Stuart | 12 DAYS OF SIGNIFICANCE | 12 MORE DAYS OF SIGNIFICANCE | 12 DAYS OF SIGNIFICANCE (AGAIN) | ANOTHER 12 DAYS OF SIGNIFICANCE | UNBORED MANIFESTO by Joshua Glenn and Elizabeth Foy Larsen | H IS FOR HOBO by Joshua Glenn | 4CP FRIDAY by guest curators