12 DAYS OF SIGNIFICANCE (38)
By: Dean Haspiel
December 26, 2018
One in a 2018–2019 series of posts reprinting stories originally written — by 12 HILOBROW contributors and friends — for Josh Glenn and Rob Walker's 2009–2010 anthropological-literary experiment SIGNIFICANT OBJECTS. See below for more info about this ongoing project.
*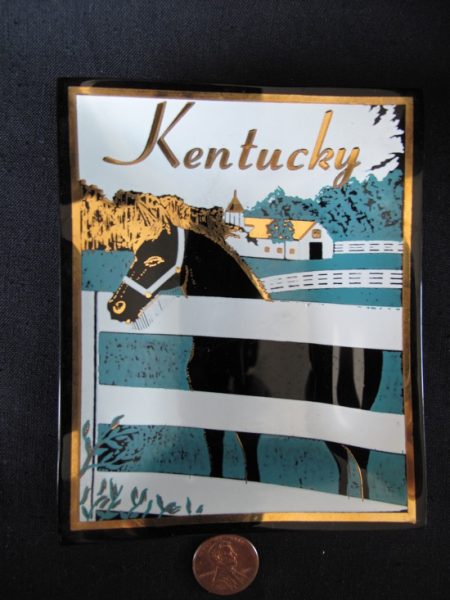 KENTUCKY DISH
Kentucky reminds me of my first and, probably, only encounter with a friend whom aliens had, supposedly, abducted. In the late 1980s, I co-created and drew a comic book mini-series with a writer who lived in Kentucky. I wanted to draw a sequel and I decided it would be best to knock brainpans face-to-face. So, I saved up some monies and booked a weekend flight to Louisville, where the writer lived at the time with his wife.
He was late in picking me up and, out of boredom, I circled the paltry airport gift shops and was blindsided by the golden light and piercing black eyes from what looked like a stained glass horse trapped inside a porcelain dish. Emblazoned in classy golden letters was the word, "Kentucky." I had to buy it. However, I couldn't own it. Not in my house. So, it would become an impromptu house gift.
That first evening, the wife pulled me into the kitchen, and alerted me that aliens had regularly abducted her poor husband. With tears in her eyes and a tremble in her voice she told me that he would go missing for a night, sometimes days, and would come back home deranged and depressed, his mind fried, his body despondent. They weren't having sex any more and she was worried he would be abducted forever.
What had I walked into? The writer's depression was soon confirmed when, that night, I discovered him sitting in a chair, alone in another room, facing the wall in the dark. I asked him if he was okay and he told me that his head hurt.
The next day he seemed to be feeling better but said he couldn't work just yet. So, he took me for a long drive around his stomping grounds and introduced me to a very sexy young woman with dark hair. I don't remember her name, but let's call her Janice. Suddenly, my pal was radiating sunrays. He seemed smitten with Janice, but cautious. She was a Philly, a true Kentucky dish. So, I could empathize with the extra skip in his step. But the second Janice was gone, he fell back into a morbid slumber. I was starting to get pissed off, especially since he wasn't telling me about his cosmic anal probes and instead was moping about like a 12-year old.
He suggested we drive home and try to write. After an hour or so, he looked at me with swollen eyes and told me his head hurt. He walked into his bedroom and shut the door. Like a looming specter, his wife floated over from the kitchen and, after a very long pause, suggested we call Janice over for dinner. She had heard of Janice but never met her and thought a single guy like me might like her. "Sure, why not?" I sighed.
My writer pal appeared at the dinner table, but was incredibly uncomfortable. His wife mollycoddled him while Janice launched a campaign of woo towards me that was so paramount it was a parody. They turned in early — but Janice decided to hang out with me. Talking turned into touching and the natural evolution of two naked people doing what they're known to do. We rolled around and smashed into something so hard it cracked. It was the Kentucky dish, and it was in pieces.
Janice split early the next morning and my pal stumbled out of his bedroom door in a near coma. His eyelid batted a catatonic wink to acknowledge me as he shuffled into the bathroom. His frightened wife snuck out of their bedroom towards me and whispered that she thought he had been abducted by aliens last night but found him in their closet, standing and staring at wire hangers.
Back home in NYC, I wrote our proposed sequel myself. I never drew it but it broke my cherry to write and draw my own comix. My Kentucky pal would later divorce his wife and write other, great stories that won awards. It was years before it occurred to me that he hadn't been abducted by aliens at all.
***
ANOTHER 12 DAYS OF SIGNIFICANCE: Ben Greenman on SMILING MUG | Dean Haspiel on KENTUCKY DISH | Doug Dorst on RUSSIAN FIGURE | Kurt Andersen on SANTA NUTCRACKER | Matt Brown on CRUMPTER | Chris Adrian on KANGAMOUSE | Nicholson Baker on MEAT THERMOMETER | Rachel Axler on FORTUNE-TELLING DEVICE | Sean Howe on PABST BOTTLE OPENER | Susannah Breslin on NECKING TEAM BUTTON | Tim Carvell on ROUND BOX | Susanna Daniel on SHARK AND SEAL PENS
SIGNIFICANT OBJECTS at HILOBROW: PROJECT:OBJECT homepage | PROJECT:OBJECT newsletter | PROJECT:OBJECT objects (Threadless shop — all profits donated to the ACLU) | POLITICAL OBJECTS series (1Q2017) | TALISMANIC OBJECTS series (2Q2017) | ILLICIT OBJECTS series (3Q2017) | LOST OBJECTS vol. 1 series (4Q2017) | FLAIR series (2Q2018) | FOSSIL series (4Q2018). 12 DAYS OF SIGNIFICANCE | 12 MORE DAYS OF SIGNIFICANCE | 12 DAYS OF SIGNIFICANCE (AGAIN) | ANOTHER 12 DAYS OF SIGNIFICANCE . ALSO SEE: SIGNIFICANT OBJECTS website | SIGNIFICANT OBJECTS collection, ed. Rob Walker and Josh Glenn (Fantagraphics, 2012) | TAKING THINGS SERIOUSLY, ed. Josh Glenn (Princeton Architectural Press, 2007) | TAKING THINGS SERIOUSLY excerpts.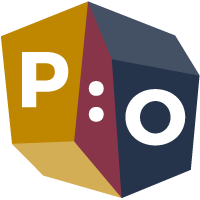 CURATED SERIES at HILOBROW: UNBORED CANON by Josh Glenn | CARPE PHALLUM by Patrick Cates | MS. K by Heather Kasunick | HERE BE MONSTERS by Mister Reusch | DOWNTOWNE by Bradley Peterson | #FX by Michael Lewy | PINNED PANELS by Zack Smith | TANK UP by Tony Leone | OUTBOUND TO MONTEVIDEO by Mimi Lipson | TAKING LIBERTIES by Douglas Wolk | STERANKOISMS by Douglas Wolk | MARVEL vs. MUSEUM by Douglas Wolk | NEVER BEGIN TO SING by Damon Krukowski | WTC WTF by Douglas Wolk | COOLING OFF THE COMMOTION by Chenjerai Kumanyika | THAT'S GREAT MARVEL by Douglas Wolk | LAWS OF THE UNIVERSE by Chris Spurgeon | IMAGINARY FRIENDS by Alexandra Molotkow | UNFLOWN by Jacob Covey | ADEQUATED by Franklin Bruno | QUALITY JOE by Joe Alterio | CHICKEN LIT by Lisa Jane Persky | PINAKOTHEK by Luc Sante | ALL MY STARS by Joanne McNeil | BIGFOOT ISLAND by Michael Lewy | NOT OF THIS EARTH by Michael Lewy | ANIMAL MAGNETISM by Colin Dickey | KEEPERS by Steph Burt | AMERICA OBSCURA by Andrew Hultkrans | HEATHCLIFF, FOR WHY? by Brandi Brown | DAILY DRUMPF by Rick Pinchera | BEDROOM AIRPORT by "Parson Edwards" | INTO THE VOID by Charlie Jane Anders | WE REABSORB & ENLIVEN by Matthew Battles | BRAINIAC by Joshua Glenn | COMICALLY VINTAGE by Comically Vintage | BLDGBLOG by Geoff Manaugh | WINDS OF MAGIC by James Parker | MUSEUM OF FEMORIBILIA by Lynn Peril | ROBOTS + MONSTERS by Joe Alterio | MONSTOBER by Rick Pinchera | POP WITH A SHOTGUN by Devin McKinney | FEEDBACK by Joshua Glenn | 4CP FTW by John Hilgart | ANNOTATED GIF by Kerry Callen | FANCHILD by Adam McGovern | BOOKFUTURISM by James Bridle | NOMADBROW by Erik Davis | SCREEN TIME by Jacob Mikanowski | FALSE MACHINE by Patrick Stuart | 12 DAYS OF SIGNIFICANCE | 12 MORE DAYS OF SIGNIFICANCE | 12 DAYS OF SIGNIFICANCE (AGAIN) | ANOTHER 12 DAYS OF SIGNIFICANCE | UNBORED MANIFESTO by Joshua Glenn and Elizabeth Foy Larsen | H IS FOR HOBO by Joshua Glenn | 4CP FRIDAY by guest curators