FOSSILS (10)
By: Marissa Frayer
October 29, 2018
The sixth PROJECT:OBJECT volume is a 25-part series of true stories about fossils — which is to say, objects that bear witness to a vanished way of life.
*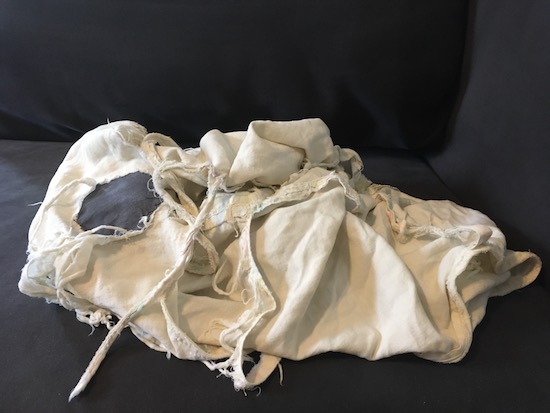 I was elbow-deep and hormone-high in my sister's toilet, scrubbing away the shit her ex-husband left behind. All I wanted was my baby blanket.
It's white and torn but whole. In the middle there's a vague outline of a rabbit, limbs outstretched like a stick figure. Two hand-sewn black spots attest to my 101 Dalmatians obsession. And the folded-up seams reveal perfectly preserved flower patterns and bunnies on bicycles — remnants of stories the blanket was designed to tell. Thousands more were told instead.
We'd been reunited days earlier after I found it in a box methodically marked "Marissa childhood" that I'd dumped at my sister's for two years turned ten. Her divorce and move meant an end to such arrangements. Cleaning was part-owed, part-catharsis. If I'd told her about my blanket discovery, she would've likely said "the white one?" and changed the subject. It was, after all, a part of the family no one mentioned. My blanket relationship was weirder than a typical forever-womb toted everywhere, and my family practices avoidance.
That blanket made me. It was my refuge, best friend, therapist, gateway and shield. I would bend my rubbery body in half like a clam, hide under the blanket's cotton shell and talk to myself for hours on end, every day. I'd speak in near-whispers creating worlds, personas. And I'd be there — a breathing ghostly lump in our living room armchair — as my family went about their business.
If non-family were around, I never carried on; a rule of my own rooted in self-perceived shame. Eventually, I extended the rule to family and moved the saving grace of a habit into my bedroom. As my body grew, I upgraded to a pastel plaid and then a blue fleece with stars.
A social reject I was not. I had friends, played sports and met all the good-child requirements. If it all sounds sexual, it was in part. I could innocently work through my teenaged soap operas, protected from the realities of practicing my pucker for both sexes. Those lessons came anyway, but I had a way to cope.
When college came along, I put my baby blanket safely into a box. The fleece served as bedding and doubled as my secret study spot. A laptop was awkward, so I'd bring in paper notes, assume the role of teacher and students and reteach myself. It worked.
It still works. Every now and then, I'll disappear under those soft stars. Such sessions have shifted from fictional tales to pep talks. I highly recommend this motivational method to fellow freelancers.
After the cleaning spree, I came home to bed and properly reconnected with my white blanket. Surprisingly, it fit well enough over 34 years of life and a six-month bump, but it wouldn't win me any games of hide-and-seek.
I haven't stored it away yet. But I will. My sister gave me a fuzzy lion baby blanket. It's time to love that one and whatever life it shapes.
*
FOSSILS: INTRODUCTION | Allegra Huston on SKATAWAY JACKET | Kevin Obsatz on HOMEMADE NUNCHUKS | Ian Bogost on DESKTOP TELEPHONE | Jeff Lewonczyk on CHA-CHA JACKET SCRAP | Kelly Horan on VOLVO KEY | Sarah Rich on WESTFEST EARRINGS | Cynthia Joyce on MELODICA | Kevin Brockmeier on SALADMOBILE | Adam Harrison Levy on PASSPORT HOLDER | Marissa Frayer on BABY BLANKET | Elizabeth Foy Larsen on RML BOOKEND | Jae Nichelle on SHEET MUSIC | Sean Patrick Walsh on TYPEWRITER | Andrew Innes on BUST OF DUCK | Carla Sinclair on FACTSHEET FIVE | Chapell Ellison on SLEIGH BELL | Malcolm Evans on "QUEEN MARY" FOB | Jason Gilbert on HAND CHAIR | Karl Taro Greenfeld on OPIUM KIT | Tony Leone on MODEL TANK | Dave Boerger on TEEN BIBLE | Chelsey Johnson on BREYER HORSES | Erin M. Routson on PAPER WALLET | Alissa Walker on JUKEBOX | Adrienne Crew on FISH SCALER.
FLAIR: INTRODUCTION | Cliff Kuang on ROLEX DATEJUST | Ethan Zuckerman on LAPTOP STICKERS | Ann Shoket on LEATHER JACKET | Kembrew McLeod on KEMBREW MERCH | Paola Antonelli on MERMAID TEARS | & 20 MORE.
LOST OBJECTS (vol. 1): INTRODUCTION | Kate Bernheimer on MULLET WIG (ill. Amy Evans) | Dan Piepenbring on COLOGNE (ill. Josh Neufeld) | Doug Dorst on STRATOCASTER (ill. John Holbo) | Paul Lukas on VANILLA BEAN (ill. Allison Bamcat) | Mimi Lipson on DODGE DART (ill. Mister Reusch) | & 20 MORE.
ILLICIT OBJECTS: INTRODUCTION | Kio Stark on PEEPSHOW TOKEN | Sari Wilson on TOMBSTONE PARTS | Annalee Newitz on CAR-BOMB REMNANT | Tito Bottitta on MOONINITE DEVICE | Eric Bennett on DIRTY MAGAZINE | & 20 MORE.
TALISMANIC OBJECTS: INTRODUCTION | Veda Hille on CROCHET SHEEP | Gary Panter on DINOSAUR BONES | Jami Attenberg on SELENITE CRYSTAL | Annie Nocenti on MINIATURE DICE | Wayne Curtis on CLOCK WINDING KEY | & 20 MORE.
POLITICAL OBJECTS: INTRODUCTION | Luc Sante on CAMPAIGN PAMPHLETS | Lydia Millet on PVC POLAR BEAR | Ben Greenman on MATCHBOX CAR | Rob Baedeker on PRESIDENTS PLACEMAT | L.A. Kauffman on WHEATPASTE POSTER | & 20 MORE.
SIGNIFICANT OBJECTS at HILOBROW: PROJECT:OBJECT homepage | PROJECT:OBJECT newsletter | PROJECT:OBJECT objects (Threadless shop — all profits donated to the ACLU) | POLITICAL OBJECTS series (1Q2017) | TALISMANIC OBJECTS series (2Q2017) | ILLICIT OBJECTS series (3Q2017) | LOST OBJECTS vol. 1 series (4Q2017) | FLAIR series (2Q2018) | FOSSIL series (4Q2018) | FETISHES series (2Q2019) | LOST OBJECTS vol. 2 series (4Q2019) | MOVIE OBJECTS series (2Q2020). ALSO SEE: SIGNIFICANT OBJECTS website | SIGNIFICANT OBJECTS collection, ed. Rob Walker and Josh Glenn (Fantagraphics, 2012) | TAKING THINGS SERIOUSLY, ed. Josh Glenn (Princeton Architectural Press, 2007) | TAKING THINGS SERIOUSLY excerpts.