BESTIARY (11)
By: Jessamyn West
July 20, 2021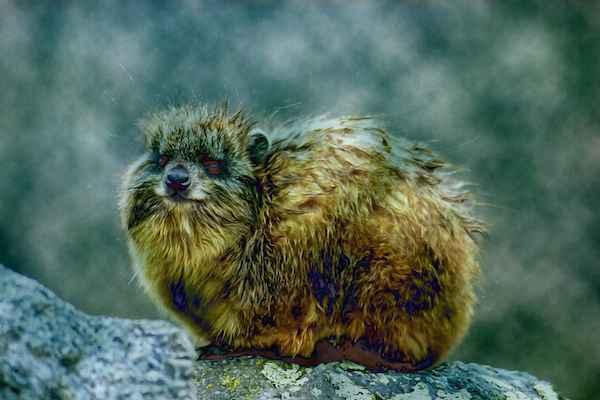 One in a series of posts — curated by Matthew Battles — the ultimate goal of which is a high-lowbrow bestiary.
---
HYRAX
---
If the internet has taught us anything, it's that people love cute, furry mammals and sharing esoteric facts about them. I have a dual interest, the usual internet-person love, but also a strong enthusiasm for learning new words that will get me some sweet sweet points in Scrabble.
Past fuzzball/wordplay faves have included the bushytailed COATI (7), the shaggy DZO (13), the chimeral GEEP (7), the cartoonish POTOROO (9), and the thoroughly unfurry (but still mammalian) KRANG (10). However none have maintained my attention like the chonky HYRAX (18).
Hyraces are like giant guinea pigs who are silently judging you. They live in Africa, have grippy feet like lizards but are most closely related to elephants. They're shaped like hairy potatoes but are surprisingly nimble when climbing trees or cliffs. They can stare into the sun, which is helpful because they're terrible at thermoregulating and have to bask a lot, like 95% of the time a lot. They've got tiny tusks, armpit nipples, and excrete a weird pee/poop substance in their group latrines, hyraceum — thanks to hyperefficient kidneys — used by perfumers and also as a folk remedy for epilepsy. Does it work? Maybe.
They are smol and mighty. Not kosher, because they don't have a "split hoof," though they do have a coke-nail grooming claw. They were called wise in the bible for their cliff-dwelling communities and abilities to evade predators. People thought they were ruminants because they subsist almost entirely on plant material (and an occasional bird), but really they just chew a lot. They do have three stomachs, but food is on a one-way trip through the hyrax. Seriously, they are unable to barf.
They've got a lot to say, making many communicative gestures and noises, including one that's basically just a chewing motion. Males are the chatty ones in the bunch, constructing 'songs' out of a collection of over twenty-one vocalizations including snorts, squeaks, tweets, whinnies, wails, and chucks. These songs are often described as "blood curdling." Female hyraces have some of their own noises that only they make.
They're introverted, melancholy attention seekers, piling in groups for warmth, but in these piles, and also when they're eating, they don't look at one another. A dominant male hyrax lives with several females and their offspring and the other males inhabit burrows out on the periphery of the territory, writing bad poetry and waiting for the dominant male to weaken.
They're the living definition of together alone, the original shoegaze mammal. Everything I have written is true except for the part about the poetry. I don't know why they are not the internet's chosen mascot.


*
INTRODUCTION by Matthew Battles: Animals come to us "as messengers and promises." Of what? | Matthew Battles on RHINO: Today's map of the rhinoceros is broken. | Josh Glenn on OWL: Why are we overawed by the owl? | Stephanie Burt on SEA ANEMONE: Unable to settle down more than once. | James Hannaham on CINDER WORM: They're prey; that puts them on our side. | Matthew Battles on PENGUIN: They come from over the horizon. | Mandy Keifetz on FLEA: Nobler than highest of angels. | Adrienne Crew on GOAT: Is it any wonder that they're G.O.A.T. ? | Lucy Sante on CAPYBARA: Let us gather under their banner. | Annie Nocenti on CROW: Mostly, they give me the side-eye. | Alix Lambert on ANIMAL: Spirit animal of a generation. | Jessamyn West on HYRAX: The original shoegaze mammal. | Josh Glenn on BEAVER: Busy as a beaver ~ Eager beaver ~ Beaver patrol. | Adam McGovern on FIREFLY: I would know it was my birthday / when…. | Heather Kapplow on SHREW: You cannot tame us. | Chris Spurgeon on ALBATROSS: No such thing as a lesser one. | Charlie Mitchell on JACKALOPE: This is no coney. | Vanessa Berry on PLATYPUS: Leathery bills leading the plunge. | Tom Nealon on PANDA: An icon's inner carnivore reawakens. | Josh Glenn on FROG: Bumptious ~ Rapscallion ~ Free spirit ~ Palimpsest. | Josh Glenn on MOUSE.
***
ALSO SEE: John Hilgart (ed.)'s HERMENAUTIC TAROT series | Josh Glenn's VIRUS VIGILANTE series | & old-school HILOBROW series like BICYCLE KICK | CECI EST UNE PIPE | CHESS MATCH | EGGHEAD | FILE X | HILOBROW COVERS | LATF HIPSTER | HI-LO AMERICANA | PHRENOLOGY | PLUPERFECT PDA | SKRULLICISM.