Jurgen (2)
By: James Branch Cabell
March 21, 2015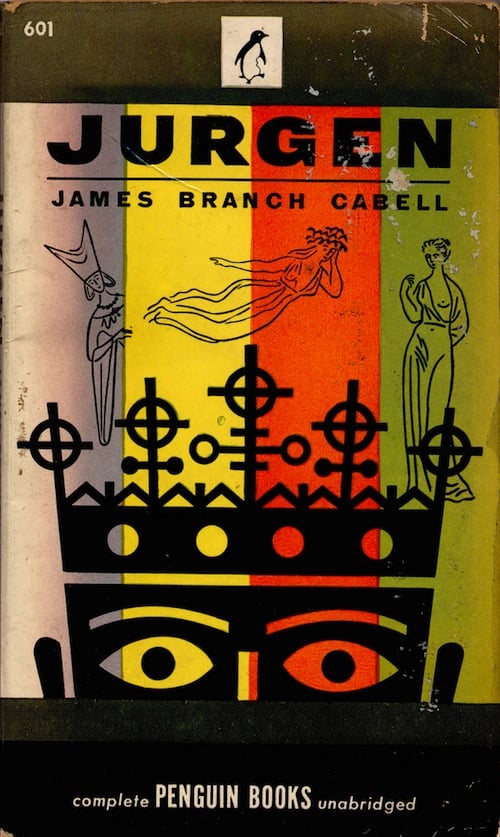 James Branch Cabell's 1919 ironic fantasy novel Jurgen, A Comedy of Justice, the protagonist of which seduces women everywhere he travels — including into Arthurian legend and Hell itself — is (according to Aleister Crowley) one of the "epoch-making masterpieces of philosophy." Cabell's sardonic inversion of romantic fantasy was postmodernist avant la lettre. HiLoBooks is pleased to serialize Jurgen here at HILOBROW. Enjoy!
ALL INSTALLMENTS SO FAR
***
Chapter 2. Why Jurgen Did the Manly Thing
It is a tale which they narrate in Poictesme, saying: In the old days lived a pawnbroker named Jurgen; but what his wife called him was very often much worse than that. She was a high-spirited woman, with no especial gift for silence. Her name, they say, was Adelais, but people by ordinary called her Dame Lisa.
They tell, also, that in the old days, after putting up the shop-windows for the night, Jurgen was passing the Cistercian Abbey, on his way home: and one of the monks had tripped over a stone in the roadway. He was cursing the devil who had placed it there.
"Fie, brother!" says Jurgen, "and have not the devils enough to bear as it is?"
"I never held with Origen," replied the monk; "and besides, it hurt my great-toe confoundedly."
"None the less," observes Jurgen, "it does not behoove God-fearing persons to speak with disrespect of the divinely appointed Prince of Darkness. To your further confusion, consider this monarch's industry! Day and night you may detect him toiling at the task Heaven set him. That is a thing can be said of few communicants and of no monks. Think, too, of his fine artistry, as evidenced in all the perilous and lovely snares of this world, which it is your business to combat, and mine to lend money upon. Why, but for him we would both be vocationless! Then, too, consider his philanthropy! And deliberate how insufferable would be our case if you and I, and all our fellow parishioners, were to-day hobnobbing with other beasts in the Garden which we pretend to desiderate on Sundays! To arise with swine and lie down with the hyena? — oh, intolerable!"
Thus he ran on, devising reasons for not thinking too harshly of the Devil. Most of it was an abridgement of some verses Jurgen had composed, in the shop when business was slack.
"I consider that to be stuff and nonsense," was the monk's gloss.
"No doubt your notion is sensible," observed the pawnbroker: "but mine is the prettier."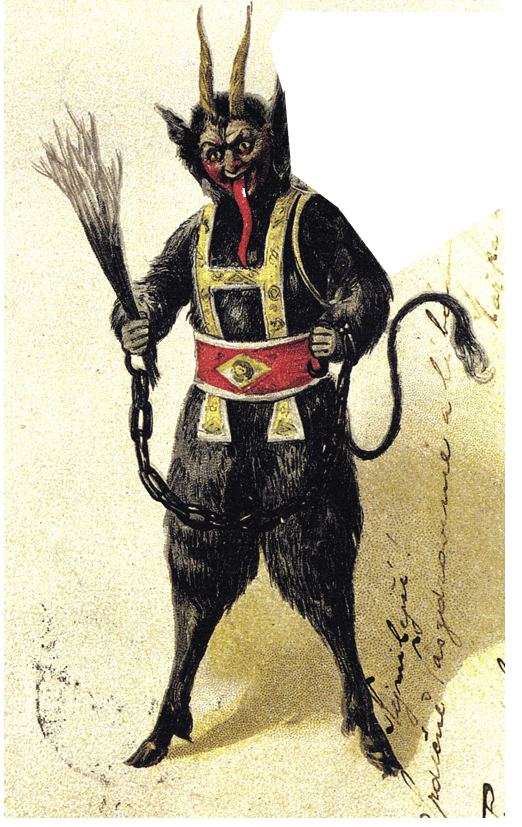 Then Jurgen passed the Cistercian Abbey, and was approaching Bellegarde, when he met a black gentleman, who saluted him and said: "Thanks, Jurgen, for your good word."
"Who are you, and why do you thank me?" asks Jurgen.
"My name is no great matter. But you have a kind heart, Jurgen. May your life be free from care!"
"Save us from hurt and harm, friend, but I am already married."
"Eh, sirs, and a fine clever poet like you!"
"Yet it is a long while now since I was a practising poet."
"Why, to be sure! You have the artistic temperament, which is not exactly suited to the restrictions of domestic life. Then I suppose your wife has her own personal opinion about poetry, Jurgen."
"Indeed, sir, her opinion would not bear repetition, for I am sure you are unaccustomed to such language."
"This is very sad. I am afraid your wife does not quite understand you, Jurgen."
"Sir," says Jurgen, astounded, "do you read people's inmost thoughts?"
The black gentleman seemed much dejected. He pursed his lips, and fell to counting upon his fingers: as they moved his sharp nails glittered like flame-points.
"Now but this is a very deplorable thing," says the black gentleman, "to have befallen the first person I have found ready to speak a kind word for evil. And in all these centuries, too! Dear me, this is a most regrettable instance of mismanagement! No matter, Jurgen, the morning is brighter than the evening. How I will reward you, to be sure!"
So Jurgen thanked the simple old creature politely. And when Jurgen reached home his wife was nowhere to be seen. He looked on all sides and questioned everyone, but to no avail. Dame Lisa had vanished in the midst of getting supper ready — suddenly, completely and inexplicably, just as (in Jurgen's figure) a windstorm passes and leaves behind it a tranquillity which seems, by contrast, uncanny. Nothing could explain the mystery, short of magic: and Jurgen on a sudden recollected the black gentleman's queer promise. Jurgen crossed himself.
"How unjustly now," says Jurgen, "do some people get an ill name for gratitude! And now do I perceive how wise I am, always to speak pleasantly of everybody, in this world of tale-bearers."
Then Jurgen prepared his own supper, went to bed, and slept soundly.
"I have implicit confidence," says he, "in Lisa. I have particular confidence in her ability to take care of herself in any surroundings."
That was all very well: but time passed, and presently it began to be rumored that Dame Lisa walked on Morven. Her brother, who was a grocer and a member of the town-council, went thither to see about this report. And sure enough, there was Jurgen's wife walking in the twilight and muttering incessantly.
"Fie, sister!" says the town-councillor, "this is very unseemly conduct for a married woman, and a thing likely to be talked about."
"Follow me!" replied Dame Lisa. And the town-councillor followed her a little way in the dusk, but when she came to Amneran Heath and still went onward, he knew better than to follow.
Next evening the elder sister of Dame Lisa went to Morven. This sister had married a notary, and was a shrewd woman. In consequence, she took with her this evening a long wand of peeled willow-wood. And there was Jurgen's wife walking in the twilight and muttering incessantly.
"Fie, sister!" says the notary's wife, who was a shrewd woman, "and do you not know that all this while Jurgen does his own sewing, and is once more making eyes at Countess Dorothy?"
Dame Lisa shuddered; but she only said, "Follow me!"
And the notary's wife followed her to Amneran Heath, and across the heath, to where a cave was. This was a place of abominable repute. A lean hound came to meet them there in the twilight, lolling his tongue: but the notary's wife struck thrice with her wand, and the silent beast left them. And Dame Lisa passed silently into the cave, and her sister turned and went home to her children, weeping.
So the next evening Jurgen himself came to Morven, because all his wife's family assured him this was the manly thing to do. Jurgen left the shop in charge of Urien Villemarche, who was a highly efficient clerk. Jurgen followed his wife across Amneran Heath until they reached the cave. Jurgen would willingly have been elsewhere.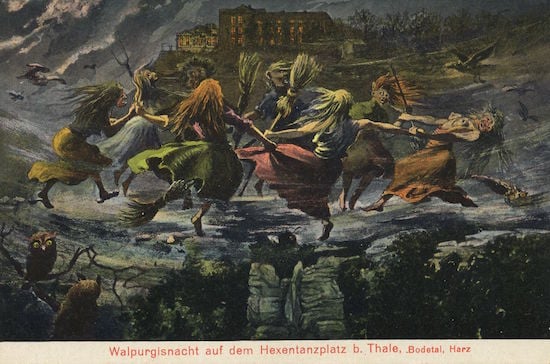 For the hound squatted upon his haunches, and seemed to grin at Jurgen; and there were other creatures abroad, that flew low in the twilight, keeping close to the ground like owls; but they were larger than owls and were more discomforting. And, moreover, all this was just after sunset upon Walburga's Eve, when almost anything is rather more than likely to happen.
So Jurgen said, a little peevishly: "Lisa, my dear, if you go into the cave I will have to follow you, because it is the manly thing to do. And you know how easily I take cold."
The voice of Dame Lisa, now, was thin and wailing, a curiously changed voice. "There is a cross about your neck. You must throw that away."
Jurgen was wearing such a cross, through motives of sentiment, because it had once belonged to his dead mother. But now, to pleasure his wife, he removed the trinket, and hung it on a barberry bush; and with the reflection that this was likely to prove a deplorable business, he followed Dame Lisa into the cave.
NEXT INSTALLMENT | ALL INSTALLMENTS SO FAR
***
Footnotes from Notes on Jurgen (1928), by James P. Cover — with additional comments from the creators of this website; rewritten, in some instances, by HiLoBooks.
* Poictesme — This is a land of Mr. Cabell's own invention, the geography of which is hopelessly mixed, since it draws on many realms of the earth and several of the imagination for its component parts. In the earlier romances it is simply somewhere on the map of Europe; in books dealing with a later time it is placed definitely within the boundaries of France. A page at the Virginia Commonwealth University Library notes that "Poictesme" is pronounced "Pwa-tem".
* Origen — Origen (185-254) was one of the most distinguished and influential theologians of the ancient church. He did much to reconcile the Christian religion with Greek philosophy, especially that of the Stoics. His most controverted teachings – and those referred to here by the priest – were those on the ultimate salvation of all, as he held that even the devils would finally be redeemed.
* Morven — Morven means "a ridge of high hills." It was a name formerly applied to all the northwest of Scotland.
* Walburga's Eve — This is the night of April the thirtieth, the eve of May Day, on which St. Walburga is commemorated. It was a night especially favored by the witches for their Sabbat.
RADIUM AGE SCIENCE FICTION: "Radium Age" is HILOBROW's name for the 1904–33 era, which saw the discovery of radioactivity, the revelation that matter itself is constantly in movement — a fitting metaphor for the first decades of the 20th century, during which old scientific, religious, political, and social certainties were shattered. This era also saw the publication of genre-shattering writing by Edgar Rice Burroughs, Sax Rohmer, E.E. "Doc" Smith, Jack London, Arthur Conan Doyle, Aldous Huxley, Olaf Stapledon, Karel Čapek, H.P. Lovecraft, Charlotte Perkins Gilman, Yevgeny Zamyatin, Philip Gordon Wylie, and other pioneers of post-Verne/Wells, pre-Golden Age "science fiction." More info here.
READ GORGEOUS PAPERBACKS: HiLoBooks has reissued the following 10 obscure but amazing Radium Age science fiction novels in beautiful print editions: Jack London's The Scarlet Plague, Rudyard Kipling's With the Night Mail (and "As Easy as A.B.C."), Arthur Conan Doyle's The Poison Belt, H. Rider Haggard's When the World Shook, Edward Shanks' The People of the Ruins, William Hope Hodgson's The Night Land, J.D. Beresford's Goslings, E.V. Odle's The Clockwork Man, Cicely Hamilton's Theodore Savage, and Muriel Jaeger's The Man with Six Senses. For more information, visit the HiLoBooks homepage.
SERIALIZED BY HILOBOOKS: Jack London's The Scarlet Plague | Rudyard Kipling's With the Night Mail (and "As Easy as A.B.C.") | Arthur Conan Doyle's The Poison Belt | H. Rider Haggard's When the World Shook | Edward Shanks' The People of the Ruins | William Hope Hodgson's The Night Land | J.D. Beresford's Goslings | E.V. Odle's The Clockwork Man | Cicely Hamilton's Theodore Savage | Muriel Jaeger's The Man With Six Senses | Jack London's "The Red One" | Philip Francis Nowlan's Armageddon 2419 A.D. | Homer Eon Flint's The Devolutionist | W.E.B. DuBois's "The Comet" | Edgar Rice Burroughs's The Moon Men | Charlotte Perkins Gilman's Herland | Sax Rohmer's "The Zayat Kiss" | Eimar O'Duffy's King Goshawk and the Birds | Frances Hodgson Burnett's The Lost Prince | Morley Roberts's The Fugitives | Helen MacInnes's The Unconquerable | Geoffrey Household's Watcher in the Shadows | William Haggard's The High Wire | Hammond Innes's Air Bridge | James Branch Cabell's Jurgen | John Buchan's "No Man's Land" | John Russell's "The Fourth Man" | E.M. Forster's "The Machine Stops" | John Buchan's Huntingtower | Arthur Conan Doyle's When the World Screamed | Victor Bridges' A Rogue By Compulsion | Jack London's The Iron Heel | H. De Vere Stacpoole's The Man Who Lost Himself | P.G. Wodehouse's Leave It to Psmith | Richard Connell's "The Most Dangerous Game" | Houdini and Lovecraft's "Imprisoned with the Pharaohs" | Arthur Conan Doyle's "The Sussex Vampire."
ORIGINAL FICTION: HILOBROW has serialized three novels: James Parker's The Ballad of Cocky The Fox ("a proof-of-concept that serialization can work on the Internet" — The Atlantic); Karinne Keithley Syers's Linda Linda Linda (which includes original music); and Robert Waldron's roman à clef The School on the Fens. We also publish original stories and comics. These include: Matthew Battles's stories "Gita Nova", "Makes the Man," "Imago," "Camera Lucida," "A Simple Message", "Children of the Volcano", "The Gnomon", "Billable Memories", "For Provisional Description of Superficial Features", "The Dogs in the Trees", "The Sovereignties of Invention", and "Survivor: The Island of Dr. Moreau"; several of these later appeared in the collection The Sovereignties of Invention | Peggy Nelson's "Mood Indigo", "Top Kill Fail", and "Mercerism" | Annalee Newitz's "The Great Oxygen Race" | Flourish Klink's Star Trek fanfic "Conference Comms" | Charlie Mitchell's "A Fantasy Land" | Charlie Mitchell's "Sentinels" | Joshua Glenn's "The Lawless One", and the mashup story "Zarathustra vs. Swamp Thing" | Adam McGovern and Paolo Leandri's Idoru Jones comics | John Holbo's "Sugarplum Squeampunk" | "Another Corporate Death" (1) and "Another Corporate Death" (2) by Mike Fleisch | Kathryn Kuitenbrouwer and Frank Fiorentino's graphic novel "The Song of Otto" (excerpt) | John Holbo's graphic novel On Beyond Zarathustra (excerpt) | "Manoj" and "Josh" by Vijay Balakrishnan | "Verge" by Chris Rossi, and his audio novel Low Priority Hero | EPIC WINS: THE ILIAD (1.408-415) by Flourish Klink | EPIC WINS: THE KALEVALA (3.1-278) by James Parker | EPIC WINS: THE ARGONAUTICA (2.815-834) by Joshua Glenn | EPIC WINS: THE MYTH OF THE ELK by Matthew Battles | TROUBLED SUPERHUMAN CONTEST: Charles Pappas, "The Law" | CATASTROPHE CONTEST: Timothy Raymond, "Hem and the Flood" | TELEPATHY CONTEST: Rachel Ellis Adams, "Fatima, Can You Hear Me?" | OIL SPILL CONTEST: A.E. Smith, "Sound Thinking | LITTLE NEMO CAPTION CONTEST: Joe Lyons, "Necronomicon" | SPOOKY-KOOKY CONTEST: Tucker Cummings, "Well Marbled" | INVENT-A-HERO CONTEST: TG Gibbon, "The Firefly" | FANFICTION CONTEST: Lyette Mercier's "Sex and the Single Superhero"