Jurgen (41)
By: James Branch Cabell
December 24, 2015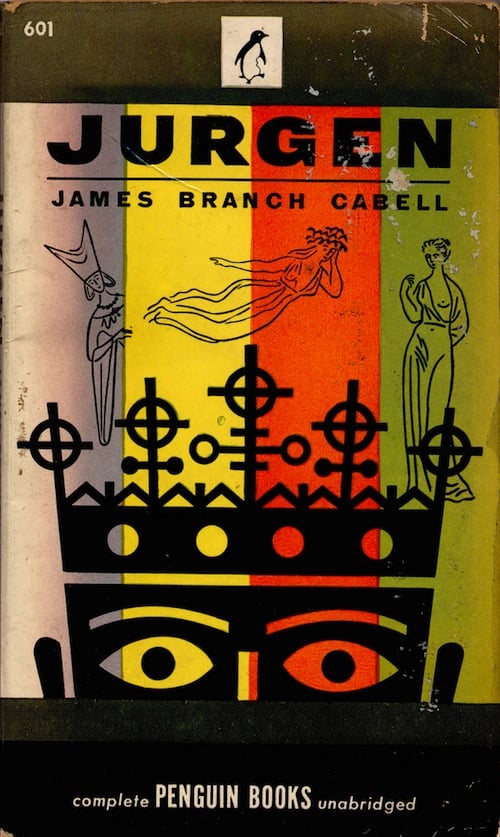 James Branch Cabell's 1919 ironic fantasy novel Jurgen, A Comedy of Justice, the protagonist of which seduces women everywhere he travels — including into Arthurian legend and Hell itself — is (according to Aleister Crowley) one of the "epoch-making masterpieces of philosophy." Cabell's sardonic inversion of romantic fantasy was postmodernist avant la lettre. HiLoBooks is pleased to serialize Jurgen here at HILOBROW. Enjoy!
ALL INSTALLMENTS SO FAR
***
The Ascension of Pope Jurgen
The tale tells how on the feast of the Annunciation Jurgen came to the high white walls which girdle Heaven. For Jurgen's forefathers had, of course, imagined that Hell stood directly contiguous to Heaven, so that the blessed could augment their felicity by gazing down upon the tortures of the damned. Now at this time a boy angel was looking over the parapet of Heaven's wall.
"And a good day to you, my fine young fellow," says Jurgen. "But of what are you thinking so intently?" For just as Dives had done long years before, now Jurgen found that a man's voice carries perfectly between Hell and Heaven.
"Sir," replies the boy, "I was pitying the poor damned."
"Why, then, you must be Origen," says Jurgen, laughing.
"No, sir, my name is Jurgen."
"Heyday!" says Jurgen: "well, but this Jurgen has been a great many persons in my time. So very possibly you speak the truth."
"I am Jurgen, the son of Coth and Azra."
"Ah, ah! but so were all of them, my boy."
"Why, then, I am Jurgen, the grandson of Steinvor, and the grandchild whom she loved above her other grandchildren: and so I abide forever in Heaven with all the other illusions of Steinvor. But who, messire, are you that go about Hell unscorched, in such a fine looking shirt?"
Jurgen reflected. Clearly it would never do to give his real name, and thus raise the question as to whether Jurgen was in Heaven or Hell. Then he recollected the cantrap of the Master Philologist, which Jurgen had twice employed incorrectly. And Jurgen cleared his throat, for he believed that he now understood the proper use of cantraps.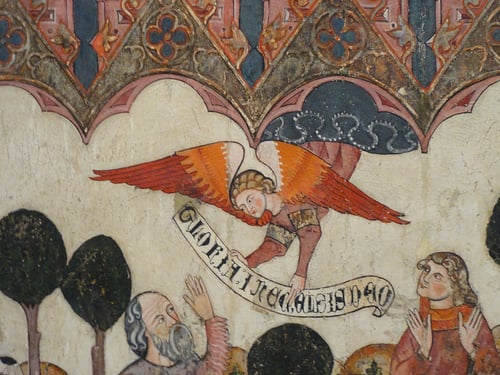 "Perhaps," says Jurgen, "I ought not to tell you who I am. But what is life without confidence in one another? Besides, you appear a boy of remarkable discretion. So I will confide in you that I am Pope John the Twentieth, Heaven's regent upon Earth, now visiting this place upon Celestial business which I am not at liberty to divulge more particularly, for reasons that will at once occur to a young man of your unusual cleverness."
"Oh, but I say! that is droll. Do you just wait a moment!" cried the boy angel.
His bright face vanished, with a whisking of brown curls: and Jurgen carefully re-read the cantrap of the Master Philologist. "Yes, I have found, I think, the way to use such magic," observes Jurgen.
Presently the young angel re-appeared at the parapet. "I say, messire! I looked on the Register — all popes are admitted here the moment they die, without inquiring into their private affairs, you know, so as to avoid any unfortunate scandal, — and we have twenty-three Pope Johns listed. And sure enough, the mansion prepared for John the Twentieth is vacant. He seems to be the only pope that is not in Heaven."
"Why, but of course not," says Jurgen, complacently, "inasmuch as you see me, who was once Bishop of Rome and servant to the servants of God, standing down here on this cinder-heap."
"Yes, but none of the others in your series appears to place you. John the Nineteenth says he never heard of you, and not to bother him in the middle of a harp lesson —"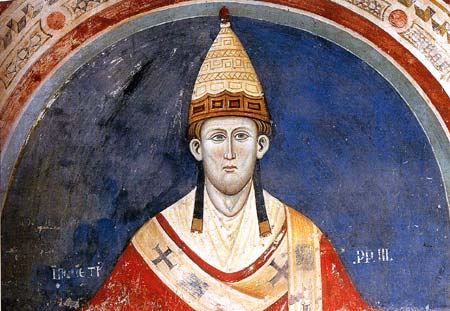 "He died before my accession, naturally."
"— And John the Twenty-first says he thinks they lost count somehow, and that there never was any Pope John the Twentieth. He says you must be an impostor."
"Ah, professional jealousy!" sighed Jurgen: "dear me, this is very sad, and gives one a poor opinion of human nature. Now, my boy, I put it to you fairly, how could there have been a twenty-first unless there had been a twentieth? And what becomes of the great principle of papal infallibility when a pope admits to a mistake in elementary arithmetic? Oh, but this is a very dangerous heresy, let me tell you, an Inquisition matter, a consistory business! Yet, luckily, upon his own contention, this Pedro Juliani —"
"And that was his name, too, for he told me! You evidently know all about it, messire," said the young angel, visibly impressed.
"Of course, I know all about it. Well, I repeat, upon his own contention this man is non-existent, and so, whatever he may say amounts to nothing. For he tells you there was never any Pope John the Twentieth: and either he is lying or he is telling you the truth. If he is lying, you, of course, ought not to believe him: yet, if he is telling you the truth, about there never having been any Pope John the Twentieth, why then, quite plainly, there was never any Pope John the Twenty-first, so that this man asserts his own non-existence; and thus is talking nonsense, and you, of course, ought not to believe in nonsense. Even did we grant his insane contention that he is nobody, you are too well brought up, I am sure, to dispute that nobody tells lies in Heaven: it follows that in this case nobody is lying; and so, of course, I must be telling the truth, and you have no choice save to believe me."
"Now, certainly that sounds all right," the younger Jurgen conceded: "though you explain it so quickly it is a little difficult to follow you."
"Ah, but furthermore, and over and above this, and as a tangible proof of the infallible particularity of every syllable of my assertion," observes the elder Jurgen, "if you will look in the garret of Heaven you will find the identical ladder upon which I descended hither, and which I directed them to lay aside until I was ready to come up again. Indeed, I was just about to ask you to fetch it, inasmuch as my business here is satisfactorily concluded."
Well, the boy agreed that the word of no pope, whether in Hell or Heaven, was tangible proof like a ladder, and again he was off.
Jurgen waited, in tolerable confidence.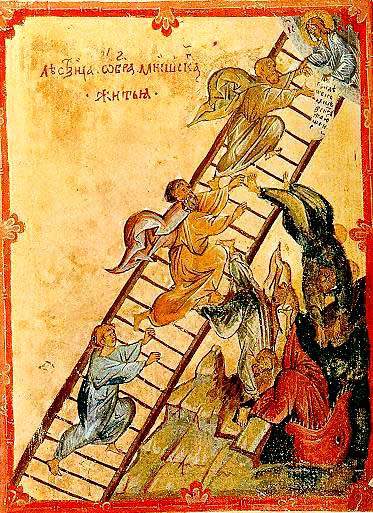 It was a matter of logic. Jacob's Ladder must from all accounts have been far too valuable to throw away after one night's use at Beth-El; it would come in very handy on Judgment Day: and Jurgen's knowledge of Lisa enabled him to deduce that anything which was being kept because it would come in handy some day would inevitably be stored in the garret, in any establishment imaginable by women. "And it is notorious that Heaven is a delusion of old women. Why, the thing is a certainty," said Jurgen; "simply a mathematical certainty."
And events proved his logic correct: for presently the younger Jurgen came back with Jacob's Ladder, which was rather cobwebby and obsolete looking after having been lain aside so long.
"So you see you were perfectly right," then said this younger Jurgen, as he lowered Jacob's Ladder into Hell. "Oh, Messire John, do hurry up and have it out with that old fellow who slandered you!"
Thus it came about that Jurgen clambered merrily from Hell to Heaven upon a ladder of unalloyed, time-tested gold: and as he climbed the shirt of Nessus glittered handsomely in the light which shone from Heaven: and by this great light above him, as Jurgen mounted higher and yet higher, the shadow of Jurgen was lengthened beyond belief along the sheer white wall of Heaven, as though the shadow were reluctant and adhered tenaciously to Hell. Yet presently Jurgen leaped the ramparts: and then the shadow leaped too; and so his shadow came with Jurgen into Heaven, and huddled dispiritedly at Jurgen's feet.
"Well, well!" thinks Jurgen, "certainly there is no disputing the magic of the Master Philologist when it is correctly employed. For through its aid I am entering alive into Heaven, as only Enoch and Elijah have done before me: and moreover, if this boy is to be believed, one of the very handsomest of Heaven's many mansions awaits my occupancy. One could not ask more of any magician fairly. Aha, if only Lisa could see me now!"
That was his first thought. Afterward Jurgen tore up the cantrap and scattered its fragments as the Master Philologist had directed. Then Jurgen turned to the boy who aided Jurgen to get into Heaven.
"Come, youngster, and let us have a good look at you!"
And Jurgen talked with the boy that he had once been, and stood face to face with all that Jurgen had been and was not any longer. And this was the one happening which befell Jurgen that the writer of the tale lacked heart to tell of.
So Jurgen quitted the boy that he had been. But first had Jurgen learned that in this place his grandmother Steinvor (whom King Smoit had loved) abode and was happy in her notion of Heaven; and that about her were her notions of her children and of her grandchildren. Steinvor had never imagined her husband in Heaven, nor King Smoit either.
"That is a circumstance," says Jurgen, "which heartens me to hope one may find justice here. Yet I shall keep away from my grandmother, the Steinvor whom I knew and loved, and who loved me so blindly that this boy here is her notion of me. Yes, in mere fairness to her, I must keep away."
So he avoided that part of Heaven wherein were his grandmother's illusions: and this was counted for righteousness in Jurgen. That part of Heaven smelt of mignonette, and a starling was singing there.
NEXT INSTALLMENT | ALL INSTALLMENTS SO FAR
***
RADIUM AGE SCIENCE FICTION: "Radium Age" is HILOBROW's name for the 1904–33 era, which saw the discovery of radioactivity, the revelation that matter itself is constantly in movement — a fitting metaphor for the first decades of the 20th century, during which old scientific, religious, political, and social certainties were shattered. This era also saw the publication of genre-shattering writing by Edgar Rice Burroughs, Sax Rohmer, E.E. "Doc" Smith, Jack London, Arthur Conan Doyle, Aldous Huxley, Olaf Stapledon, Karel Čapek, H.P. Lovecraft, Charlotte Perkins Gilman, Yevgeny Zamyatin, Philip Gordon Wylie, and other pioneers of post-Verne/Wells, pre-Golden Age "science fiction." More info here.
READ GORGEOUS PAPERBACKS: HiLoBooks has reissued the following 10 obscure but amazing Radium Age science fiction novels in beautiful print editions: Jack London's The Scarlet Plague, Rudyard Kipling's With the Night Mail (and "As Easy as A.B.C."), Arthur Conan Doyle's The Poison Belt, H. Rider Haggard's When the World Shook, Edward Shanks' The People of the Ruins, William Hope Hodgson's The Night Land, J.D. Beresford's Goslings, E.V. Odle's The Clockwork Man, Cicely Hamilton's Theodore Savage, and Muriel Jaeger's The Man with Six Senses. For more information, visit the HiLoBooks homepage.
SERIALIZED BY HILOBOOKS: Jack London's The Scarlet Plague | Rudyard Kipling's With the Night Mail (and "As Easy as A.B.C.") | Arthur Conan Doyle's The Poison Belt | H. Rider Haggard's When the World Shook | Edward Shanks' The People of the Ruins | William Hope Hodgson's The Night Land | J.D. Beresford's Goslings | E.V. Odle's The Clockwork Man | Cicely Hamilton's Theodore Savage | Muriel Jaeger's The Man With Six Senses | Jack London's "The Red One" | Philip Francis Nowlan's Armageddon 2419 A.D. | Homer Eon Flint's The Devolutionist | W.E.B. DuBois's "The Comet" | Edgar Rice Burroughs's The Moon Men | Charlotte Perkins Gilman's Herland | Sax Rohmer's "The Zayat Kiss" | Eimar O'Duffy's King Goshawk and the Birds | Frances Hodgson Burnett's The Lost Prince | Morley Roberts's The Fugitives | Helen MacInnes's The Unconquerable | Geoffrey Household's Watcher in the Shadows | William Haggard's The High Wire | Hammond Innes's Air Bridge | James Branch Cabell's Jurgen | John Buchan's "No Man's Land" | John Russell's "The Fourth Man" | E.M. Forster's "The Machine Stops" | John Buchan's Huntingtower | Arthur Conan Doyle's When the World Screamed | Victor Bridges' A Rogue By Compulsion | Jack London's The Iron Heel | H. De Vere Stacpoole's The Man Who Lost Himself | P.G. Wodehouse's Leave It to Psmith | Richard Connell's "The Most Dangerous Game" | Houdini and Lovecraft's "Imprisoned with the Pharaohs" | Arthur Conan Doyle's "The Sussex Vampire."
ORIGINAL FICTION: HILOBROW has serialized three novels: James Parker's The Ballad of Cocky The Fox ("a proof-of-concept that serialization can work on the Internet" — The Atlantic); Karinne Keithley Syers's Linda Linda Linda (which includes original music); and Robert Waldron's roman à clef The School on the Fens. We also publish original stories and comics. These include: Matthew Battles's stories "Gita Nova", "Makes the Man," "Imago," "Camera Lucida," "A Simple Message", "Children of the Volcano", "The Gnomon", "Billable Memories", "For Provisional Description of Superficial Features", "The Dogs in the Trees", "The Sovereignties of Invention", and "Survivor: The Island of Dr. Moreau"; several of these later appeared in the collection The Sovereignties of Invention | Peggy Nelson's "Mood Indigo", "Top Kill Fail", and "Mercerism" | Annalee Newitz's "The Great Oxygen Race" | Flourish Klink's Star Trek fanfic "Conference Comms" | Charlie Mitchell's "A Fantasy Land" | Charlie Mitchell's "Sentinels" | Joshua Glenn's "The Lawless One", and the mashup story "Zarathustra vs. Swamp Thing" | Adam McGovern and Paolo Leandri's Idoru Jones comics | John Holbo's "Sugarplum Squeampunk" | "Another Corporate Death" (1) and "Another Corporate Death" (2) by Mike Fleisch | Kathryn Kuitenbrouwer and Frank Fiorentino's graphic novel "The Song of Otto" (excerpt) | John Holbo's graphic novel On Beyond Zarathustra (excerpt) | "Manoj" and "Josh" by Vijay Balakrishnan | "Verge" by Chris Rossi, and his audio novel Low Priority Hero | EPIC WINS: THE ILIAD (1.408-415) by Flourish Klink | EPIC WINS: THE KALEVALA (3.1-278) by James Parker | EPIC WINS: THE ARGONAUTICA (2.815-834) by Joshua Glenn | EPIC WINS: THE MYTH OF THE ELK by Matthew Battles | TROUBLED SUPERHUMAN CONTEST: Charles Pappas, "The Law" | CATASTROPHE CONTEST: Timothy Raymond, "Hem and the Flood" | TELEPATHY CONTEST: Rachel Ellis Adams, "Fatima, Can You Hear Me?" | OIL SPILL CONTEST: A.E. Smith, "Sound Thinking | LITTLE NEMO CAPTION CONTEST: Joe Lyons, "Necronomicon" | SPOOKY-KOOKY CONTEST: Tucker Cummings, "Well Marbled" | INVENT-A-HERO CONTEST: TG Gibbon, "The Firefly" | FANFICTION CONTEST: Lyette Mercier's "Sex and the Single Superhero"