Caption Contest Winners
By: Patrick Cates
January 4, 2011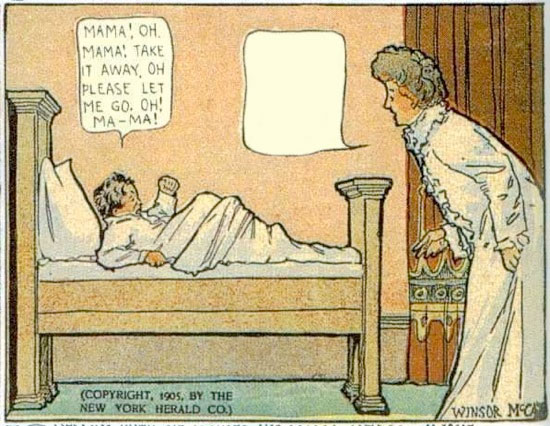 HILOBROW is pleased to announce the winners of our most recent contest! The contest was sponsored by

As a prize for the first-place entry in our contest, AbeBooks donated a signed copy of Emma Donoghue's Room, a novel about a boy who's lived his entire life in a single room with only his mother for company. That's what gave us the idea to sample a panel from Winsor McCay's Little Nemo in Slumberland, one in which Nemo, waking up from a nightmare, calls for his mother. We removed Nemo's mother's reply, and challenged HiLobrow readers to write a pithy one- or two-line response for her. The deadline was midnight on Dec. 31, and we received 71 entries.
HiLobrow editors Matthew Battles and Joshua Glenn, and HILOBROW's Magister Ludi, Patrick Cates, spent a hungover morning or two discussing the entries: Josh and Matt liked Freddie Mercury/Queen references, but Patrick preferred mongoose laffs; Matt and Patrick were tickled by uncanny and existentialist gags, while Josh found vulgar and Hegelian/Marxist captions more amusing. In the end, though, it was easy to agree on our first-, second-, and third-place winners. Here they are!
WINNER: A signed copy of Emma Donoghue's 2010 novel Room, provided by AbeBooks, goes to Joe Lyons (Pittsburgh, Penn.) for:
"Read me something from the Necronomicon," he says. I'm a bad parent.
[Note that Lyons' story "Deal Me Out" was a finalist in a fiction contest we ran last spring; and he was also a finalist in a story contest at our sister site, Significant Objects — which led to the publication of his "Letters and Numbers Plate" story at Significant Objects. That story will be collected in the Significant Objects book forthcoming this fall.]
SECOND PLACE: A coupon code entitling him to a discount of 50% for a purchase on AbeBooks (this prize also provided by AbeBooks) goes to Ryan Stacy (Ft. Thomas, Kentucky) for:
Third time this month! This is the last time Craigslist finds me an exorcist!
THIRD PLACE: A COCKY THE FOX or HILOBROW t-shirt (his choice; prize donated by HiLobrow) goes to John Ohno (North Haven, Conn.) for:
I am not your mother.
Many thanks, readers, for your excellent contest entries.
*
ALL CONTEST WINNERS! 1. TROUBLED SUPERHUMAN: Charles Pappas's "The Law" | 2. CATASTROPHE: Timothy Raymond's "Hem and the Flood" | 3. TELEPATHY: Rachel Ellis Adams's "Fatima, Can You Hear Me?" | 4. OIL SPILL: A.E. Smith's "Sound Thinking" | 5. LITTLE NEMO CAPTION: Joe Lyons's "Necronomicon" | 6. SPOOKY-KOOKY: Tucker Cummings's "Well Marbled" | 7. PULP HERO: TG Gibbon's "The Firefly" | 8. FANFICTION: Lyette Mercier's "Sex and the Single Superhero"