Jurgen (38)
By: James Branch Cabell
December 4, 2015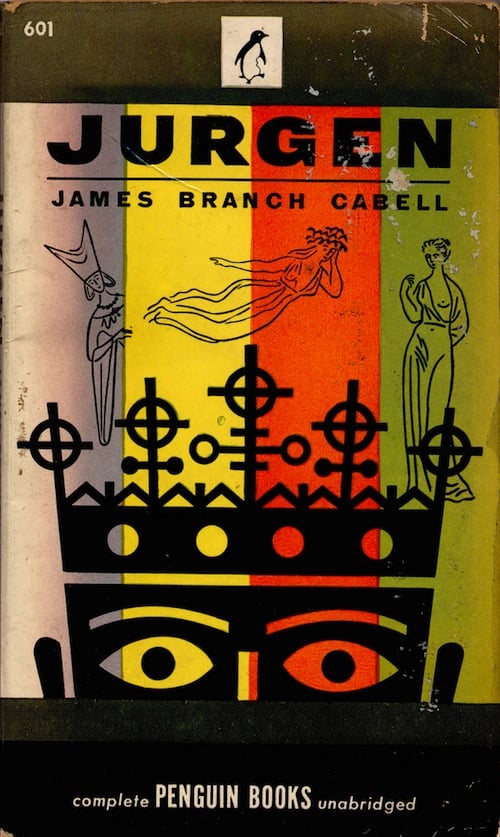 James Branch Cabell's 1919 ironic fantasy novel Jurgen, A Comedy of Justice, the protagonist of which seduces women everywhere he travels — including into Arthurian legend and Hell itself — is (according to Aleister Crowley) one of the "epoch-making masterpieces of philosophy." Cabell's sardonic inversion of romantic fantasy was postmodernist avant la lettre. HiLoBooks is pleased to serialize Jurgen here at HILOBROW. Enjoy!
ALL INSTALLMENTS SO FAR
***
Invention of the Lovely Vampire
So again Coth parted with his son in anger, and Jurgen returned again toward Barathum; and, whether or not it was a coincidence, Jurgen met precisely the vampire of whom he had inveigled his father into thinking. She was the most seductively beautiful creature that it would be possible for Jurgen's father or any other man to imagine: and her clothes were orange-colored, for a reason sufficiently well known in Hell, and were embroidered everywhere with green fig-leaves.
"A good morning to you, madame," says Jurgen, "and whither are you going?"
"Why, to no place at all, good youth. For this is my vacation, granted yearly by the Law of Kalki —"
"And who is Kalki, madame?"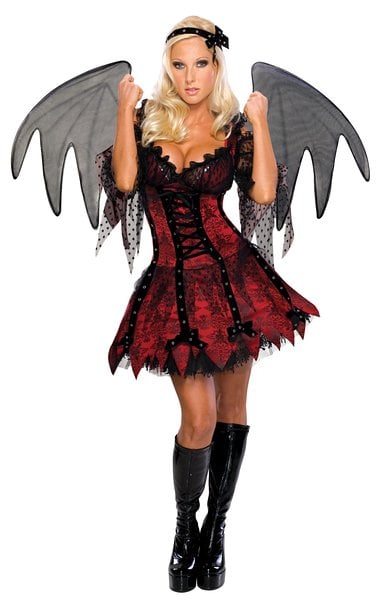 "Nobody as yet: but he will come as a stallion. Meanwhile his Law precedes him, so that I am spending my vacation peacefully in Hell, with none of my ordinary annoyances to bother me."
"And what, madame, can they be?"
"Why, you must understand that it is little rest a vampire gets on earth, with so many fine young fellows like yourself going about everywhere eager to be destroyed."
"But how, madame, did you happen to become a vampire if the life does not please you? And what is it that they call you?"
"My name, sir," replied the Vampire, sorrowfully, "is Florimel, because my nature no less than my person was as beautiful as the flowers of the field and as sweet as the honey which the bees (who furnish us with such admirable examples of industry) get out of these flowers. But a sad misfortune changed all this. For I chanced one day to fall ill and die (which, of course, might happen to anyone), and as my funeral was leaving the house the cat jumped over my coffin. That was a terrible misfortune to befall a poor dead girl so generally respected, and in wide demand as a seamstress; though, even then, the worst might have been averted had not my sister-in-law been of what they call a humane disposition and foolishly attached to the cat. So they did not kill it, and I, of course, became a vampire."
"Yes, I can understand that was inevitable. Still, it seems hardly fair. I pity you, my dear." And Jurgen sighed.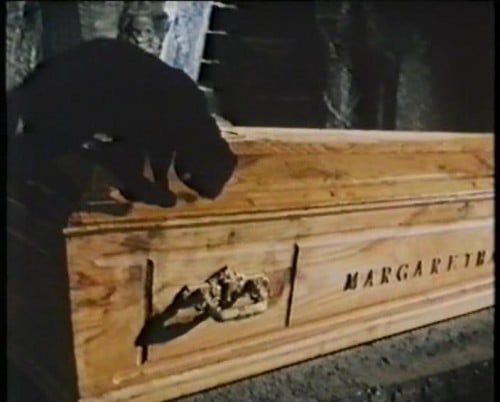 "I would prefer, sir, that you did not address me thus familiarly, since you and I have omitted the formality of an introduction; and in the absence of any joint acquaintances are unlikely ever to meet properly."
"I have no herald handy, for I travel incognito. However, I am that Jurgen who recently made himself Emperor of Noumaria, King of Eubonia, Prince of Cocaigne, and Duke of Logreus; and of whom you have doubtless heard."
"Why, to be sure!" says she, patting her hair straight. "And who would have anticipated meeting your highness in such a place!"
"One says 'majesty' to an emperor, my dear. It is a detail, of course: but in my position one has to be a little exigent."
"I perfectly comprehend, your majesty; and indeed I might have divined your rank from your lovely clothes. I can but entreat you to overlook my unintentional breach of etiquette: and I make bold to add that a kind heart reveals the splendor of its graciousness through the interest which your majesty has just evinced in my disastrous history."
"Upon my word," thinks Jurgen, "but in this flow of words I seem to recognize my father's imagination when in anger."
Then Florimel told Jurgen of her horrible awakening in the grave, and of what had befallen her hands and feet there, the while that against her will she fed repugnantly, destroying first her kindred and then the neighbors. This done, she had arisen.
"For the cattle still lived, and that troubled me. When I had put an end to this annoyance, I climbed into the church belfry, not alone, for one went with me of whom I prefer not to talk; and at midnight I sounded the bell so that all who heard it would sicken and die. And I wept all the while, because I knew that when everything had been destroyed which I had known in my first life in the flesh, I would be compelled to go into new lands, in search of the food which alone can nourish me, and I was always sincerely attached to my home. So it was, your majesty, that I forever relinquished my sewing, and became a lovely peril, a flashing desolation, and an evil which smites by night, in spite of my abhorrence of irregular hours: and what I do I dislike extremely, for it is a sad fate to become a vampire, and still to sympathize with your victims, and particularly with their poor mothers."
So Jurgen comforted Florimel, and he put his arm around her.
"Come, come!" he said, "but I will see that your vacation passes pleasantly. And I intend to deal fairly with you, too."
Then he glanced sidewise at his shadow, and whispered a suggestion which caused Florimel to sigh. "By the terms of my doom," said she, "at no time during the nine lives of the cat can I refuse. Still, it is a comfort you are the Emperor of Noumaria and have a kind heart."
"Oh, and many other possessions, my dear! and I again assure you that I intend to deal fairly with you."
So Florimel conducted Jurgen, through the changeless twilight of Barathum, like that of a gray winter afternoon, to a quiet cleft by the Sea of Blood, which she had fitted out very cosily in imitation of her girlhood home; and she lighted a candle, and made him welcome to her cleft. And when Jurgen was about to enter it he saw that his shadow was following him into the Vampire's home.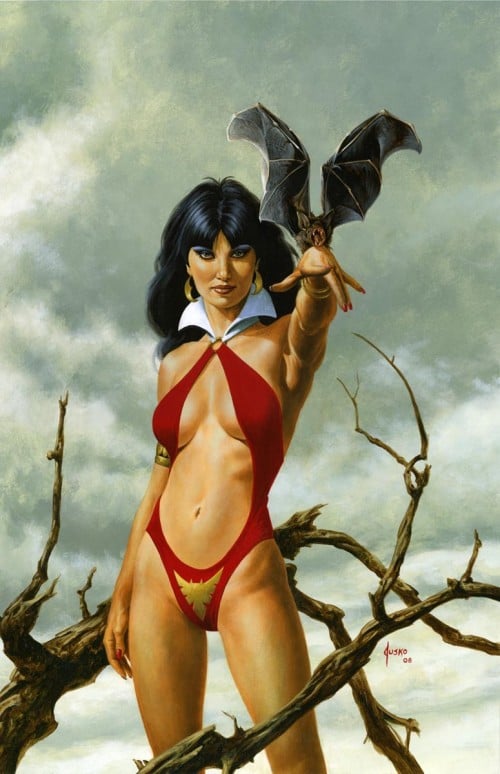 "Let us extinguish this candle!" says Jurgen, "for I have seen so many flames to-day that my eyes are tired."
So Florimel extinguished the candle, with a good-will that delighted Jurgen. And now they were in utter darkness, and in the dark nobody can see what is happening. But that Florimel now trusted Jurgen and his Noumarian claims was evinced by her very first remark.
"I was in the beginning suspicious of your majesty," said Florimel, "because I had always heard that every emperor carried a magnificent sceptre, and you then displayed nothing of the sort. But now, somehow, I do not doubt you any longer. And of what is your majesty thinking?"
"Why, I was reflecting, my dear," says Jurgen, "that my father imagines things very satisfactorily."
NEXT INSTALLMENT | ALL INSTALLMENTS SO FAR
***
Footnotes from Notes on Jurgen (1928), by James P. Cover — with additional comments from the creators of this website; rewritten, in some instances, by HiLoBooks.
* Vampire — A vampire, says an old document, is a "dead person who continues to live on in the grave; who at night ascends from his tomb as an apparition in order to suck the blood of the living by which he maintains his body in the earth unemaciated and incapable of decay." A vampire could be destroyed only by driving a stake through the heart of the corpse and then burning the body.
* Kalki — Kalki is the white horse that the Hindu god Vishnu will ride in his tenth and last incarnation, when he comes to destroy the world. It is Mr. Cabell's pleasure to confuse Kalki with the silver stallion of Poictesme; and he has named the uniform edition of his works, which bear a stallion rampant, enclosed in a circle, in the lower right-hand corner of the front cover, the Kalki Edition.
* Florimel is a character in The Faerie Queene – or rather, she is roughly two of them, one of which is a deceitful imitation, the work of Archimago.
***
RADIUM AGE SCIENCE FICTION: "Radium Age" is HILOBROW's name for the 1904–33 era, which saw the discovery of radioactivity, the revelation that matter itself is constantly in movement — a fitting metaphor for the first decades of the 20th century, during which old scientific, religious, political, and social certainties were shattered. This era also saw the publication of genre-shattering writing by Edgar Rice Burroughs, Sax Rohmer, E.E. "Doc" Smith, Jack London, Arthur Conan Doyle, Aldous Huxley, Olaf Stapledon, Karel Čapek, H.P. Lovecraft, Charlotte Perkins Gilman, Yevgeny Zamyatin, Philip Gordon Wylie, and other pioneers of post-Verne/Wells, pre-Golden Age "science fiction." More info here.
READ GORGEOUS PAPERBACKS: HiLoBooks has reissued the following 10 obscure but amazing Radium Age science fiction novels in beautiful print editions: Jack London's The Scarlet Plague, Rudyard Kipling's With the Night Mail (and "As Easy as A.B.C."), Arthur Conan Doyle's The Poison Belt, H. Rider Haggard's When the World Shook, Edward Shanks' The People of the Ruins, William Hope Hodgson's The Night Land, J.D. Beresford's Goslings, E.V. Odle's The Clockwork Man, Cicely Hamilton's Theodore Savage, and Muriel Jaeger's The Man with Six Senses. For more information, visit the HiLoBooks homepage.
SERIALIZED BY HILOBOOKS: Jack London's The Scarlet Plague | Rudyard Kipling's With the Night Mail (and "As Easy as A.B.C.") | Arthur Conan Doyle's The Poison Belt | H. Rider Haggard's When the World Shook | Edward Shanks' The People of the Ruins | William Hope Hodgson's The Night Land | J.D. Beresford's Goslings | E.V. Odle's The Clockwork Man | Cicely Hamilton's Theodore Savage | Muriel Jaeger's The Man With Six Senses | Jack London's "The Red One" | Philip Francis Nowlan's Armageddon 2419 A.D. | Homer Eon Flint's The Devolutionist | W.E.B. DuBois's "The Comet" | Edgar Rice Burroughs's The Moon Men | Charlotte Perkins Gilman's Herland | Sax Rohmer's "The Zayat Kiss" | Eimar O'Duffy's King Goshawk and the Birds | Frances Hodgson Burnett's The Lost Prince | Morley Roberts's The Fugitives | Helen MacInnes's The Unconquerable | Geoffrey Household's Watcher in the Shadows | William Haggard's The High Wire | Hammond Innes's Air Bridge | James Branch Cabell's Jurgen | John Buchan's "No Man's Land" | John Russell's "The Fourth Man" | E.M. Forster's "The Machine Stops" | John Buchan's Huntingtower | Arthur Conan Doyle's When the World Screamed | Victor Bridges' A Rogue By Compulsion | Jack London's The Iron Heel | H. De Vere Stacpoole's The Man Who Lost Himself | P.G. Wodehouse's Leave It to Psmith | Richard Connell's "The Most Dangerous Game" | Houdini and Lovecraft's "Imprisoned with the Pharaohs" | Arthur Conan Doyle's "The Sussex Vampire."
ORIGINAL FICTION: HILOBROW has serialized three novels: James Parker's The Ballad of Cocky The Fox ("a proof-of-concept that serialization can work on the Internet" — The Atlantic); Karinne Keithley Syers's Linda Linda Linda (which includes original music); and Robert Waldron's roman à clef The School on the Fens. We also publish original stories and comics. These include: Matthew Battles's stories "Gita Nova", "Makes the Man," "Imago," "Camera Lucida," "A Simple Message", "Children of the Volcano", "The Gnomon", "Billable Memories", "For Provisional Description of Superficial Features", "The Dogs in the Trees", "The Sovereignties of Invention", and "Survivor: The Island of Dr. Moreau"; several of these later appeared in the collection The Sovereignties of Invention | Peggy Nelson's "Mood Indigo", "Top Kill Fail", and "Mercerism" | Annalee Newitz's "The Great Oxygen Race" | Flourish Klink's Star Trek fanfic "Conference Comms" | Charlie Mitchell's "A Fantasy Land" | Charlie Mitchell's "Sentinels" | Joshua Glenn's "The Lawless One", and the mashup story "Zarathustra vs. Swamp Thing" | Adam McGovern and Paolo Leandri's Idoru Jones comics | John Holbo's "Sugarplum Squeampunk" | "Another Corporate Death" (1) and "Another Corporate Death" (2) by Mike Fleisch | Kathryn Kuitenbrouwer and Frank Fiorentino's graphic novel "The Song of Otto" (excerpt) | John Holbo's graphic novel On Beyond Zarathustra (excerpt) | "Manoj" and "Josh" by Vijay Balakrishnan | "Verge" by Chris Rossi, and his audio novel Low Priority Hero | EPIC WINS: THE ILIAD (1.408-415) by Flourish Klink | EPIC WINS: THE KALEVALA (3.1-278) by James Parker | EPIC WINS: THE ARGONAUTICA (2.815-834) by Joshua Glenn | EPIC WINS: THE MYTH OF THE ELK by Matthew Battles | TROUBLED SUPERHUMAN CONTEST: Charles Pappas, "The Law" | CATASTROPHE CONTEST: Timothy Raymond, "Hem and the Flood" | TELEPATHY CONTEST: Rachel Ellis Adams, "Fatima, Can You Hear Me?" | OIL SPILL CONTEST: A.E. Smith, "Sound Thinking | LITTLE NEMO CAPTION CONTEST: Joe Lyons, "Necronomicon" | SPOOKY-KOOKY CONTEST: Tucker Cummings, "Well Marbled" | INVENT-A-HERO CONTEST: TG Gibbon, "The Firefly" | FANFICTION CONTEST: Lyette Mercier's "Sex and the Single Superhero"