Sax Rohmer
By: Joshua Glenn
February 15, 2012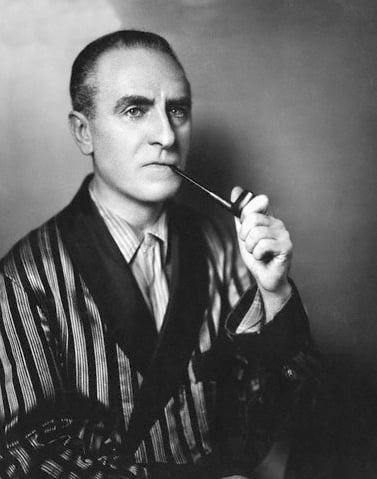 "Imagine a person, tall, lean, and feline, high-shouldered, with a brow like Shakespeare and a face like Satan, a close-shaven skull, and long, magnetic eyes of the true-cat green. Invest him with all the cruel cunning of an entire Eastern race, accumulated in one giant intellect, with all the resources of science past and present…." Thus did the Anglo-Irish pulp writer SAX ROHMER (Arthur Henry Ward, 1883-1959) introduce Fu Manchu in 1912. His brilliant scientist master criminal was a ripoff of Conan Doyle's Moriarty (while his intrepid sleuth Nayland Smith, and Smith's comrade/biographer Dr. Petrie, aped Holmes and Watson), but Rohmer's yarns found purchase in pop culture by stoking readers' fear of a Yellow Peril emerging from the East. Opposed to British colonial interference in Asia, Fu Manchu (who is clean-shaven, in the stories; the mustache got its name from Hollywood's version of the character) wages a war of terror on British soil via fiendish inventions and chemical weapons, not to mention pythons, spiders, and knife-wielding Thuggee assassins. Rohmer also wrote non-sf detective thrillers — concerning the adventures of, e.g., Gaston Max, Morris Klaw, and The Crime Magnet — but it was his racist depiction of the sinister Fu Manchu, ancestor of Ming the Merciless, Dr. No, and the Mandarin, which made him one of the most successful authors of science fiction's Radium Age. He died in 1959 of the Asian Flu.
***
In 2012–2013, HiLoBooks serialized and republished (in gorgeous paperback editions, with new Introductions) 10 forgotten Radium Age science fiction classics! For more info: HiLoBooks.
MORE RADIUM AGE SCI FI ON HILOBROW: HiLoBooks homepage! | What is Radium Age science fiction? |Radium Age 100: 100 Best Science Fiction Novels from 1904–33 | Radium Age Supermen | Radium Age Robots | Radium Age Apocalypses | Radium Age Telepaths | Radium Age Eco-Catastrophes | Radium Age Cover Art (1) | SF's Best Year Ever: 1912 | Radium Age Science Fiction Poetry | Enter Highbrowism | Bathybius! Primordial ooze in Radium Age sf | War and Peace Games (H.G. Wells's training manuals for supermen) | Radium Age: Context series | J.D. Beresford | Algernon Blackwood | Edgar Rice Burroughs | Karel Čapek | Buster Crabbe | August Derleth | Arthur Conan Doyle | Hugo Gernsback | Charlotte Perkins Gilman | Cicely Hamilton | Hermann Hesse | William Hope Hodgson | Aldous Huxley | Inez Haynes Irwin | Alfred Jarry | Jack Kirby (Radium Age sf's influence on) | Murray Leinster | Gustave Le Rouge | Gaston Leroux | David Lindsay | Jack London | H.P. Lovecraft | A. Merritt | Maureen O'Sullivan | Sax Rohmer | Paul Scheerbart | Upton Sinclair | Clark Ashton Smith | E.E. "Doc" Smith | Olaf Stapledon | John Taine | H.G. Wells | Jack Williamson | Stanisław Ignacy Witkiewicz | S. Fowler Wright | Philip Gordon Wylie | Yevgeny Zamyatin
On his or her birthday, HiLobrow irregularly pays tribute to one of our high-, low-, no-, or hilobrow heroes. Also born this date: Conor Oberst and Ernest Shackleton.
READ MORE about men and women born on the cusp between the Psychonaut (1874-1883) and Modernist (1884-93) generations.
MORE HORROR ON HILOBROW: Early '60s Horror, a series by David Smay | Phone Horror, a series by Devin McKinney | Philip Stone's Hat-Trick | Shocking Blocking: Candyman | Shocking Blocking: A Bucket of Blood | Kenneth Anger | Sax Rohmer | August Derleth | Edgar Ulmer | Vincent Price | Max von Sydow | Lon Chaney Sr. | James Whale | Wes Craven | Roman Polanski | Ed Wood | John Carpenter | George A. Romero | David Cronenberg | Roger Corman | Georges Franju | Shirley Jackson | Jacques Tourneur | Ray Bradbury | Edgar Allan Poe | Algernon Blackwood | H.P. Lovecraft | Clark Ashton Smith | Gaston Leroux |