The Firefly
By: TG Gibbon
March 21, 2012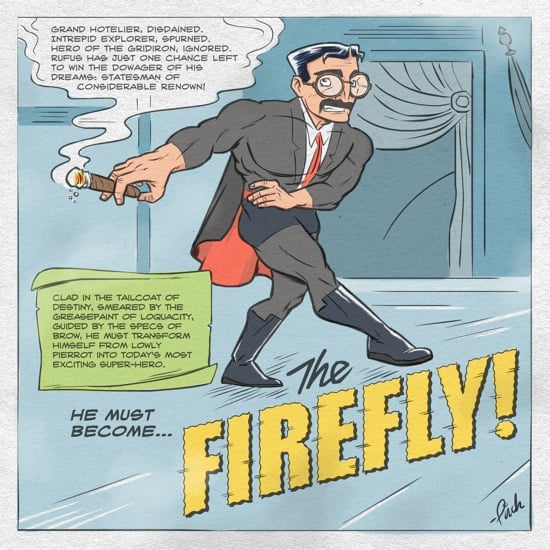 HILOBROW's seventh micro-fiction contest ran from February 21 through March 14. We challenged all comers to write an invent-a-hero narrative (inspired by radio serials, pulp fiction, and Golden Age comic book opening panels) for a classic work of fiction or film. In 65 words or fewer. TG Gibbon's story, "The Firefly," won first place. Congratulations!
Read the runner-up stories here.
The contest's guidelines are here; you can read all 60+ contest entries in that post's Comments.
The contest was sponsored by the used and rare bookseller Pazzo Books.

PS: Our thanks to Rick Pinchera for the amazing comic, and to Carolyn Kellogg at the LA Times' literary blog Jacket Copy for talking up this contest.
PPS: Check out TG Gibbon's excellent post today on "The Disturbing World Of British TV Commercials" at The Awl.
***
ALL CONTEST WINNERS! 1. TROUBLED SUPERHUMAN: Charles Pappas's "The Law" | 2. CATASTROPHE: Timothy Raymond's "Hem and the Flood" | 3. TELEPATHY: Rachel Ellis Adams's "Fatima, Can You Hear Me?" | 4. OIL SPILL: A.E. Smith's "Sound Thinking" | 5. LITTLE NEMO CAPTION: Joe Lyons's "Necronomicon" | 6. SPOOKY-KOOKY: Tucker Cummings's "Well Marbled" | 7. PULP HERO: TG Gibbon's "The Firefly" | 8. FANFICTION: Lyette Mercier's "Sex and the Single Superhero"