Jurgen (40)
By: James Branch Cabell
December 19, 2015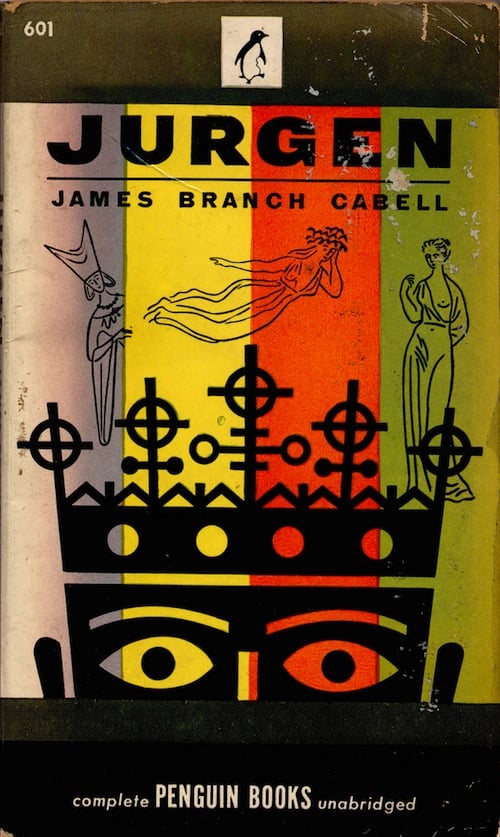 James Branch Cabell's 1919 ironic fantasy novel Jurgen, A Comedy of Justice, the protagonist of which seduces women everywhere he travels — including into Arthurian legend and Hell itself — is (according to Aleister Crowley) one of the "epoch-making masterpieces of philosophy." Cabell's sardonic inversion of romantic fantasy was postmodernist avant la lettre. HiLoBooks is pleased to serialize Jurgen here at HILOBROW. Enjoy!
ALL INSTALLMENTS SO FAR
***
Of Compromises in Hell
Now Grandfather Satan's wife was called Phyllis: and apart from having wings like a bat's, she was the loveliest little slip of devilishness that Jurgen had seen in a long while. Jurgen spent this night at the Black House of Barathum, and two more nights, or it might be three nights: and the details of what Jurgen used to do there, after supper, when he would walk alone in the Black House Gardens, among the artfully colored cast-iron flowers and shrubbery, and would so come to the grated windows of Phyllis's room, and would stand there joking with her in the dark, are not requisite to this story.
Satan was very jealous of his wife, and kept one of her wings clipped and held her under lock and key, as the treasure that she was. But Jurgen was accustomed to say afterward that, while the gratings over the windows were very formidable, they only seemed somehow to enhance the piquancy of his commerce with Dame Phyllis. This queen, said Jurgen, he had found simply unexcelled at repartee.
Florimel considered the saying cryptic: just what precisely did his majesty mean?
"Why, that in any and all circumstances Dame Phyllis knows how to take a joke, and to return as good as she receives."
"So your majesty has already informed me: and certainly jokes can be exchanged through a grating —"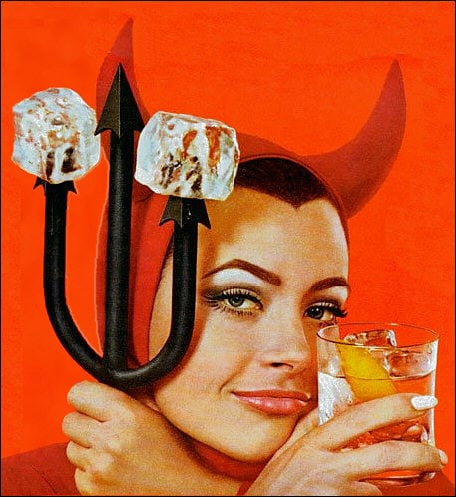 "Yes, that was what I meant. And Dame Phyllis appeared to appreciate my ready flow of humor. She informs me Grandfather Satan is of a cold dry temperament, with very little humor in him, so that they go for months without exchanging any pleasantries. Well, I am willing to taste any drink once: and for the rest, remembering that my host had very enormous and intimidating horns, I was at particular pains to deal fairly with my hostess. Though, indeed, it was more for the honor and the glory of the affair than anything else that I exchanged pleasantries with Satan's wife. For to do that, my dear, I felt was worthy of the Emperor Jurgen."
"Ah, I am afraid your majesty is a sad scapegrace," replied Florimel: "however, we all know that the sceptre of an emperor is respected everywhere."
"Indeed," says Jurgen, "I have often regretted that I did not bring with me my jewelled sceptre when I left Noumaria."
She shivered at some unspoken thought: it was not until some while afterward that Florimel told Jurgen of her humiliating misadventure with the absent-minded Sultan of Garçao's sceptre. Now she only replied that jewels might, conceivably, seem ostentatious and out of place.
Jurgen agreed to this truism: for of course they were living very quietly, and Jurgen was splendid enough for any reasonable wife's requirements, in his glittering shirt.
So Jurgen got on pleasantly with Florimel. But he never became as fond of her as he had been of Guenevere or Anaïtis, nor one-tenth as fond of her as he had been of Chloris. In the first place, he suspected that Florimel had been invented by his father, and Coth and Jurgen had never any tastes in common: and in the second place, Jurgen could not but see that Florimel thought a great deal of his being an emperor.
"It is my title she loves, not me," reflected Jurgen, sadly, "and her affection is less for that which is really integral to me than for imperial orbs and sceptres and such-like external trappings."
And Jurgen would come out of Florimel's cleft considerably dejected, and would sit alone by the Sea of Blood, and would meditate how inequitable it was that the mere title of emperor should thus shut him off from sincerity and candor.
"We who are called kings and emperors are men like other men: we are as rightly entitled as other persons to the solace of true love and affection: instead, we live in a continuous isolation, and women offer us all things save their hearts, and we are a lonely folk. No, I cannot believe that Florimel loves me for myself alone: it is my title which dazzles her. And I would that I had never made myself the emperor of Noumaria: for this emperor goes about everywhere in a fabulous splendor, and is, very naturally, resistless in his semi-mythical magnificence. Ah, but these imperial gewgaws distract the thoughts of Florimel from the real Jurgen; so that the real Jurgen is a person whom she does not understand at all. And it is not fair."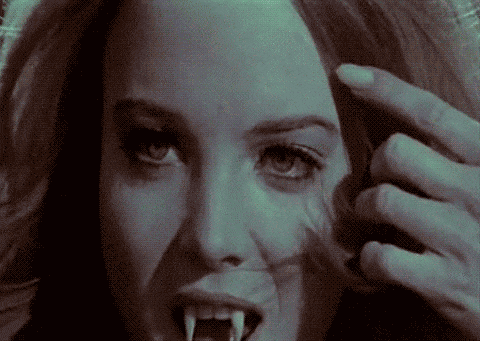 Then, too, he had a sort of prejudice against the way in which Florimel spent her time in seducing and murdering young men. It was not possible, of course, actually to blame the girl, since she was the victim of circumstances, and had no choice about becoming a vampire, once the cat had jumped over her coffin. Still, Jurgen always felt, in his illogical masculine way, that her vocation was not nice. And equally in the illogical way of men, did he persist in coaxing Florimel to tell him of her vampiric transactions, in spite of his underlying feeling that he would prefer to have his wife engaged in some other trade: and the merry little creature would humor him willingly enough, with her purple eyes a-sparkle, and with her vivid lips curling prettily back, so as to show her tiny white sharp teeth quite plainly.
She was really very pretty thus, as she told him of what happened in Copenhagen when young Count Osmund went down into the blind beggar-woman's cellar, and what they did with bits of him; and of how one kind of serpent came to have a secret name, which, when cried aloud in the night, with the appropriate ceremony, will bring about delicious happenings; and of what one can do with small unchristened children, if only they do not kiss you, with their moist uncertain little mouths, for then this thing is impossible; and of what use she had made of young Sir Ganelon's skull, when he was through with it, and she with him; and of what the young priest Wulfnoth had said to the crocodiles at the very last.
"Oh, yes, my life has its amusing side," said Florimel: "and one likes to feel, of course, that one is not wholly out of touch with things, and is even, in one's modest way, contributing to the suppression of folly. But even so, your majesty, the calls that are made upon one! the things that young men expect of you, as the price of their bodily and spiritual ruin! and the things their relatives say about you! and, above all, the constant strain, the irregular hours, and the continual effort to live up to one's position! Oh, yes, your majesty, I was far happier when I was a consumptive seamstress and took pride in my buttonholes. But from a sister-in-law who only has you in to tea occasionally as a matter of duty, and who is prominent in churchwork, one may, of course, expect anything. And that reminds me that I really must tell your majesty about what happened in the hay-loft, just after the abbot had finished undressing —"
So she would chatter away, while Jurgen listened and smiled indulgently. For she certainly was very pretty. And so they kept house in Hell contentedly enough until Florimel's vacation was at an end: and then they parted, without any tears but in perfect friendliness.
And Jurgen always remembered Florimel most pleasantly, but not as a wife with whom he had ever been on terms of actual intimacy.
Now when this lovely Vampire had quitted him, the Emperor Jurgen, in spite of his general popularity and the deference accorded his political views, was not quite happy in Hell.
"It is a comfort, at any rate," said Jurgen, "to discover who originated the theory of democratic government. I have long wondered who started the notion that the way to get a wise decision on any conceivable question was to submit it to a popular vote. Now I know. Well, and the devils may be right in their doctrines; certainly I cannot go so far as to say they are wrong: but still, at the same time — !"
For instance, this interminable effort to make the universe safe for democracy, this continual warring against Heaven because Heaven clung to a tyrannical form of autocratic government, sounded both logical and magnanimous, and was, of course, the only method of insuring any general triumph for democracy: yet it seemed rather futile to Jurgen, since, as he knew now, there was certainly something in the Celestial system which made for military efficiency, so that Heaven usually won. Moreover, Jurgen could not get over the fact that Hell was just a notion of his ancestors with which Koshchei had happened to fall in: for Jurgen had never much patience with antiquated ideas, particularly when anyone put them into practice, as Koshchei had done.
"Why, this place appears to me a glaring anachronism," said Jurgen, brooding over the fires of Chorasma: "and its methods of tormenting conscientious people I cannot but consider very crude indeed. The devils are simple-minded and they mean well, as nobody would dream of denying, but that is just it: for hereabouts is needed some more pertinacious and efficiently disagreeable —"
And that, of course, reminded him of Dame Lisa: and so it was the thoughts of Jurgen turned again to doing the manly thing. And he sighed, and went among the devils tentatively looking and inquiring for that intrepid fiend who in the form of a black gentleman had carried off Dame Lisa. But a queer happening befell, and it was that nowhere could Jurgen find the black gentleman, nor did any of the devils know anything about him.
"From what you tell us, Emperor Jurgen," said they all, "your wife was an acidulous shrew, and the sort of woman who believes that whatever she does is right."
"It was not a belief," says Jurgen: "it was a mania with the poor dear."
"By that fact, then, she is forever debarred from entering Hell."
"You tell me news," says Jurgen, "which if generally known would lead many husbands into vicious living."
"But it is notorious that people are saved by faith. And there is no faith stronger than that of a bad-tempered woman in her own infallibility. Plainly, this wife of yours is the sort of person who cannot be tolerated by anybody short of the angels. We deduce that your Empress must be in Heaven."
"Well, that sounds reasonable. And so to Heaven I will go, and it may be that there I shall find justice."
"We would have you know," the fiends cried, bristling, "that in Hell we have all kinds of justice, since our government is an enlightened democracy."
"Just so," says Jurgen: "in an enlightened democracy one has all kinds of justice, and I would not dream of denying it. But you have not, you conceive, that lesser plague, my wife; and it is she whom I must continue to look for."
"Oh, as you like," said they, "so long as you do not criticize the exigencies of war-time. But certainly we are sorry to see you going into a country where the benighted people put up with an autocrat Who was not duly elected to His position. And why need you continue seeking your wife's society when it is so much pleasanter living in Hell?"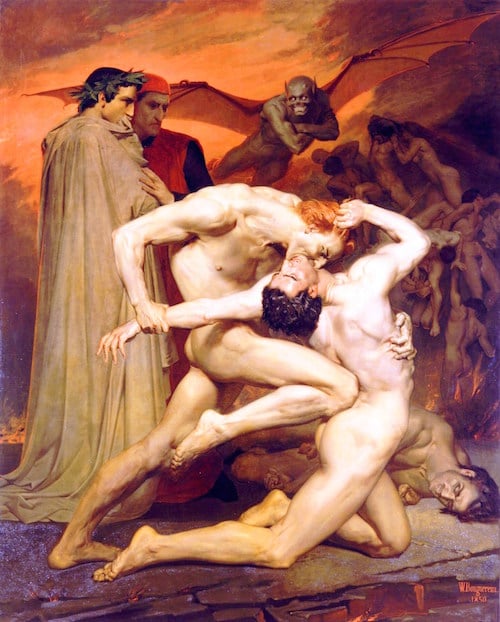 And Jurgen shrugged. "One has to do the manly thing sometimes."
So the fiends told him the way to Heaven's frontiers, pitying him.
"But the crossing of the frontier must be your affair."
"I have a cantrap," said Jurgen; "and my stay in Hell has taught me how to use it."
Then Jurgen followed his instructions, and went into Meridie, and turned to the left when he had come to the great puddle where the adders and toads are reared, and so passed through the mists of Tartarus, with due care of the wild lightning, and took the second turn to his left — "always in seeking Heaven be guided by your heart," had been the advice given him by devils, — and thus avoiding the abode of Jemra, he crossed the bridge over the Bottomless Pit and the solitary Narakas. And Brachus, who kept the toll-gate on this bridge, did that of which the fiends had forewarned Jurgen: but for this, of course, there was no help.
NEXT INSTALLMENT | ALL INSTALLMENTS SO FAR
***
Footnotes from Notes on Jurgen (1928), by James P. Cover — with additional comments from the creators of this website; rewritten, in some instances, by HiLoBooks.
* Phyllis — ?
* Sultan of Garçoa — ?
* Count Osmund — ?
* Sir Ganelon — The Knight who, according to legend, betrayed Charlemagne's forces to the Muslims at the Battle of Ronceveaux Pass. In The Song of Roland, he is Roland's stepfather. In Canto XXXII of the Book of Inferno in Dante's The Divine Comedy, he (Ganellone) has been banished to Cocytus in the depths of hell as punishment for his betrayal.
* Wulfnoth — ?
* Meridie — In The History of Dr. Faustus, Meridie is one of the five divisions of Hell and is ruled over by Belial.
* Tartarus — Tartarus was the classic place of punishment. It was as far below Hades as Heaven was above the earth.
* Jemra — ?
* The Bottomless Pit — In the ninth chapter of the Revelations, the bottomless pit is opened and a swarm of locusts loosed upon the earth to torment the unrighteous.
* Narakas — This is the Hell of the Hindus.
* Brachus — This is another devil mentioned in The History of Dr. Faustus.
***
RADIUM AGE SCIENCE FICTION: "Radium Age" is HILOBROW's name for the 1904–33 era, which saw the discovery of radioactivity, the revelation that matter itself is constantly in movement — a fitting metaphor for the first decades of the 20th century, during which old scientific, religious, political, and social certainties were shattered. This era also saw the publication of genre-shattering writing by Edgar Rice Burroughs, Sax Rohmer, E.E. "Doc" Smith, Jack London, Arthur Conan Doyle, Aldous Huxley, Olaf Stapledon, Karel Čapek, H.P. Lovecraft, Charlotte Perkins Gilman, Yevgeny Zamyatin, Philip Gordon Wylie, and other pioneers of post-Verne/Wells, pre-Golden Age "science fiction." More info here.
READ GORGEOUS PAPERBACKS: HiLoBooks has reissued the following 10 obscure but amazing Radium Age science fiction novels in beautiful print editions: Jack London's The Scarlet Plague, Rudyard Kipling's With the Night Mail (and "As Easy as A.B.C."), Arthur Conan Doyle's The Poison Belt, H. Rider Haggard's When the World Shook, Edward Shanks' The People of the Ruins, William Hope Hodgson's The Night Land, J.D. Beresford's Goslings, E.V. Odle's The Clockwork Man, Cicely Hamilton's Theodore Savage, and Muriel Jaeger's The Man with Six Senses. For more information, visit the HiLoBooks homepage.
SERIALIZED BY HILOBOOKS: Jack London's The Scarlet Plague | Rudyard Kipling's With the Night Mail (and "As Easy as A.B.C.") | Arthur Conan Doyle's The Poison Belt | H. Rider Haggard's When the World Shook | Edward Shanks' The People of the Ruins | William Hope Hodgson's The Night Land | J.D. Beresford's Goslings | E.V. Odle's The Clockwork Man | Cicely Hamilton's Theodore Savage | Muriel Jaeger's The Man With Six Senses | Jack London's "The Red One" | Philip Francis Nowlan's Armageddon 2419 A.D. | Homer Eon Flint's The Devolutionist | W.E.B. DuBois's "The Comet" | Edgar Rice Burroughs's The Moon Men | Charlotte Perkins Gilman's Herland | Sax Rohmer's "The Zayat Kiss" | Eimar O'Duffy's King Goshawk and the Birds | Frances Hodgson Burnett's The Lost Prince | Morley Roberts's The Fugitives | Helen MacInnes's The Unconquerable | Geoffrey Household's Watcher in the Shadows | William Haggard's The High Wire | Hammond Innes's Air Bridge | James Branch Cabell's Jurgen | John Buchan's "No Man's Land" | John Russell's "The Fourth Man" | E.M. Forster's "The Machine Stops" | John Buchan's Huntingtower | Arthur Conan Doyle's When the World Screamed | Victor Bridges' A Rogue By Compulsion | Jack London's The Iron Heel | H. De Vere Stacpoole's The Man Who Lost Himself | P.G. Wodehouse's Leave It to Psmith | Richard Connell's "The Most Dangerous Game" | Houdini and Lovecraft's "Imprisoned with the Pharaohs" | Arthur Conan Doyle's "The Sussex Vampire."
ORIGINAL FICTION: HILOBROW has serialized three novels: James Parker's The Ballad of Cocky The Fox ("a proof-of-concept that serialization can work on the Internet" — The Atlantic); Karinne Keithley Syers's Linda Linda Linda (which includes original music); and Robert Waldron's roman à clef The School on the Fens. We also publish original stories and comics. These include: Matthew Battles's stories "Gita Nova", "Makes the Man," "Imago," "Camera Lucida," "A Simple Message", "Children of the Volcano", "The Gnomon", "Billable Memories", "For Provisional Description of Superficial Features", "The Dogs in the Trees", "The Sovereignties of Invention", and "Survivor: The Island of Dr. Moreau"; several of these later appeared in the collection The Sovereignties of Invention | Peggy Nelson's "Mood Indigo", "Top Kill Fail", and "Mercerism" | Annalee Newitz's "The Great Oxygen Race" | Flourish Klink's Star Trek fanfic "Conference Comms" | Charlie Mitchell's "A Fantasy Land" | Charlie Mitchell's "Sentinels" | Joshua Glenn's "The Lawless One", and the mashup story "Zarathustra vs. Swamp Thing" | Adam McGovern and Paolo Leandri's Idoru Jones comics | John Holbo's "Sugarplum Squeampunk" | "Another Corporate Death" (1) and "Another Corporate Death" (2) by Mike Fleisch | Kathryn Kuitenbrouwer and Frank Fiorentino's graphic novel "The Song of Otto" (excerpt) | John Holbo's graphic novel On Beyond Zarathustra (excerpt) | "Manoj" and "Josh" by Vijay Balakrishnan | "Verge" by Chris Rossi, and his audio novel Low Priority Hero | EPIC WINS: THE ILIAD (1.408-415) by Flourish Klink | EPIC WINS: THE KALEVALA (3.1-278) by James Parker | EPIC WINS: THE ARGONAUTICA (2.815-834) by Joshua Glenn | EPIC WINS: THE MYTH OF THE ELK by Matthew Battles | TROUBLED SUPERHUMAN CONTEST: Charles Pappas, "The Law" | CATASTROPHE CONTEST: Timothy Raymond, "Hem and the Flood" | TELEPATHY CONTEST: Rachel Ellis Adams, "Fatima, Can You Hear Me?" | OIL SPILL CONTEST: A.E. Smith, "Sound Thinking | LITTLE NEMO CAPTION CONTEST: Joe Lyons, "Necronomicon" | SPOOKY-KOOKY CONTEST: Tucker Cummings, "Well Marbled" | INVENT-A-HERO CONTEST: TG Gibbon, "The Firefly" | FANFICTION CONTEST: Lyette Mercier's "Sex and the Single Superhero"