Charlotte Perkins Gilman
By: Amanda French
July 3, 2010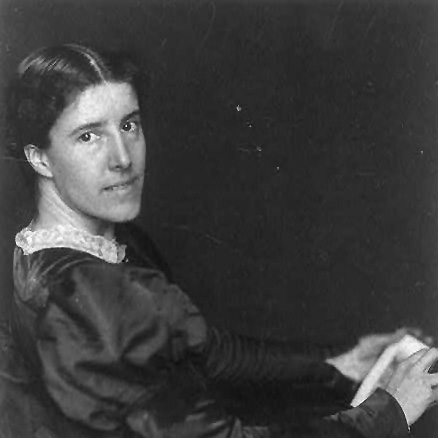 "Bless her little heart!" said he with a big hug, "she shall be as sick as she pleases!"
Like many heroes, CHARLOTTE PERKINS GILMAN (1860-1935) did and was a great deal more than just that one thing we all know about. She went to RISD, did you know? She was Harriet Beecher Stowe's niece, she married her first cousin after divorcing her first husband, she wrote a utopian novella about an all-female society called Herland, and she wrote in her eminently rational suicide note that she "preferred chloroform to cancer," did you know?
What I know you know is that it's really all about "The Yellow Wallpaper," literature's best (and perhaps only) feminist horror story, a story Poe or Lovecraft would be happy to have written. But only Gilman could have pulled off the world's most moronic patronizing patriarch (that tone, that TONE!), not least because "The Yellow Wallpaper" was based on her real experience undergoing "The Rest Cure" at the no doubt moronic hands of nerve specialist Dr. Weir Mitchell, whose prescription of milk, isolation, total bed rest, and above all NO WRITING was applied to Virginia Woolf as well as to Charlotte Perkins Gilman.
The idea that other people can drive you crazy isn't very fashionable anymore. Think of David Foster Wallace's "Depressed Person," for instance, who clearly has only herself to blame (and blame, and blame). Or, of course, think of all the biochemical scapegoats we now know we have within us to humbly and mutely accept all responsibility. First-wave feminist Charlotte Perkins Gilman suggests (usefully, I think) that perhaps it's not us. Perhaps it's them. Or him. Or her. Who is driving us crazy.
ALSO BORN THIS DATE: Franz Kafka.
***
Each day, HILOBROW pays tribute to one of our favorite high-, low-, no-, or hilobrow heroes on that person's birthday.
READ MORE about the Plutonian generation (1854-63).
***
In 2012–2013, HiLoBooks serialized and republished (in gorgeous paperback editions, with new Introductions) 10 forgotten Radium Age science fiction classics! For more info: HiLoBooks.
MORE RADIUM AGE SCI FI ON HILOBROW: HiLoBooks homepage! | What is Radium Age science fiction? |Radium Age 100: 100 Best Science Fiction Novels from 1904–33 | Radium Age Supermen | Radium Age Robots | Radium Age Apocalypses | Radium Age Telepaths | Radium Age Eco-Catastrophes | Radium Age Cover Art (1) | SF's Best Year Ever: 1912 | Radium Age Science Fiction Poetry | Enter Highbrowism | Bathybius! Primordial ooze in Radium Age sf | War and Peace Games (H.G. Wells's training manuals for supermen) | Radium Age: Context series | J.D. Beresford | Algernon Blackwood | Edgar Rice Burroughs | Karel Čapek | Buster Crabbe | August Derleth | Arthur Conan Doyle | Hugo Gernsback | Charlotte Perkins Gilman | Cicely Hamilton | Hermann Hesse | William Hope Hodgson | Aldous Huxley | Inez Haynes Irwin | Alfred Jarry | Jack Kirby (Radium Age sf's influence on) | Murray Leinster | Gustave Le Rouge | Gaston Leroux | David Lindsay | Jack London | H.P. Lovecraft | A. Merritt | Maureen O'Sullivan | Sax Rohmer | Paul Scheerbart | Upton Sinclair | Clark Ashton Smith | E.E. "Doc" Smith | Olaf Stapledon | John Taine | H.G. Wells | Jack Williamson | Stanisław Ignacy Witkiewicz | S. Fowler Wright | Philip Gordon Wylie | Yevgeny Zamyatin