Jurgen (3)
By: James Branch Cabell
March 28, 2015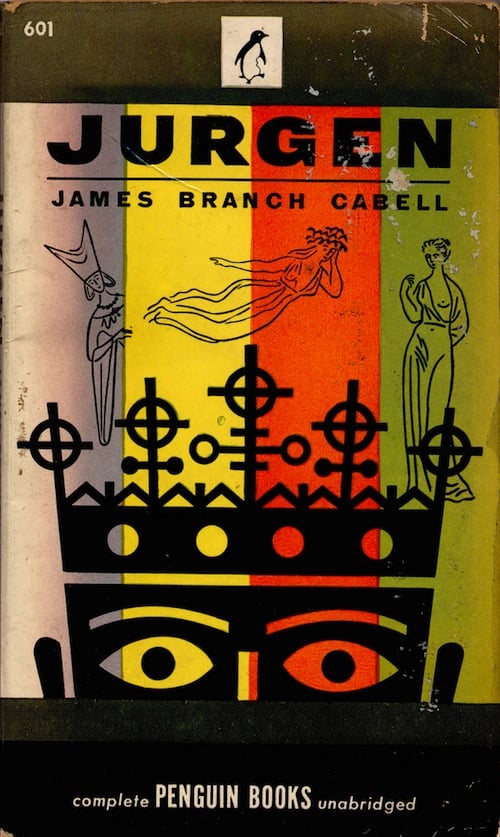 James Branch Cabell's 1919 ironic fantasy novel Jurgen, A Comedy of Justice, the protagonist of which seduces women everywhere he travels — including into Arthurian legend and Hell itself — is (according to Aleister Crowley) one of the "epoch-making masterpieces of philosophy." Cabell's sardonic inversion of romantic fantasy was postmodernist avant la lettre. HiLoBooks is pleased to serialize Jurgen here at HILOBROW. Enjoy!
ALL INSTALLMENTS SO FAR
***
Assumption of a Noted Garment
The tale tells that all was dark there, and Jurgen could see no one. But the cave stretched straight forward, and downward, and at the far end was a glow of light. Jurgen went on and on, and so came presently to a centaur; and this surprised him not a little, because Jurgen knew that centaurs were imaginary creatures.
Certainly they were curious to look at: for here was the body of a fine bay horse, and rising from its shoulders, the sun-burnt body of a young fellow who regarded Jurgen with grave and not unfriendly eyes. The Centaur was lying beside a fire of cedar and juniper wood; near him was a platter containing a liquid with which he was anointing his hoofs. This stuff, as the Centaur rubbed it in with his fingers, turned the appearance of his hoofs to gold.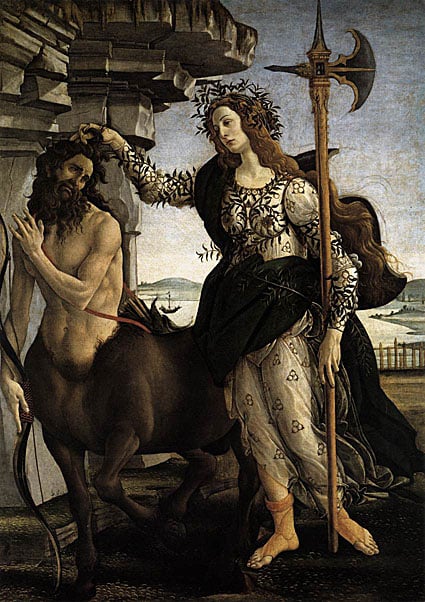 "Hail, friend," says Jurgen, "if you be the work of God."
"Your protasis is not good Greek," observed the Centaur, "because in Hellas we did not make such reservations. Besides, it is not so much my origin as my destination which concerns you."
"Well, friend, and whither are you going?"
"To the garden between dawn and sunrise, Jurgen."
"Surely, now, but that is a fine name for a garden! and it is a place I would take joy to be seeing."
"Up upon my back, Jurgen, and I will take you thither," says the Centaur, and heaved to his feet. Then said the Centaur, when the pawnbroker hesitated: "Because, as you must understand, there is no other way. For this garden does not exist, and never did exist, in what men humorously called real life; so that of course only imaginary creatures such as I can enter it."
"That sounds very reasonable," Jurgen estimated: "but as it happens, I am looking for my wife, whom I suspect to have been carried off by a devil, poor fellow!"
And Jurgen began to explain to the Centaur what had befallen.
The Centaur laughed. "It may be for that reason I am here. There is, in any event, only one remedy in this matter. Above all devils — and above all gods, they tell me, but certainly above all centaurs — is the power of Koshchei the Deathless, who made things as they are."
"It is not always wholesome," Jurgen submitted, "to speak of Koshchei. It seems especially undesirable in a dark place like this."
"None the less, I suspect it is to him you must go for justice."
"I would prefer not doing that," said Jurgen, with unaffected candor.
"You have my sympathy: but there is no question of preference where Koshchei is concerned. Do you think, for example, that I am frowzing in this underground place by my own choice? and knew your name by accident?"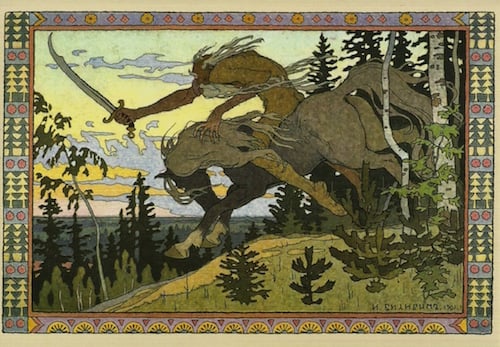 Jurgen was frightened, a little. "Well, well! But it is usually the deuce and all, this doing of the manly thing. How, then, can I come to Koshchei?"
"Roundabout," says the Centaur. "There is never any other way."
"And is the road to this garden roundabout?"
"Oh, very much so, inasmuch as it circumvents both destiny and common-sense."
"Needs must, then," says Jurgen: "at all events, I am willing to taste any drink once."
"You will be chilled, though, traveling as you are. For you and I are going a queer way, in search of justice, over the grave of a dream and through the malice of time. So you had best put on this shirt above your other clothing."
"Indeed it is a fine snug shining garment, with curious figures on it. I accept such raiment gladly. And whom shall I be thanking for his kindness, now?"
"My name," said the Centaur, "is Nessus."
"Well, then, friend Nessus, I am at your service."
And in a trice Jurgen was on the Centaur's back, and the two of them had somehow come out of the cave, and were crossing Amneran Heath. So they passed into a wooded place, where the light of sunset yet lingered, rather unaccountably. Now the Centaur went westward. And now about the pawnbroker's shoulders and upon his breast and over his lean arms glittered like a rainbow the many-colored shirt of Nessus.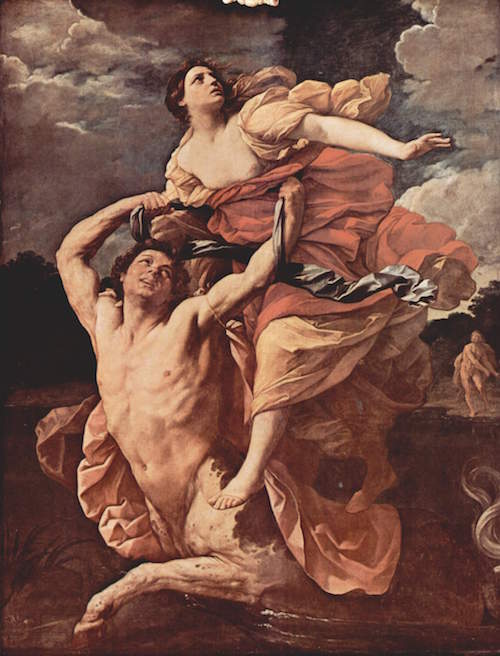 For a while they went through the woods, which were composed of big trees standing a goodish distance from one another, with the Centaur's gilded hoofs rustling and sinking in a thick carpet of dead leaves, all gray and brown, in level stretches that were unbroken by any undergrowth. And then they came to a white roadway that extended due west, and so were done with the woods. Now happened an incredible thing in which Jurgen would never have believed had he not seen it with his own eyes: for now the Centaur went so fast that he gained a little by a little upon the sun, thus causing it to rise in the west a little by a little; and these two sped westward in the glory of a departed sunset. The sun fell full in Jurgen's face as he rode straight toward the west, so that he blinked and closed his eyes, and looked first toward this side, then the other. Thus it was that the country about him, and the persons they were passing, were seen by him in quick bright flashes, like pictures suddenly transmuted into other pictures; and all his memories of this shining highway were, in consequence, always confused and incoherent.
He wondered that there seemed to be so many young women along the road to the garden. Here was a slim girl in white teasing a great brown and yellow dog that leaped about her clumsily; here a girl sat in the branches of a twisted and gnarled tree, and back of her was a broad muddied river, copper-colored in the sun; and here shone the fair head of a tall girl on horseback, who seemed to wait for someone: in fine, the girls along the way were numberless, and Jurgen thought he recollected one or two of them.
But the Centaur went so swiftly that Jurgen could not be sure.
NEXT INSTALLMENT | ALL INSTALLMENTS SO FAR
***
Footnotes from Notes on Jurgen (1928), by James P. Cover — with additional comments from the creators of this website; rewritten, in some instances, by HiLoBooks.
* Koshchei the Deathless — Mr. Cabell, in this and other romances, seems to use Koshchei as the supreme deity of the universe, the universal demiurge, the god of things as they are. In Russian folk-lore, Koshchei is the personification of evil, appearing sometimes in human shape and sometimes as a snake.
* Nessus — The shirt of Nessus, which Jurgen so carelessly dons, is regarded as a source of misfortune from which there is no escape. Hercules ordered Nessus, the centaur, to carry his wife, Dejanira, across a river. The centaur, midway across the stream, attacked the woman, and Hercules shot him with a poisoned arrow. The dying Nessus, in order to be revenged, gave Dejanira his tunic, steeped in his poisoned blood, saying that the person to whom she gave it would love her exclusively. Dejanira gave it to her husband, who was devoured by the poison as soon as he put it on; so that, after enduring great agony, the hero threw himself on a funeral pile and was consumed.
RADIUM AGE SCIENCE FICTION: "Radium Age" is HILOBROW's name for the 1904–33 era, which saw the discovery of radioactivity, the revelation that matter itself is constantly in movement — a fitting metaphor for the first decades of the 20th century, during which old scientific, religious, political, and social certainties were shattered. This era also saw the publication of genre-shattering writing by Edgar Rice Burroughs, Sax Rohmer, E.E. "Doc" Smith, Jack London, Arthur Conan Doyle, Aldous Huxley, Olaf Stapledon, Karel Čapek, H.P. Lovecraft, Charlotte Perkins Gilman, Yevgeny Zamyatin, Philip Gordon Wylie, and other pioneers of post-Verne/Wells, pre-Golden Age "science fiction." More info here.
READ GORGEOUS PAPERBACKS: HiLoBooks has reissued the following 10 obscure but amazing Radium Age science fiction novels in beautiful print editions: Jack London's The Scarlet Plague, Rudyard Kipling's With the Night Mail (and "As Easy as A.B.C."), Arthur Conan Doyle's The Poison Belt, H. Rider Haggard's When the World Shook, Edward Shanks' The People of the Ruins, William Hope Hodgson's The Night Land, J.D. Beresford's Goslings, E.V. Odle's The Clockwork Man, Cicely Hamilton's Theodore Savage, and Muriel Jaeger's The Man with Six Senses. For more information, visit the HiLoBooks homepage.
SERIALIZED BY HILOBOOKS: Jack London's The Scarlet Plague | Rudyard Kipling's With the Night Mail (and "As Easy as A.B.C.") | Arthur Conan Doyle's The Poison Belt | H. Rider Haggard's When the World Shook | Edward Shanks' The People of the Ruins | William Hope Hodgson's The Night Land | J.D. Beresford's Goslings | E.V. Odle's The Clockwork Man | Cicely Hamilton's Theodore Savage | Muriel Jaeger's The Man With Six Senses | Jack London's "The Red One" | Philip Francis Nowlan's Armageddon 2419 A.D. | Homer Eon Flint's The Devolutionist | W.E.B. DuBois's "The Comet" | Edgar Rice Burroughs's The Moon Men | Charlotte Perkins Gilman's Herland | Sax Rohmer's "The Zayat Kiss" | Eimar O'Duffy's King Goshawk and the Birds | Frances Hodgson Burnett's The Lost Prince | Morley Roberts's The Fugitives | Helen MacInnes's The Unconquerable | Geoffrey Household's Watcher in the Shadows | William Haggard's The High Wire | Hammond Innes's Air Bridge | James Branch Cabell's Jurgen | John Buchan's "No Man's Land" | John Russell's "The Fourth Man" | E.M. Forster's "The Machine Stops" | John Buchan's Huntingtower | Arthur Conan Doyle's When the World Screamed | Victor Bridges' A Rogue By Compulsion | Jack London's The Iron Heel | H. De Vere Stacpoole's The Man Who Lost Himself | P.G. Wodehouse's Leave It to Psmith | Richard Connell's "The Most Dangerous Game" | Houdini and Lovecraft's "Imprisoned with the Pharaohs" | Arthur Conan Doyle's "The Sussex Vampire."
ORIGINAL FICTION: HILOBROW has serialized three novels: James Parker's The Ballad of Cocky The Fox ("a proof-of-concept that serialization can work on the Internet" — The Atlantic); Karinne Keithley Syers's Linda Linda Linda (which includes original music); and Robert Waldron's roman à clef The School on the Fens. We also publish original stories and comics. These include: Matthew Battles's stories "Gita Nova", "Makes the Man," "Imago," "Camera Lucida," "A Simple Message", "Children of the Volcano", "The Gnomon", "Billable Memories", "For Provisional Description of Superficial Features", "The Dogs in the Trees", "The Sovereignties of Invention", and "Survivor: The Island of Dr. Moreau"; several of these later appeared in the collection The Sovereignties of Invention | Peggy Nelson's "Mood Indigo", "Top Kill Fail", and "Mercerism" | Annalee Newitz's "The Great Oxygen Race" | Flourish Klink's Star Trek fanfic "Conference Comms" | Charlie Mitchell's "A Fantasy Land" | Charlie Mitchell's "Sentinels" | Joshua Glenn's "The Lawless One", and the mashup story "Zarathustra vs. Swamp Thing" | Adam McGovern and Paolo Leandri's Idoru Jones comics | John Holbo's "Sugarplum Squeampunk" | "Another Corporate Death" (1) and "Another Corporate Death" (2) by Mike Fleisch | Kathryn Kuitenbrouwer and Frank Fiorentino's graphic novel "The Song of Otto" (excerpt) | John Holbo's graphic novel On Beyond Zarathustra (excerpt) | "Manoj" and "Josh" by Vijay Balakrishnan | "Verge" by Chris Rossi, and his audio novel Low Priority Hero | EPIC WINS: THE ILIAD (1.408-415) by Flourish Klink | EPIC WINS: THE KALEVALA (3.1-278) by James Parker | EPIC WINS: THE ARGONAUTICA (2.815-834) by Joshua Glenn | EPIC WINS: THE MYTH OF THE ELK by Matthew Battles | TROUBLED SUPERHUMAN CONTEST: Charles Pappas, "The Law" | CATASTROPHE CONTEST: Timothy Raymond, "Hem and the Flood" | TELEPATHY CONTEST: Rachel Ellis Adams, "Fatima, Can You Hear Me?" | OIL SPILL CONTEST: A.E. Smith, "Sound Thinking | LITTLE NEMO CAPTION CONTEST: Joe Lyons, "Necronomicon" | SPOOKY-KOOKY CONTEST: Tucker Cummings, "Well Marbled" | INVENT-A-HERO CONTEST: TG Gibbon, "The Firefly" | FANFICTION CONTEST: Lyette Mercier's "Sex and the Single Superhero"