Shigeru Sugiura
By: Gary Panter
April 3, 2014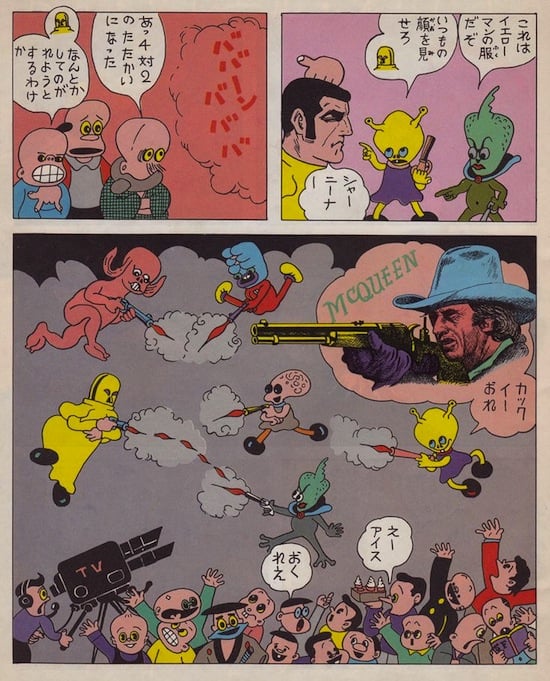 Around the time that Cubism was birthing in France, Buster Keaton was beginning to make movies, and Walt Disney was a tot, SHIGERU SUGIURA (1908–2000) — who would grow up to put all these on the same page, in his surreal gag manga — was born in Tokyo. Terry Johnson, Yoshikazu Ebisu, and other post-hippie, pre-punk pioneers of Japan's Heta-uma ("Bad-good") art, comics, and graphic design movement grew up in the Fifties reading Sugiura's strange, dotty kids' comics featuring cowboys, jungle and space adventurers, and a magical ninja boy; they'd claim him as godfather. As the Fifties ended, Sugiura abandoned kids' comics for more peculiar ones — melding different styles and genres of cartoons, movies, and science fiction imagery into a potent new, confusing, even psychedelic brew. As with young Pop artists in England like Eduardo Paolozzi, he was reacting to the postwar dominance of American image factories; he took these images out of context, inspected them for implication, and collaged them into exotic new hybrids and alloys. A new intensity and malleability of perception was afoot, and Sugiura — whose Sixties and Seventies manga would send silly characters gamboling across monolithic deserts in order to trip up villains and occasionally address the viewer, under the cosmic eye of nature deities, giant space people, and folkloric demons — was at its forefront.
***
HILO HERO ITEMS by GARY PANTER: Tadanori Yokoo | Peter Saul | Yasuji Tanioka | H.C. Westermann | Öyvind Fahlström | Cal Schenkel | Eduardo Paolozzi | Tod Dockstader | Yayoi Kusama | Walter Lantz | Richard Lindner | Shigeru Sugiura | Todd Rundgren | Yoshikazu Ebisu | Jim Nutt | Judy Henske | Tod Dockstader | Jesse Marsh | Tetsumi Kudo | Larry Poons | Ed Sanders | Dick Briefer | Dick Briefer
On his or her birthday, HiLobrow irregularly pays tribute to one of our high-, low-, no-, or hilobrow heroes. Also born this date: Jane Goodall, Jane Digby, Alec Baldwin, Benjamin De Cessares.
READ MORE about members of the Partisan Generation (1904-13).