Eduardo Paolozzi
By: Gary Panter
March 7, 2012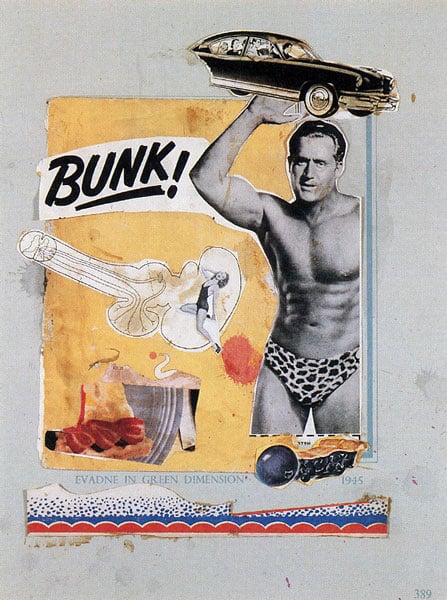 Born in Edinburgh to Italian immigrants who ran an ice-cream shop, and interned during WWII*, artist and sculptor EDUARDO PAOLOZZI (1924-2005) possessed, or cultivated, an alien's point of view. Instead of recognizing hierarchies of imagery, he viewed the entire visual output of humanity (whether fine art or mass-produced advertisements) as fodder for collage. His friendships with painters and collage artists Richard Hamilton and Peter Blake, as well as with collage-author J.G. Ballard, and collaborations with them in art exhibitions, lecture series, and publication in experimentalist periodicals, set the stage for English and international Pop Art. Paolozzi, whose 1947 collage "I was a Rich Man's Plaything" was the first Pop Art to work display the word "pop," became a premier artist of his generation, the generation after Francis Bacon's. He made sculpture of cast metal, plastic, wood, plaster — deploying found objects, styles and means. He published very ambitious etchings and screenprint collections, including Moonstrips Empire News (1967) and Cloud Atomic Laboratory (c. 1971), which can now be recognized as computer graphics made before you could do that sort of thing with computers. Some Londoners probably think he has too many elephantine public sculptures in England; he also designed the manic tile mosaic for Tottenham station. But he was a big man with a big appetite; he consumed humanity and spit out a mirror.
* En route to a Canadian internment camp, his father, grandfather, and uncle were killed in a U-boat attack.
***
HILO HERO ITEMS by GARY PANTER: Tadanori Yokoo | Peter Saul | Yasuji Tanioka | H.C. Westermann | Öyvind Fahlström | Cal Schenkel | Eduardo Paolozzi | Tod Dockstader | Yayoi Kusama | Walter Lantz | Richard Lindner | Shigeru Sugiura | Todd Rundgren | Yoshikazu Ebisu | Jim Nutt | Judy Henske | Tod Dockstader | Jesse Marsh | Tetsumi Kudo | Larry Poons | Ed Sanders | Dick Briefer | Dick Briefer
On his or her birthday, HiLobrow irregularly pays tribute to one of our high-, low-, no-, or hilobrow heroes. Also born this date: Georges Perec.
READ MORE about men and women born on the cusp between the New Gods (1914-23) and the Postmodernist (1924-33) generations.