Tadanori Yokoo
By: Gary Panter
June 27, 2011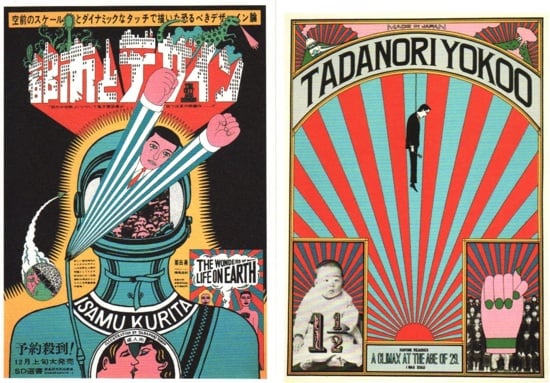 I have heard it said that in Japan in the Sixties, TADANORI YOKOO (born 1936) was the graphic equivalent of the Beatles; I think that's true. Reacting, participating, anticipating, and innovating on the stylistic, spiritual, and musical issues of the 1960s-80s, Yokoo helped redefine the psyche of post-war Japan. His vital and hysterical, yet serenely stoic posters and artworks — which drew on Pop Art, traced photos, hippie imagery, shocking misuses of the formatting devices and graphic conventions of Ukiyo-e master woodcut prints, and not least the spirit and inspiration of his friends Yukio Mishima, Yayio Kusama, and Yoko Ono — have influenced album covers, and poster and magazine design ever since. (When I moved to Los Angeles in 1976 and began to take my portfolio around, every art director had a fat Yokoo monograph on their bookshelf.) Like Andy Warhol, Yokoo was an advertising guy who repurposed marketing media to idea media… but I think the only western artist from whom Yokoo might have borrowed anything was John Wesley, whose subtle, emblematic, outlined paintings share some formal poster-like elements and some eccentric postural elements. (I am the only person in the world to notice that.) Yokoo, who at the ripe old age of 29 announced on a broadside poster [above, right] that he was retired/dead, has continued to evolve and has produced thousands of vibrating, complex, smiling, spiritual graphic visions and inventions. His psychedelic vision has never faltered.
***
HILO HERO ITEMS by GARY PANTER: Tadanori Yokoo | Peter Saul | Yasuji Tanioka | H.C. Westermann | Öyvind Fahlström | Cal Schenkel | Eduardo Paolozzi | Tod Dockstader | Yayoi Kusama | Walter Lantz | Richard Lindner | Shigeru Sugiura | Todd Rundgren | Yoshikazu Ebisu | Jim Nutt | Judy Henske | Tod Dockstader | Jesse Marsh | Tetsumi Kudo | Larry Poons | Ed Sanders | Dick Briefer | Dick Briefer
***
On his or her birthday, HiLobrow irregularly pays tribute to one of our high-, low-, no-, or hilobrow heroes. Also born this date: Emma Goldman and George Walker.
READ MORE about members of the Anti-Anti-Utopian (1934-43) generation.