Yoshikazu Ebisu
By: Gary Panter
October 21, 2012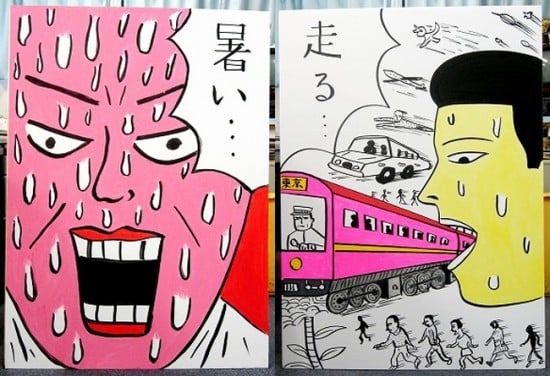 Mangaka turned TV star YOSHIKAZU EBISU (born 1947) is one of the best and toughest artists/story-tellers produced in the latter half of the twentieth century in Japan and in the world of comics. His books from the Eighties (My Man is Punk, for example) are executed in a uniform, somewhat primitive, drawing style that is very clear and powerful. An Ebisu comic — in which, say, exhausted businesspeople are heading back to the suburbs on the train when the heat becomes unbearable, so they take off their clothes and have a writhing orgy, at which point the train falls into a gaping abyss; or in which a guy buys a popsicle that turns out to be made of little frozen women, who travel through his intestines and into his penis and he almost has an orgasm, but dies instead; or in which a monk in traditional garb travels through a destroyed city beating a little gong — eases you into a dreamworld of the psychically expanding and contracting conscience of Japan in the industrial-electric-advertising-nuclear era. Though popular in Japanese TV and movies as a sweet, simple guy, Ebisu is secretly one of the most wigged-out artists on Earth.
***
HILO HERO ITEMS by GARY PANTER: Tadanori Yokoo | Peter Saul | Yasuji Tanioka | H.C. Westermann | Öyvind Fahlström | Cal Schenkel | Eduardo Paolozzi | Tod Dockstader | Yayoi Kusama | Walter Lantz | Richard Lindner | Shigeru Sugiura | Todd Rundgren | Yoshikazu Ebisu | Jim Nutt | Judy Henske | Tod Dockstader | Jesse Marsh | Tetsumi Kudo | Larry Poons | Ed Sanders | Dick Briefer | Dick Briefer
On his or her birthday, HiLobrow irregularly pays tribute to one of our high-, low-, no-, or hilobrow heroes. Also born this date: Fran Landesman, Ursula K. Le Guin, and Lux Interior.
READ MORE about members of the Blank Generation (1944-53).