Öyvind Fahlström
By: Gary Panter
December 28, 2011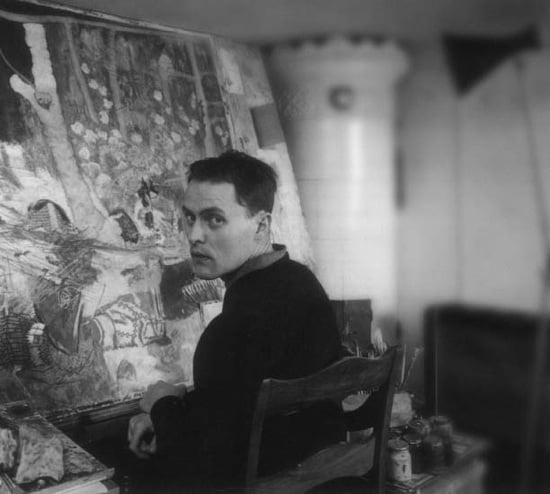 Depending on your own productivity and ambition, the breadth of Swedish artist ÖYVIND FAHLSTRÖM (1928-76)'s explorations is either intimidating or inspiring. In the 1950s, after having studied Aztec and Mayan hieroglyph systems at the University of Stockholm, he produced complicated abstract paintings featuring coded marks organized by specific rules of engagement, and named them after an A.E. Van Vogt story. As the Sixties began (i.e., around 1964), he integrated comic strips and other mass-media elements into his art; his most famous works are painted deconstructions of Krazy Kat, which drive a paintwagon through Herriman's abstract landscapes — and straight at hundreds of fragments of Batman and Jack Kirby monster comics. His 1964 installation Dr. Schweitzer's Last Mission, invited the viewer to enter a space of suspended comic action, and included a "checklist" in the form of a four-player world diplomacy game. Fahlström also made paintings on magnetic shapes that could be endlessly recomposed; floated cartoon and abstract shapes on water, subject to composition by wind; made vacuum-formed plastic signs that conflated ESSO and LSD (in 1957); did performance art and radio plays featuring concrete music compositions; and made a gallery-sized collection of sign-company-fabricated sculpture, an ode to R. Crumb's ZAP comics titled Meatball Curtain. All of which was merely a prelude to the myriad means and evolving content of his 1970s game-theory-influenced work, which explored wealth transfer and political intercourse and intrigue in the form of big, hyper-dense drawings and flow charts stylistically fueled by underground hippie comics. His life was too short, but he didn't waste a minute of it.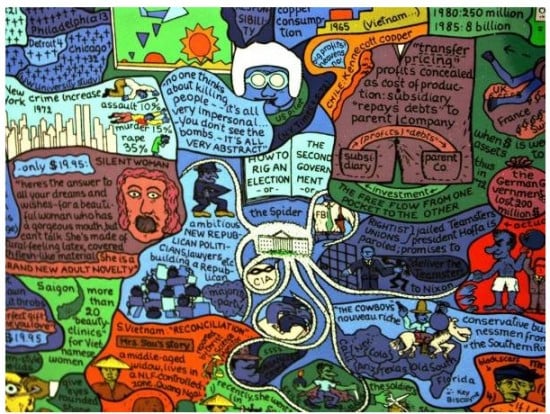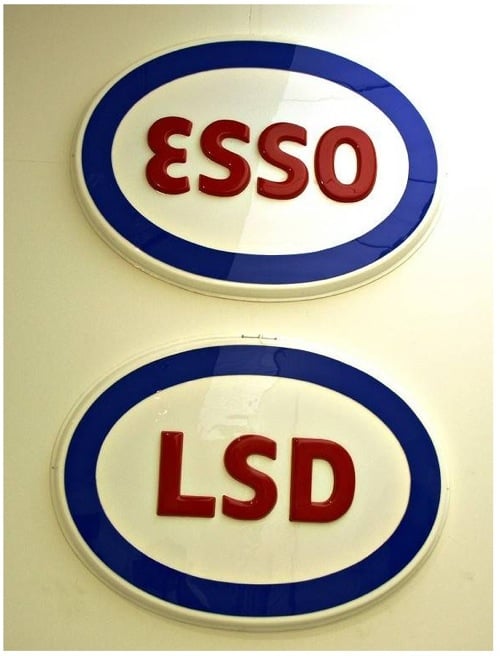 PS: HiLobrow wishes to thank Sharon Avery-Fahlström for sending us a few corrections.
HILO HERO ITEMS by GARY PANTER: Tadanori Yokoo | Peter Saul | Yasuji Tanioka | H.C. Westermann | Öyvind Fahlström | Cal Schenkel | Eduardo Paolozzi | Tod Dockstader | Yayoi Kusama | Walter Lantz | Richard Lindner | Shigeru Sugiura | Todd Rundgren | Yoshikazu Ebisu | Jim Nutt | Judy Henske | Tod Dockstader | Jesse Marsh | Tetsumi Kudo | Larry Poons | Ed Sanders | Dick Briefer | Dick Briefer
***
On his or her birthday, HiLobrow irregularly pays tribute to one of our high-, low-, no-, or hilobrow heroes. Also born this date: Stan Lee, Guy Debord, Arthur Eddington, Alasdair Gray.
READ MORE about members of the Postmodernist generation (1924-33).