Jim Nutt
By: Gary Panter
November 28, 2012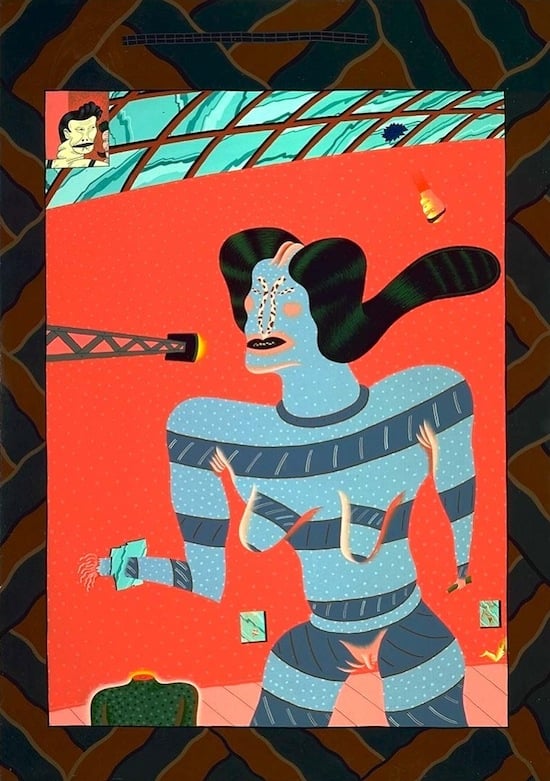 JIM NUTT (born 1938, in Pittsfield, Mass.) is a quiet, distinguished-looking guy. He has been married to the same woman, Gladys Nilsson, for three decades; he is devoted to golf. Yet in the Sixties, his paintings ran at you screaming, seething with disturbing abandon. That early work is the artistic equivalent of a psychic machine gun blasting all comers. Grotesque distorted candy-color figures twist and writhe. falling into parts; and they suffer massive contrasts of scale — wherein tiny bras, hardware, and body parts litter much larger bodies like fleas on oozing rock candy roadkill. Psychotically sexualized men and women that would discomfit Francis Bacon's fleshy writhers bear obscure punning slogans on their hovering torsos, heralding a new and unsettling psychic dispensation. In 1964, Nutt and Nilsson put together a group show at Chicago's Hyde Park Art Center; it grew into a scene called The Hairy Who. During the latter part of the Sixties (1964–1973), the Hairy Who created colorful and provoking imaginative art that initiated a cascade of perverse humanoid artifacts. Their work has since inspired younger artists like Mike Kelly and Ben Jones. Nutt himself, however, has in recent years restricted himself to very lovingly, even obsessively rendered, small paintings — portraits of fishhook-nosed women's heads — often in black-and-white or muted colors. Beautiful, perverse, and subtle.
***
HILO HERO ITEMS by GARY PANTER: Tadanori Yokoo | Peter Saul | Yasuji Tanioka | H.C. Westermann | Öyvind Fahlström | Cal Schenkel | Eduardo Paolozzi | Tod Dockstader | Yayoi Kusama | Walter Lantz | Richard Lindner | Shigeru Sugiura | Todd Rundgren | Yoshikazu Ebisu | Jim Nutt | Judy Henske | Tod Dockstader | Jesse Marsh | Tetsumi Kudo | Larry Poons | Ed Sanders | Dick Briefer | Dick Briefer
On his or her birthday, HiLobrow irregularly pays tribute to one of our high-, low-, no-, or hilobrow heroes. Also born this date: Stefan Zweig and Dawn Powell.
READ MORE about members of the Anti-Anti-Utopian Generation (1934-43).