Yayoi Kusama
By: Gary Panter
March 22, 2012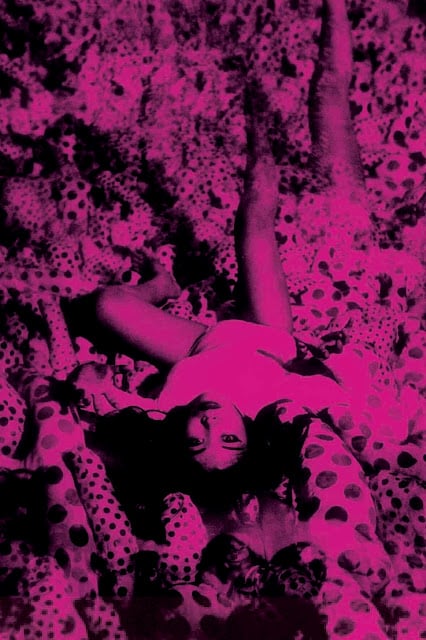 Japanese avant-garde painter YAYOI KUSAMA (born 1929) moved to the United States in 1957, and swiftly became a sensation in the New York art world — first as a sculptor, then (in the late Sixties) as a performance artist. Devastated after her friend Joseph Cornell died in 1972, she returned to Japan the following year. She has remained highly prolific as an artist, and is best known today for her obsession with dots. Throughout her career, she has produced dotted wiener-encrusted rowboats and furniture, rooms full of chrome spheres printed with dots, infinity mirror rooms full of points of light, naked painted dot happenings in Central Park, giant mushroom-like psychedelic dotted sculptures and environments, novels, endless dazzling dot paintings, drawings and print editions, dotted fabric, fashion lines and wallpaper. You might call Kusama the living avatar of the dot, except for the fact that in her drawing, painting, and sculpture, the dot rarely appears as a singularity; instead, it appears as a manifestation of millions of implied hand gestures either making dots in relation to each other, or rendering the enclosing space around millions of dot locations. The resulting (often red) dot fields are all-encompassing, psychic events for the viewer; they evoke an enveloping activated air full of atoms. Embracing the dot has formed Kusama's life, for better or worse. In 1977, she checked herself into a Tokyo mental hospital, where she has lived ever since. Sensitivity needs care.
***
HILO HERO ITEMS by GARY PANTER: Tadanori Yokoo | Peter Saul | Yasuji Tanioka | H.C. Westermann | Öyvind Fahlström | Cal Schenkel | Eduardo Paolozzi | Tod Dockstader | Yayoi Kusama | Walter Lantz | Richard Lindner | Shigeru Sugiura | Todd Rundgren | Yoshikazu Ebisu | Jim Nutt | Judy Henske | Tod Dockstader | Jesse Marsh | Tetsumi Kudo | Larry Poons | Ed Sanders | Dick Briefer | Dick Briefer
On his or her birthday, HiLobrow irregularly pays tribute to one of our high-, low-, no-, or hilobrow heroes. Also born this date: Chico Marx and William Shatner.
READ MORE about members of the Postmodernist Generation (1924-33).