Walter Lantz
By: Gary Panter
April 27, 2012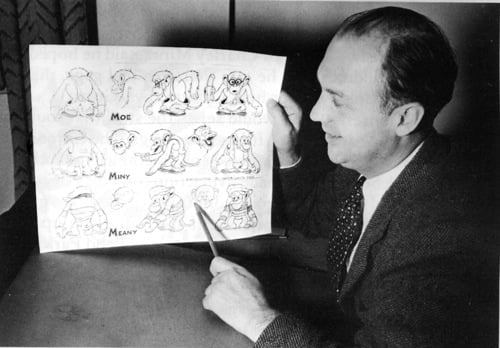 WALTER LANTZ (1899-1994) is best known for creating the cartoon character Woody Woodpecker. In the Sixties we saw The Woody Woodpecker Show out of Tyler, Texas with a black-and-white heavily degraded signal — we had to go outside and turn the TV antenna by hand while someone inside yelled instructions through the window — so the picture was horizontally traversed by static flares, scrapings, and phosphor burns. Still, I looked forward with saintly intensity to Uncle Walter's little afternoon lessons about the techniques of animation production of extremely cute, irritating, and violent cartoons. Though he was friends with Walt Disney, and even produced Oswald the Lucky Rabbit shorts, which starred a pre-Mickey character originally created by Disney and Ub Iwerks, Lantz's animation career was never comparable to Disney's, or even to Tex Avery's (Daffy Duck, Bugs Bunny) or Bob Clampett's (Porky Pig, Tweety). Yet Lantz did maintain a studio, Walter Lantz Productions, and developed a crew of exploitable characters — some of them wonderful and enthralling, like the extra-super-cute penguin Chilly Willy, some very irritating and lunatic like Woody Woodpecker (voiced by Lantz's wife from 1950-72), and some very creepy and scary like Wally Walrus, scheming nemesis to both Chilly Willy and Woody Woodpecker.
Although here in Brooklyn there has been, for several years, at my local subway station, up high on a wall, a graffiti tag based on Lantz's con-man character Buzz Buzzard (who replaced Wally as Woody's primary foil on the TV show, and who did Wally's bidding in Woody Woodpecker comics from the Fifties and Sixties), Lantz's characters are obscure these days. Still, there is something about the clashing flavors of a Walter Lantz cartoon that rings a very specific important curdled cultural alarm bell. What is its message? Walrus far from North Pole. Vultures in wool sweaters. Knockknockknockknockknockknockknockknock.
***
HILO HERO ITEMS by GARY PANTER: Tadanori Yokoo | Peter Saul | Yasuji Tanioka | H.C. Westermann | Öyvind Fahlström | Cal Schenkel | Eduardo Paolozzi | Tod Dockstader | Yayoi Kusama | Walter Lantz | Richard Lindner | Shigeru Sugiura | Todd Rundgren | Yoshikazu Ebisu | Jim Nutt | Judy Henske | Tod Dockstader | Jesse Marsh | Tetsumi Kudo | Larry Poons | Ed Sanders | Dick Briefer | Dick Briefer
On his or her birthday, HiLobrow irregularly pays tribute to one of our high-, low-, no-, or hilobrow heroes. Also born this date: Russell T. Davies, Gilbert Sorrentino, and Kate Pierson.
READ MORE about members of the Hardboiled (1894-1903) Generation.