Stanisław Ignacy Witkiewicz
By: Jacob Mikanowski
February 24, 2013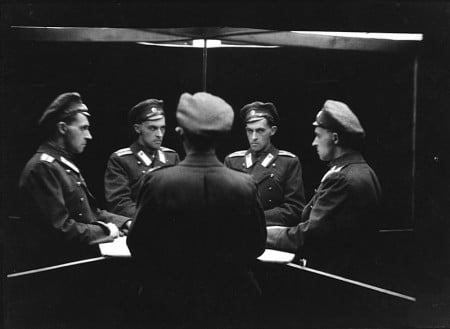 An army arrives in a small country on the edge of the Eurasian steppe; it meets no opposition. The country's people have long since been sedated by an invention from the East: the Pill of Murti-Bing, a philosophical system in capsule form which cures their metaphysical distress and reconciles their anguished individuality to the violence of the new regime. So goes the plot of a 1930 science fiction novel by the Polish writer, painter and playwright STANISŁAW IGNACY WITKIEWICZ (1885–1939). Its title, Insatiability, might have been his motto. His thirst for sensation was immense, as was his disgust. He experimented with drugs, painting under the influence of hashish, peyote and cocaine. With his best friend, the anthropologist Bronisław Malinowski, he traveled to the Trobriand Islands to study the habits of primitive man. He fought on the Russian side in WWI, as an officer in an aristocratic regiment, and barely avoided getting lynched when the Revolution began. He took part in orgies and affairs. He drove a fiancée to suicide. He was an eccentric and a prankster, but also cruel: one part Alfred Jarry and two parts Ubu Roi. He spurned all avant-gardes but his own. His written works are pitched between parody and apocalypse; in plays like Tumor Brainowicz, Dainty Shapes and Hairy Apes, The Metaphysics of a Two-Headed Calf, he didn't bother to separate philosophy from masturbation. He photographed himself compulsively. He was fascinated by grimaces and reflections; his face was a mask that wouldn't fall off. When a real army from the East arrived, he committed suicide by slitting his throat.
PS: Forty years later the authorities brought his skeleton back from its shallow Ukrainian grave. Fittingly enough, it turned out to be the wrong one: instead of the Nietzschean saboteur, they sent a young girl.
***
On his or her birthday, HiLobrow irregularly pays tribute to one of our high-, low-, no-, or hilobrow heroes. Also born this date: August Derleth, Plastic Bertrand.
READ MORE about members of the Modernist Generation (1884–93).
MORE RADIUM AGE SF: HiLoBooks homepage! | What is Radium Age science fiction? |Radium Age 100: 100 Best Science Fiction Novels from 1904–33 | Radium Age Supermen | Radium Age Robots | Radium Age Apocalypses | Radium Age Telepaths | Radium Age Eco-Catastrophes | Radium Age Cover Art (1) | SF's Best Year Ever: 1912 | Radium Age Science Fiction Poetry | Enter Highbrowism | Bathybius! Primordial ooze in Radium Age sf | War and Peace Games (H.G. Wells's training manuals for supermen) | Radium Age: Context series | J.D. Beresford | Algernon Blackwood | Edgar Rice Burroughs | Karel Čapek | Buster Crabbe | August Derleth | Arthur Conan Doyle | Hugo Gernsback | Charlotte Perkins Gilman | Cicely Hamilton | Hermann Hesse | William Hope Hodgson | Aldous Huxley | Inez Haynes Irwin | Alfred Jarry | Jack Kirby (Radium Age sf's influence on) | Murray Leinster | Gustave Le Rouge | Gaston Leroux | David Lindsay | Jack London | H.P. Lovecraft | A. Merritt | Maureen O'Sullivan | Sax Rohmer | Paul Scheerbart | Upton Sinclair | Clark Ashton Smith | E.E. "Doc" Smith | Olaf Stapledon | John Taine | H.G. Wells | Jack Williamson | Stanisław Ignacy Witkiewicz | S. Fowler Wright | Philip Gordon Wylie | Yevgeny Zamyatin