Cicely Hamilton
By: Joshua Glenn
June 15, 2013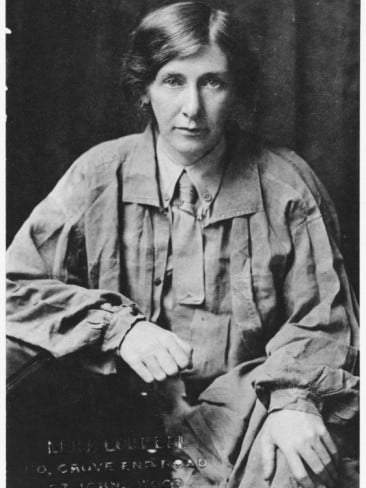 Best known today as a propagandist for the suffrage movement during the 1900s–10s, the Anglo-Irish author CICELY HAMILTON (Cicely Hammill, 1872–1952) co-founded the Women Writers' Suffrage League, supplied the lyrics for the 1910 anthem "The March of the Women," and wrote and produced feminist plays including Diana of Dobson's (1908), How the Vote Was Won (1909), and A Pageant of Great Women (1910). During World War I, she joined the British army and organized an ambulance unit, then worked as a nurse at a military hospital in France; in the 1930s she published a popular series of travelogues, as well as a 1935 autobiography mischievously titled Life Errant. My particular interest in Hamilton is due to none of these things — though I do find her witty, cynical 1909 treatise Marriage as a Trade, which anticipates Betty Friedan and Valerie Solanas by six decades, an enjoyable read. Instead, I'm a fan of Hamilton's Theodore Savage: A Story of the Past or the Future (1922), one of the first science fiction novels by a woman. The reviewer who suggested that it might be used "as a tract to convey an awful warning" was no doubt referring to the book's apocalyptic scenes, in which the displacement of entire populations becomes a brutal military strategy; but in the latter half of the story we also find a warning about the degraded state of modern women, who — "unhandy, unresourceful, superficial" — would in a post-apocalyptic social order no doubt suffer a particularly sad fate.
***
In October 2013, HiLoBooks will publish a gorgeous paperback edition of Cicely Hamilton's Theodore Savage, with an Introduction by Gary Panter. From March through August of 2013, HILOBROW is serializing the book in 25 illustrated installments.
On his or her birthday, HiLobrow irregularly pays tribute to one of our high-, low-, no-, or hilobrow heroes. Also born this date: Hugo Pratt, Neil Patrick Harris, John Wesley Work III, and Herbert Simon.
READ MORE about members of the Anarcho-Symbolist Generation (1864–73).
READ MORE ABOUT SCIENCE FICTION'S RADIUM AGE (1904–33): HiLoBooks homepage! | What is Radium Age science fiction? |Radium Age 100: 100 Best Science Fiction Novels from 1904–33 | Radium Age Supermen | Radium Age Robots | Radium Age Apocalypses | Radium Age Telepaths | Radium Age Eco-Catastrophes | Radium Age Cover Art (1) | SF's Best Year Ever: 1912 | Radium Age Science Fiction Poetry | Enter Highbrowism | Bathybius! Primordial ooze in Radium Age sf | War and Peace Games (H.G. Wells's training manuals for supermen) | Radium Age: Context series | J.D. Beresford | Algernon Blackwood | Edgar Rice Burroughs | Karel Čapek | Buster Crabbe | August Derleth | Arthur Conan Doyle | Hugo Gernsback | Charlotte Perkins Gilman | Cicely Hamilton | Hermann Hesse | William Hope Hodgson | Aldous Huxley | Inez Haynes Irwin | Alfred Jarry | Jack Kirby (Radium Age sf's influence on) | Murray Leinster | Gustave Le Rouge | Gaston Leroux | David Lindsay | Jack London | H.P. Lovecraft | A. Merritt | Maureen O'Sullivan | Sax Rohmer | Paul Scheerbart | Upton Sinclair | Clark Ashton Smith | E.E. "Doc" Smith | Olaf Stapledon | John Taine | H.G. Wells | Jack Williamson | Stanisław Ignacy Witkiewicz | S. Fowler Wright | Philip Gordon Wylie | Yevgeny Zamyatin