Algernon Blackwood
By: Devin McKinney
March 14, 2012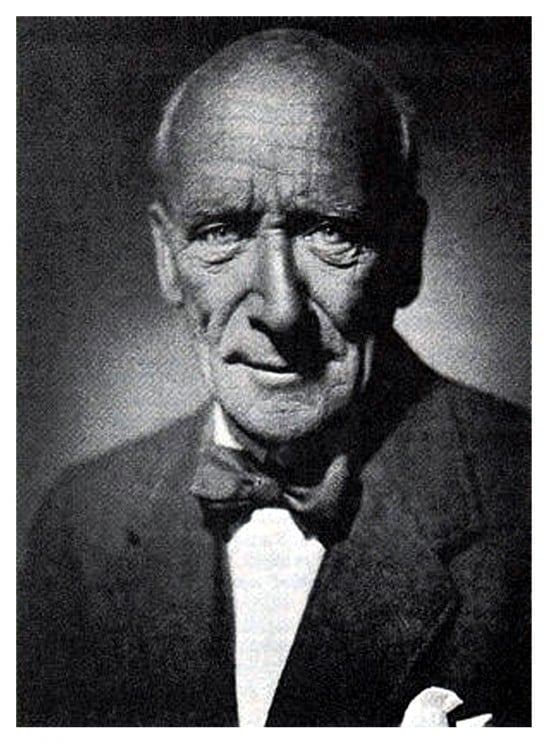 ALGERNON BLACKWOOD (1869-1951) — author of a small library of highly varied works, but famous for his mastery of the "weird tale" in its late 19th-early 20th century golden age — writes the way he looks: like a courtly cadaver. There is something not quite alive to him, yet his lips betray a sympathetic pursing at the pathos of tiny, terrified man.
His protagonists have overactive imaginations and rich susceptibility to nameless fear, and the author enjoys stranding them in some wilderness — sinister copse, accursed riverbank, empty house in the heart of London — where every shadow threatens a violent rupture of the rational, every window is the daemon's dumbwaiter. Read "The Occupant of the Room" (1909), with its haunted closet housing a suicide's gruesome shade; or "The Wendigo" (1910), about a far-north hunting party hounded by a mythic monster; or "The Willows" (1907), situated somewhere between Brothers Grimm and Blair Witch in the never-ending folk chronicle of the evil forest, where dark spirits live in treetops and press on the traveler's tent-flap in the night.
Blackwood's stories are about the nightmare that is earthly existence for those whose minds wander too easily into dark surmise. "My imagination requires a judicious rein," admits the narrator of "The Listener" (1907). "I am afraid to let it loose, for it carries me sometimes into appalling places beyond the stars and beneath the world."
If you know the feeling, Algernon Blackwood knows you.
***
On his or her birthday, HiLobrow irregularly pays tribute to one of our high-, low-, no-, or hilobrow heroes. Also born this date: Raymond Aron, Maurice Merleau-Ponty, and Diane Arbus.
READ MORE about members of the Anarcho-Symbolist Generation (1864-73).
MORE RADIUM AGE SCI FI ON HILOBROW: HiLoBooks homepage! | What is Radium Age science fiction? |Radium Age 100: 100 Best Science Fiction Novels from 1904–33 | Radium Age Supermen | Radium Age Robots | Radium Age Apocalypses | Radium Age Telepaths | Radium Age Eco-Catastrophes | Radium Age Cover Art (1) | SF's Best Year Ever: 1912 | Radium Age Science Fiction Poetry | Enter Highbrowism | Bathybius! Primordial ooze in Radium Age sf | War and Peace Games (H.G. Wells's training manuals for supermen) | Radium Age: Context series | J.D. Beresford | Algernon Blackwood | Edgar Rice Burroughs | Karel Čapek | Buster Crabbe | August Derleth | Arthur Conan Doyle | Hugo Gernsback | Charlotte Perkins Gilman | Cicely Hamilton | Hermann Hesse | William Hope Hodgson | Aldous Huxley | Inez Haynes Irwin | Alfred Jarry | Jack Kirby (Radium Age sf's influence on) | Murray Leinster | Gustave Le Rouge | Gaston Leroux | David Lindsay | Jack London | H.P. Lovecraft | A. Merritt | Maureen O'Sullivan | Sax Rohmer | Paul Scheerbart | Upton Sinclair | Clark Ashton Smith | E.E. "Doc" Smith | Olaf Stapledon | John Taine | H.G. Wells | Jack Williamson | Stanisław Ignacy Witkiewicz | S. Fowler Wright | Philip Gordon Wylie | Yevgeny Zamyatin