J.D. Beresford
By: Joshua Glenn
March 17, 2013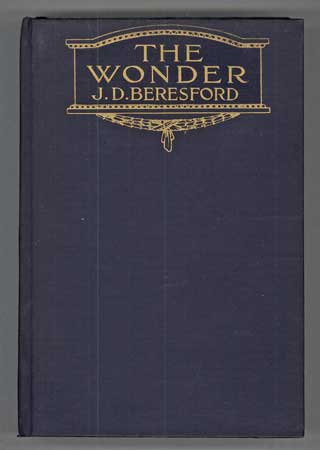 The tension, in much Radium Age science fiction, between scientific certainty and cosmic awe is a critical one; few juggled this binary opposition more compellingly than British author J.D. BERESFORD (1873–1947). In 1911's The Hampdenshire Wonder, for example, the birth of a "supernormal" child — the titular Wonder — can be chalked up to his parents' fervent desire to have a son born without habits. "Entirely alone among aliens [i.e., adults] who were unable to comprehend him… whose opinions were valueless to him," the young mutant reads his way through a library and then pronounces his kosmische judgment on the sum total of human knowledge: "So elementary… inchoate… a disjunctive… patchwork." Had the Wonder lived to adulthood (he is murdered), perhaps he might have turned out like Jasper Thrale, a key character in Beresford's other terrific sf novel, Goslings (1913), in which a plague wipes out nearly every male in England, leaving women — who've never been permitted to learn self-sufficiency — to struggle. Thrale explains the plague like so: "Do you realize how some outside control has always diverted man's progress; how when nations have tended to crystallize into specialized government, some irruption from outside has always broken it up?" Miracles, it appears, will never cease.
***
NOTE that HILOBROW is currently serializing J.D. Beresford's Goslings; in June 2013 HiLoBooks will reissue this title in the form of a gorgeous paperback, with a new Introduction by Astra Taylor.
MORE RADIUM AGE SCI FI ON HILOBROW: HiLoBooks homepage! | What is Radium Age science fiction? |Radium Age 100: 100 Best Science Fiction Novels from 1904–33 | Radium Age Supermen | Radium Age Robots | Radium Age Apocalypses | Radium Age Telepaths | Radium Age Eco-Catastrophes | Radium Age Cover Art (1) | SF's Best Year Ever: 1912 | Radium Age Science Fiction Poetry | Enter Highbrowism | Bathybius! Primordial ooze in Radium Age sf | War and Peace Games (H.G. Wells's training manuals for supermen) | Radium Age: Context series | J.D. Beresford | Algernon Blackwood | Edgar Rice Burroughs | Karel Čapek | Buster Crabbe | August Derleth | Arthur Conan Doyle | Hugo Gernsback | Charlotte Perkins Gilman | Cicely Hamilton | Hermann Hesse | William Hope Hodgson | Aldous Huxley | Inez Haynes Irwin | Alfred Jarry | Jack Kirby (Radium Age sf's influence on) | Murray Leinster | Gustave Le Rouge | Gaston Leroux | David Lindsay | Jack London | H.P. Lovecraft | A. Merritt | Maureen O'Sullivan | Sax Rohmer | Paul Scheerbart | Upton Sinclair | Clark Ashton Smith | E.E. "Doc" Smith | Olaf Stapledon | John Taine | H.G. Wells | Jack Williamson | Stanisław Ignacy Witkiewicz | S. Fowler Wright | Philip Gordon Wylie | Yevgeny Zamyatin
On his or her birthday, HiLobrow irregularly pays tribute to one of our high-, low-, no-, or hilobrow heroes. Also born this date: Bayard Rustin, Alexander McQueen.
READ MORE about men and women born on the cusp between the Anarcho-Symbolist (1864–73) and Psychonaut (1874–1883) Generations.