Maureen O'Sullivan
By: Joshua Glenn
May 17, 2010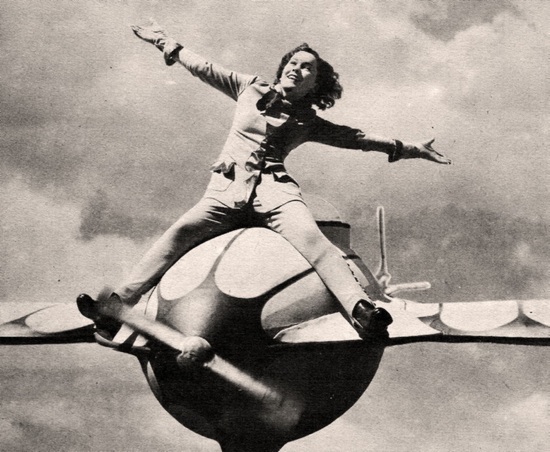 She wasn't a scream queen, nor did she appear in Flash Gordon or Buck Rogers serials. But the cute, spirited, Irish-born actress MAUREEN O'SULLIVAN (1911-98) was a key figure in 1930s-era silver-screen science fiction. In one of her first movies, the silly musical Just Imagine (1930; shown above), she played LN-18, teenage citizen of a Zamyatin-like future dystopia in which dating and mating are organized by the State. In '31, she appeared in the time-travel comedy A Connecticut Yankee (with Will Rogers); half a century later, she'd show up in another time-travel movie, Peggy Sue Got Married. Forget her quality performances in "classy" entertainments like Anna Karenina, David Copperfield, and Pride and Prejudice — in The Devil-Doll (1936), O'Sullivan played the daughter of a miniaturized Devil's Island fugitive (Lionel Barrymore)! And in the obscure 1987 sci-fi movie Stranded, the mother of alien-like actress Mia Farrow played an alien abductee; it was her final role. O'Sullivan is most famous for having played Jane to Johnny Weissmuller's Tarzan, in six blockbusters; though Edgar Rice Burroughs was a preeminent author of Radium Age science fiction, none of these flicks is SF. However, the underwater scene in Tarzan and His Mate (Josephine McKim doubled for O'Sullivan) is truly out of this world.
***
On his or her birthday, HiLobrow irregularly pays tribute to one of our high-, low-, no-, or hilobrow heroes. Also born this date: Michel de Certau, Erik Satie, J.E. Spingarn.
READ MORE about the Partisan Generation.
***
In 2012–2013, HiLoBooks serialized and republished (in gorgeous paperback editions, with new Introductions) 10 forgotten Radium Age science fiction classics! For more info: HiLoBooks.
MORE RADIUM AGE SCI FI ON HILOBROW: HiLoBooks homepage! | What is Radium Age science fiction? |Radium Age 100: 100 Best Science Fiction Novels from 1904–33 | Radium Age Supermen | Radium Age Robots | Radium Age Apocalypses | Radium Age Telepaths | Radium Age Eco-Catastrophes | Radium Age Cover Art (1) | SF's Best Year Ever: 1912 | Radium Age Science Fiction Poetry | Enter Highbrowism | Bathybius! Primordial ooze in Radium Age sf | War and Peace Games (H.G. Wells's training manuals for supermen) | Radium Age: Context series | J.D. Beresford | Algernon Blackwood | Edgar Rice Burroughs | Karel Čapek | Buster Crabbe | August Derleth | Arthur Conan Doyle | Hugo Gernsback | Charlotte Perkins Gilman | Cicely Hamilton | Hermann Hesse | William Hope Hodgson | Aldous Huxley | Inez Haynes Irwin | Alfred Jarry | Jack Kirby (Radium Age sf's influence on) | Murray Leinster | Gustave Le Rouge | Gaston Leroux | David Lindsay | Jack London | H.P. Lovecraft | A. Merritt | Maureen O'Sullivan | Sax Rohmer | Paul Scheerbart | Upton Sinclair | Clark Ashton Smith | E.E. "Doc" Smith | Olaf Stapledon | John Taine | H.G. Wells | Jack Williamson | Stanisław Ignacy Witkiewicz | S. Fowler Wright | Philip Gordon Wylie | Yevgeny Zamyatin