Hugo Gernsback
By: Joshua Glenn
August 16, 2014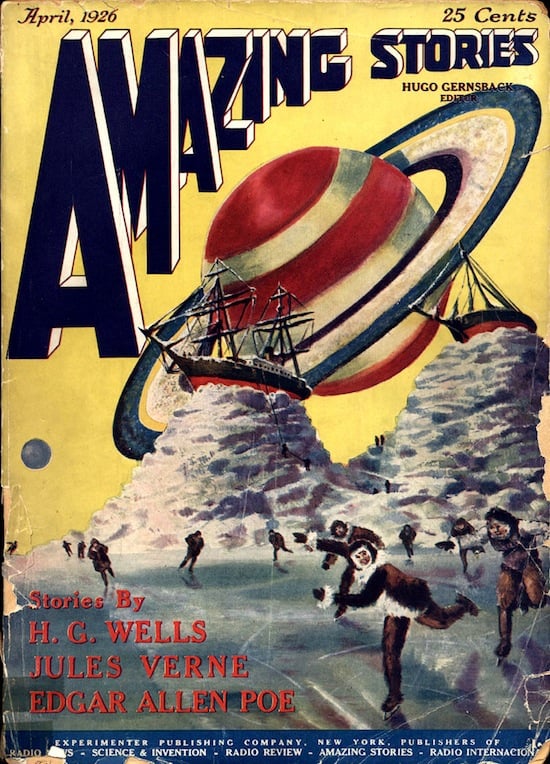 We think of him as a pioneering sci-fi publisher, the guy after whom the genre's Hugo Award is named, but HUGO GERNSBACK (Hugo Gernsbacher, 1884–1967) thought of himself as an inventor. At 19, he emigrated from Luxembourg to the US, intending to exploit his patent on a heavy-duty battery. When that didn't pan out, he began importing and selling radios — which, like personal computers, were once strictly for hobbyists. In order to popularize this new technology, Gernsback published specialty magazines like Modern Electrics and The Electrical Experimenter, some of which featured the occasional "scientific romance" story. In 1926, Gernsback launched the first sci-fi pulp, Amazing Stories; later, he'd also publish Wonder Stories, which by 1934 enjoyed a circulation of about 25,000. As a writer, Gernsback was more concerned with predicting future technologies —  his Ralph 124C 41+: A Romance of the Year 2660, serialized in Modern Electrics from 1911-12, depicts TV and channel-surfing, transcontinental air travel, solar energy in practical use, and radar — than character development, snappy dialogue, or well-turned phrases. In fact, it's at least partly Gernsback's fault that much pre-Golden Age sf has a reputation for being juvenile. Still, he gave Radium Age and Golden Age sf authors like E.E. "Doc" Smith, Fletcher Pratt, Neil R. Jones, Edmond Hamilton, and Jack Williamson their start… and, for better or worse, he coined the phrase "science fiction."
***
On his or her birthday, HiLobrow irregularly pays tribute to one of our high-, low-, no-, or hilobrow heroes. Also born this date: Charles Bukowski, Peter Saul, Tina Modotti, Georgette Heyer.
READ MORE about men and women born on the cusp between the Psychonaut (1874–1883) and Modernist (1884–93) Generations.
MORE RADIUM AGE SCI FI ON HILOBROW: HiLoBooks homepage! | What is Radium Age science fiction? |Radium Age 100: 100 Best Science Fiction Novels from 1904–33 | Radium Age Supermen | Radium Age Robots | Radium Age Apocalypses | Radium Age Telepaths | Radium Age Eco-Catastrophes | Radium Age Cover Art (1) | SF's Best Year Ever: 1912 | Radium Age Science Fiction Poetry | Enter Highbrowism | Bathybius! Primordial ooze in Radium Age sf | War and Peace Games (H.G. Wells's training manuals for supermen) | Radium Age: Context series | J.D. Beresford | Algernon Blackwood | Edgar Rice Burroughs | Karel Čapek | Buster Crabbe | August Derleth | Arthur Conan Doyle | Hugo Gernsback | Charlotte Perkins Gilman | Cicely Hamilton | Hermann Hesse | William Hope Hodgson | Aldous Huxley | Inez Haynes Irwin | Alfred Jarry | Jack Kirby (Radium Age sf's influence on) | Murray Leinster | Gustave Le Rouge | Gaston Leroux | David Lindsay | Jack London | H.P. Lovecraft | A. Merritt | Maureen O'Sullivan | Sax Rohmer | Paul Scheerbart | Upton Sinclair | Clark Ashton Smith | E.E. "Doc" Smith | Olaf Stapledon | John Taine | H.G. Wells | Jack Williamson | Stanisław Ignacy Witkiewicz | S. Fowler Wright | Philip Gordon Wylie | Yevgeny Zamyatin
READ GORGEOUS PAPERBACKS: HiLoBooks has reissued the following 10 obscure but amazing Radium Age science fiction novels in beautiful print editions: Jack London's The Scarlet Plague, Rudyard Kipling's With the Night Mail (and "As Easy as A.B.C."), Arthur Conan Doyle's The Poison Belt, H. Rider Haggard's When the World Shook, Edward Shanks' The People of the Ruins, William Hope Hodgson's The Night Land, J.D. Beresford's Goslings, E.V. Odle's The Clockwork Man, Cicely Hamilton's Theodore Savage, and Muriel Jaeger's The Man with Six Senses. For more information, visit the HiLoBooks homepage.