August Derleth
By: Joshua Glenn
February 24, 2012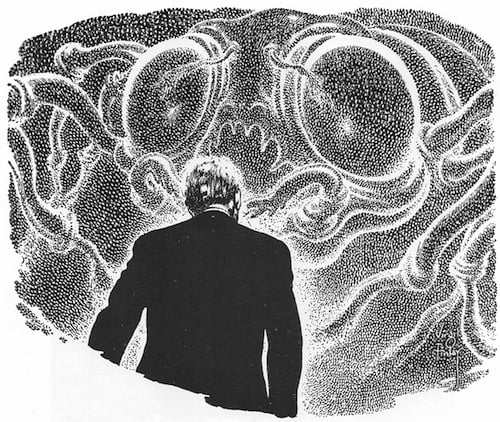 In the early and mid-1930s, AUGUST DERLETH (1909-71) of Sauk City, Wisc., worked assiduously at two types of writing: a sprawling regionalist-naturalist saga-in-progress (memorializing life in Wisconsin) which would win him a middlebrow Guggenheim Fellowship in '38; and supernatural stories, which he sold to the lowbrow magazine Weird Tales. (A fanboys' fanboy, he used his Fellowship money to bind his vast collection of comic strips like Little Nemo in Slumberland, which he took pains to distinguish from "adventure strips for morons.") In 1939, Derleth cofounded Arkham House, in order to bring the supernatural and science fiction of H.P. Lovecraft, with whom Derleth had corresponded for years, as well as Lord Dunsany, Algernon Blackwood, A.E. Coppard, and others, out of the pulps and into hardcover. It was Derleth who coined the term "Cthulhu Mythos" to describe the fictional universe limned in stories by Lovecraft, Clark Ashton Smith, and others; he also contributed stories to the Mythos, rather to the dismay of Cthulhu exegetes (like yours truly) who feel that Derleth's implicitly Christian Good vs. Evil themes don't jibe with Lovecraft's Order vs. Chaos worldview. NB: Derleth also wrote a remarkable meta-fictional series about British detective Solar Pons, a 1920s-era rival of Sherlock Holmes who tangles with Fu Manchu and other pulp characters.
***
On his or her birthday, HiLobrow irregularly pays tribute to one of our high-, low-, no-, or hilobrow heroes. Also born this date: Plastic Bertrand.
READ MORE about members of the Partisans Generation (1904-13).
MORE RADIUM AGE SCI FI ON HILOBROW: HiLoBooks homepage! | What is Radium Age science fiction? |Radium Age 100: 100 Best Science Fiction Novels from 1904–33 | Radium Age Supermen | Radium Age Robots | Radium Age Apocalypses | Radium Age Telepaths | Radium Age Eco-Catastrophes | Radium Age Cover Art (1) | SF's Best Year Ever: 1912 | Radium Age Science Fiction Poetry | Enter Highbrowism | Bathybius! Primordial ooze in Radium Age sf | War and Peace Games (H.G. Wells's training manuals for supermen) | Radium Age: Context series | J.D. Beresford | Algernon Blackwood | Edgar Rice Burroughs | Karel Čapek | Buster Crabbe | August Derleth | Arthur Conan Doyle | Hugo Gernsback | Charlotte Perkins Gilman | Cicely Hamilton | Hermann Hesse | William Hope Hodgson | Aldous Huxley | Inez Haynes Irwin | Alfred Jarry | Jack Kirby (Radium Age sf's influence on) | Murray Leinster | Gustave Le Rouge | Gaston Leroux | David Lindsay | Jack London | H.P. Lovecraft | A. Merritt | Maureen O'Sullivan | Sax Rohmer | Paul Scheerbart | Upton Sinclair | Clark Ashton Smith | E.E. "Doc" Smith | Olaf Stapledon | John Taine | H.G. Wells | Jack Williamson | Stanisław Ignacy Witkiewicz | S. Fowler Wright | Philip Gordon Wylie | Yevgeny Zamyatin
MORE FANTASY ON HILOBROW: CROM YOUR ENTHUSIASM series | 65 Fantasy Adventures | Mervyn Peake | Lord Dunsany | H.P. Lovecraft | Edgar Rice Burroughs | Ursula K. LeGuin | Michael Moorcock | Gary Gygax | Clark Ashton Smith | Frank Frazetta | George MacDonald | John Bellairs | T.H. White | Wilkie Collins | M.R. James | Edgar Allan Poe | Lewis Carroll | Mikhail Bulgakov | Guy Endore | Alasdair Gray | Maurice Sendak | Tove Jansson | L. Frank Baum | Roald Dahl | Abraham Merritt | August Derleth | William Hope Hodgson | Madeleine L'Engle