Gaston Leroux
By: Joshua Glenn
May 6, 2012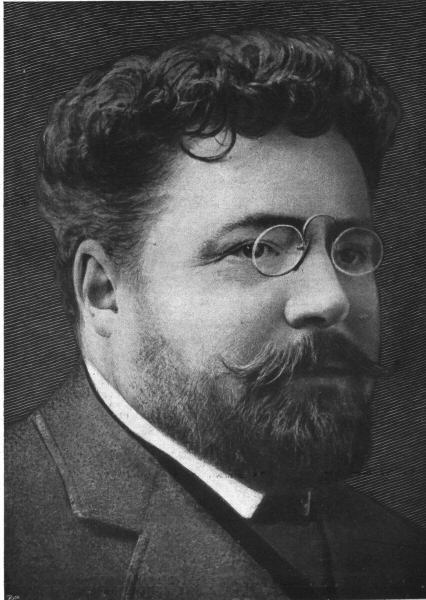 Known to French-speaking readers as a prolific author of detective, sensational, and supernatural stories, GASTON LEROUX (1868-1927) is only known to English-speaking readers as author of a 1910 psychological thriller about a disfigured musical genius who lives beneath the Paris Opera House. A former journalist for Parisian newspapers who covered the 1905 Russian Revolution, his 1907 novel, Le mystère de la chambre jaune, starring the amateur detective Joseph Rouletabille, is an early classic in the mystery genre. In 1909, Leroux co-founded the Société des Cinéromans, an outfit that aimed to publish novel and film versions of the same stories simultaneously. Like his exact contemporaries Gustave Le Rouge, Maurice Leblanc, and Alfred Jarry, he also dabbled in science fiction. Leroux's 1924 novel Le machine à assassiner (trans. in 1935 as The Machine to Kill — why not The Killing Machine?) is perhaps my favorite Radium Age cyborg novel. In it, a human-looking mechanical man is animated by a clockwork expert (presciently named Norbert) with the aid of radioactive serum and the brain of guillotined murderer; the cyborg carries off Norbert's beautiful daughter, only to later save her from… a Hindu vampire cult! Also worth mentioning is Leroux's 1913 novel Balaoo, about a pithecanthrope (missing link) brought to France from Java, thus dramatizing the era's Darwinism-inspired anxiety about biological slippage between man and ape; its 1927 film adaptation helped establish Radium Age sci fi's popular ape-kidnapping-a-human-woman meme.
***
On his or her birthday, HiLobrow irregularly pays tribute to one of our high-, low-, no-, or hilobrow heroes. Also born this date: Sigmund Freud and Orson Welles.
READ MORE about members of the Anarcho-Symbolist (1864-73) Generation.
MORE RADIUM AGE SCI FI ON HILOBROW: HiLoBooks homepage! | What is Radium Age science fiction? |Radium Age 100: 100 Best Science Fiction Novels from 1904–33 | Radium Age Supermen | Radium Age Robots | Radium Age Apocalypses | Radium Age Telepaths | Radium Age Eco-Catastrophes | Radium Age Cover Art (1) | SF's Best Year Ever: 1912 | Radium Age Science Fiction Poetry | Enter Highbrowism | Bathybius! Primordial ooze in Radium Age sf | War and Peace Games (H.G. Wells's training manuals for supermen) | Radium Age: Context series | J.D. Beresford | Algernon Blackwood | Edgar Rice Burroughs | Karel Čapek | Buster Crabbe | August Derleth | Arthur Conan Doyle | Hugo Gernsback | Charlotte Perkins Gilman | Cicely Hamilton | Hermann Hesse | William Hope Hodgson | Aldous Huxley | Inez Haynes Irwin | Alfred Jarry | Jack Kirby (Radium Age sf's influence on) | Murray Leinster | Gustave Le Rouge | Gaston Leroux | David Lindsay | Jack London | H.P. Lovecraft | A. Merritt | Maureen O'Sullivan | Sax Rohmer | Paul Scheerbart | Upton Sinclair | Clark Ashton Smith | E.E. "Doc" Smith | Olaf Stapledon | John Taine | H.G. Wells | Jack Williamson | Stanisław Ignacy Witkiewicz | S. Fowler Wright | Philip Gordon Wylie | Yevgeny Zamyatin