Mikhail Bulgakov
By: Tor Aarestad
May 15, 2009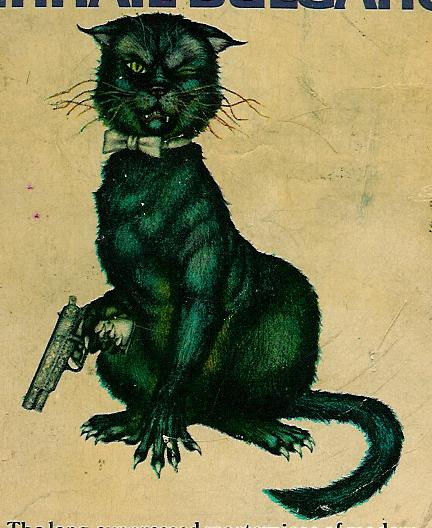 In The Master and Margarita MIKHAIL BULGAKOV (1891-1940) created a gang of villains so fantastical and vivid in their descriptions — stocky Azazello with his straw patch of flaming hair hanging down, solitary fang protruding from his mouth; Koroviev, a nefarious Jacques Tati; and Woland, the devil himself with half-platinum, half-gold crowned teeth, one green eye and one black and black mustache — that I haven't ever found their match. But the best of them all is Behemoth, the deranged overgrown black cat with his cigars and revolvers. He's either Sean Connery's Bond gone bad (and a bit to seed) or Jack Black in full leer. I remember visiting Bulgakov's apartment in Moscow; the walls in the alley and up the stairwell were covered with graffiti. Dominating all of the scribbled messages were multifarious depictions of his characters — early drafts of a graphic novel revision that has yet to arrive?
***
MORE FANTASY ON HILOBROW: CROM YOUR ENTHUSIASM series | 65 Fantasy Adventures | Mervyn Peake | Lord Dunsany | H.P. Lovecraft | Edgar Rice Burroughs | Ursula K. LeGuin | Michael Moorcock | Gary Gygax | Clark Ashton Smith | Frank Frazetta | George MacDonald | John Bellairs | T.H. White | Wilkie Collins | M.R. James | Edgar Allan Poe | Lewis Carroll | Mikhail Bulgakov | Guy Endore | Alasdair Gray | Maurice Sendak | Tove Jansson | L. Frank Baum | Roald Dahl | Abraham Merritt | August Derleth | William Hope Hodgson | Madeleine L'Engle
On his or her birthday, HiLobrow irregularly pays tribute to one of our high-, low-, no-, or hilobrow heroes. Also born this date: Brian Eno, Melle Mel, Jasper Johns, James Mason, L. Frank Baum, Andrew Eldritch.
READ MORE about members of the Modernist Generation (1884–93).