John Taine
By: Joshua Glenn
February 7, 2013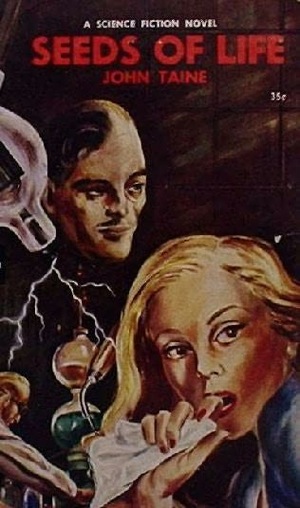 The protagonist of the 1931 science fiction novella Seeds of Life, by JOHN TAINE (Eric Temple Bell, 1883–1960), is an ugly and stupid lab technician who — having attempted suicide via X-rays — is transformed into a gorgeous genius. This superman invents wireless energy transfer devices, but does not use them to benefit mankind. Unlike Spider-Man or the Flash, among other Golden Age comic-book superheroes with similar origin stories, he regards the human race with scorn; it transpires that his energy devices will issue "dysgenic" rays capable of devolving unborn children into reptiles! Taine's The Iron Star (1930) is another ripping yarn, in which an African expedition discovers that a species of ape are actually humans who devolved after exposure to a strange meteorite. The author of these fun Radium-Age science fictions was a Scottish-born American mathematician who taught at the University of Washington and the California Institute of Technology; Bell polynomials and the Bell numbers of combinatorics are named after him. Though often described as one of the first real scientists to write science fiction, Taine's predictions were not particularly accurate. The Seeds of Life superman, for example, is — we're told — "a partial, accidental anticipation of the more sophisticated and yet more natural race into which time and the secular flux of chance are slowly transforming our kind."
* As of this writing (in 2013) I haven't yet read The Purple Sapphire (1924), The Gold Tooth (1927), Quayle's Invention (1927), or The Greatest Adventure (1929).
***
On his or her birthday, HiLobrow irregularly pays tribute to one of our high-, low-, no-, or hilobrow heroes. Also born this date: Alejandro Jodorowsky, Alfred Adler, and Buster Crabbe.
READ MORE about men and women born on the cusp between the Psychonaut (1874–1883) and Modernist (1884–93) Generations.
MORE RADIUM AGE SF: HiLoBooks homepage! | What is Radium Age science fiction? |Radium Age 100: 100 Best Science Fiction Novels from 1904–33 | Radium Age Supermen | Radium Age Robots | Radium Age Apocalypses | Radium Age Telepaths | Radium Age Eco-Catastrophes | Radium Age Cover Art (1) | SF's Best Year Ever: 1912 | Radium Age Science Fiction Poetry | Enter Highbrowism | Bathybius! Primordial ooze in Radium Age sf | War and Peace Games (H.G. Wells's training manuals for supermen) | Radium Age: Context series | J.D. Beresford | Algernon Blackwood | Edgar Rice Burroughs | Karel Čapek | Buster Crabbe | August Derleth | Arthur Conan Doyle | Hugo Gernsback | Charlotte Perkins Gilman | Cicely Hamilton | Hermann Hesse | William Hope Hodgson | Aldous Huxley | Inez Haynes Irwin | Alfred Jarry | Jack Kirby (Radium Age sf's influence on) | Murray Leinster | Gustave Le Rouge | Gaston Leroux | David Lindsay | Jack London | H.P. Lovecraft | A. Merritt | Maureen O'Sullivan | Sax Rohmer | Paul Scheerbart | Upton Sinclair | Clark Ashton Smith | E.E. "Doc" Smith | Olaf Stapledon | John Taine | H.G. Wells | Jack Williamson | Stanisław Ignacy Witkiewicz | S. Fowler Wright | Philip Gordon Wylie | Yevgeny Zamyatin