Gustave Le Rouge
By: Joshua Glenn
July 22, 2013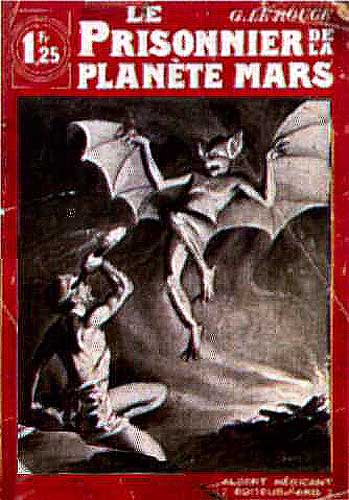 GUSTAVE LE ROUGE (1867–1938) belongs to a lost generation of French litterateurs — whose number includes Alfred Jarry — who admired the anarchist politics and Symbolist aesthetics of their immediate elders, while remaining cynical, ironic, weird. A writer of uncommon genius and productivity, according to his friend Blaise Cendrars, Le Rouge took perverse pleasure in cranking out serialized science fiction in which Jules Verne-esque natural history and science lessons were subverted by occult and parapsychological themes. His 1899–1900 novel La Conspiration des Milliardaires (co-authored with Gustave Guitton) is a spy thriller in which villainous American industrialists seek to conquer Europe by means of an army of mechanical men and a network of hypnotist-telepaths; two subsequent novels by the same team concerned the search for survivors of a dirigible crash in Tibet (hello, Tintin in Tibet), and a proto-fanfiction take on 20,000 Leagues Under the Sea. Le Rouge also wrote some seminal detective fiction, as well as Le Mystérieux Docteur Cornelius, which came out in the seminal year 1912, and which pits an alliance of heroes against a criminal empire led by the mad scientist and "carnoplast" Dr. Cornélius Kramm. This book was ripped off by Cendrars (who claimed he was trying to prove how talented Le Rouge was). But Le Rouge's great Radium Age science fiction work is the proto-Burroughsian Le Prisonnier de la Planète Mars (1908) and its sequel, La Guerre des Vampires (1909), in which Robert Darvel is dispatched to Mars thanks to the psychic powers of Hindu Brahmins. There, he discovers that a Great Brain is using a race of highly intelligent vampire bat creatures to terrorize the Red Planet's humanoid population; after a failed coup, the battle continues on Earth.
***
On his or her birthday, HiLobrow irregularly pays tribute to one of our high-, low-, no-, or hilobrow heroes. Also born this date: James Whale, Florence Barnes.
READ MORE about members of the Anarcho-Symbolist Generation (1864–73).
MORE RADIUM AGE SCI FI ON HILOBROW: HiLoBooks homepage! | What is Radium Age science fiction? |Radium Age 100: 100 Best Science Fiction Novels from 1904–33 | Radium Age Supermen | Radium Age Robots | Radium Age Apocalypses | Radium Age Telepaths | Radium Age Eco-Catastrophes | Radium Age Cover Art (1) | SF's Best Year Ever: 1912 | Radium Age Science Fiction Poetry | Enter Highbrowism | Bathybius! Primordial ooze in Radium Age sf | War and Peace Games (H.G. Wells's training manuals for supermen) | Radium Age: Context series | J.D. Beresford | Algernon Blackwood | Edgar Rice Burroughs | Karel Čapek | Buster Crabbe | August Derleth | Arthur Conan Doyle | Hugo Gernsback | Charlotte Perkins Gilman | Cicely Hamilton | Hermann Hesse | William Hope Hodgson | Aldous Huxley | Inez Haynes Irwin | Alfred Jarry | Jack Kirby (Radium Age sf's influence on) | Murray Leinster | Gustave Le Rouge | Gaston Leroux | David Lindsay | Jack London | H.P. Lovecraft | A. Merritt | Maureen O'Sullivan | Sax Rohmer | Paul Scheerbart | Upton Sinclair | Clark Ashton Smith | E.E. "Doc" Smith | Olaf Stapledon | John Taine | H.G. Wells | Jack Williamson | Stanisław Ignacy Witkiewicz | S. Fowler Wright | Philip Gordon Wylie | Yevgeny Zamyatin
READ GORGEOUS PAPERBACKS: HiLoBooks has reissued the following 10 obscure but amazing Radium Age science fiction novels in beautiful print editions: Jack London's The Scarlet Plague, Rudyard Kipling's With the Night Mail (and "As Easy as A.B.C."), Arthur Conan Doyle's The Poison Belt, H. Rider Haggard's When the World Shook, Edward Shanks' The People of the Ruins, William Hope Hodgson's The Night Land, J.D. Beresford's Goslings, E.V. Odle's The Clockwork Man, Cicely Hamilton's Theodore Savage, and Muriel Jaeger's The Man with Six Senses. For more information, visit the HiLoBooks homepage.
SERIALIZED BY HILOBOOKS: Jack London's The Scarlet Plague | Rudyard Kipling's With the Night Mail (and "As Easy as A.B.C.") | Arthur Conan Doyle's The Poison Belt | H. Rider Haggard's When the World Shook | Edward Shanks' The People of the Ruins | William Hope Hodgson's The Night Land | J.D. Beresford's Goslings | E.V. Odle's The Clockwork Man | Cicely Hamilton's Theodore Savage | Muriel Jaeger's The Man With Six Senses | Jack London's "The Red One" | Philip Francis Nowlan's Armageddon 2419 A.D. | Homer Eon Flint's The Devolutionist | W.E.B. DuBois's "The Comet" | Edgar Rice Burroughs's The Moon Men | Charlotte Perkins Gilman's Herland | Sax Rohmer's "The Zayat Kiss" | Eimar O'Duffy's King Goshawk and the Birds | Frances Hodgson Burnett's The Lost Prince | Morley Roberts's The Fugitives | Helen MacInnes's The Unconquerable | Geoffrey Household's Watcher in the Shadows | William Haggard's The High Wire | Hammond Innes's Air Bridge | James Branch Cabell's Jurgen | John Buchan's "No Man's Land" | John Russell's "The Fourth Man" | E.M. Forster's "The Machine Stops" | John Buchan's Huntingtower | Arthur Conan Doyle's When the World Screamed | Victor Bridges' A Rogue By Compulsion | Jack London's The Iron Heel | H. De Vere Stacpoole's The Man Who Lost Himself | P.G. Wodehouse's Leave It to Psmith | Richard Connell's "The Most Dangerous Game" | Houdini and Lovecraft's "Imprisoned with the Pharaohs" | Arthur Conan Doyle's "The Sussex Vampire."