S. Fowler Wright
By: Joshua Glenn
January 6, 2013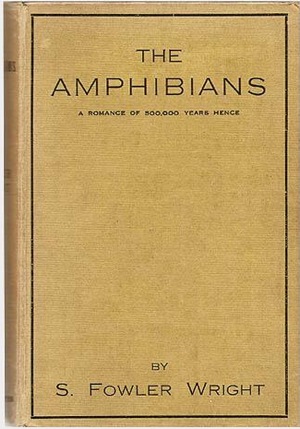 British accountant-turned-author SYDNEY FOWLER WRIGHT (1874–1965) self-published two libertarian, anti-Wellsian, yet gripping and rewarding Radium Age science fiction novels — both of which owe a debt to Dante's allegorical themes and schemes. The Amphibians (1924; reissued, with extra chapters, in 1929 as The World Below) is a superman story set half a million years from now; the Earth's dominant intelligent species are the giant Dwellers (who are self-destructively devoted to science) and the furry, telepathic Amphibians (who, we discover, are morally superior to twentieth-century men). The time-traveling protagonist is guided by an Amphibian across a Divina Commedia-like landscape of incredible horrors. Deluge (1927), meanwhile, is an eco-catastrophe in which land masses everywhere — except the English midlands — sink under the ocean. The ex-lawyer Martin and the valkyrie-like Claire do battle with working-class types and equally feral animals who threaten their new-found Eden. Deluge became a best-seller and was filmed in Hollywood, which allowed him to become a full-time writer — but from what I've managed to read so far, Fowler Wright didn't produce anything else of lasting interest. Except, I hasten to add, for his Huxley-esque 1932 story collection, The New Gods Lead, in which we find cranky parables about future societies warped by the triumph of technological and cultural progress, in the form of, e.g., birth control, eugenics, mechanical devices, psychotropic chemistry, and the pursuit of comfort generally.
***
On his or her birthday, HiLobrow irregularly pays tribute to one of our high-, low-, no-, or hilobrow heroes. Also born this date: Syd Barrett and Nikolai Marr.
READ MORE about men and women born on the cusp between the Anarcho-Symbolist (1864–73) and Psychonaut (1874–1883) Generations.
MORE RADIUM AGE SCI FI ON HILOBROW: HiLoBooks homepage! | What is Radium Age science fiction? |Radium Age 100: 100 Best Science Fiction Novels from 1904–33 | Radium Age Supermen | Radium Age Robots | Radium Age Apocalypses | Radium Age Telepaths | Radium Age Eco-Catastrophes | Radium Age Cover Art (1) | SF's Best Year Ever: 1912 | Radium Age Science Fiction Poetry | Enter Highbrowism | Bathybius! Primordial ooze in Radium Age sf | War and Peace Games (H.G. Wells's training manuals for supermen) | Radium Age: Context series | J.D. Beresford | Algernon Blackwood | Edgar Rice Burroughs | Karel Čapek | Buster Crabbe | August Derleth | Arthur Conan Doyle | Hugo Gernsback | Charlotte Perkins Gilman | Cicely Hamilton | Hermann Hesse | William Hope Hodgson | Aldous Huxley | Inez Haynes Irwin | Alfred Jarry | Jack Kirby (Radium Age sf's influence on) | Murray Leinster | Gustave Le Rouge | Gaston Leroux | David Lindsay | Jack London | H.P. Lovecraft | A. Merritt | Maureen O'Sullivan | Sax Rohmer | Paul Scheerbart | Upton Sinclair | Clark Ashton Smith | E.E. "Doc" Smith | Olaf Stapledon | John Taine | H.G. Wells | Jack Williamson | Stanisław Ignacy Witkiewicz | S. Fowler Wright | Philip Gordon Wylie | Yevgeny Zamyatin