Upton Sinclair
By: Joshua Glenn
September 20, 2010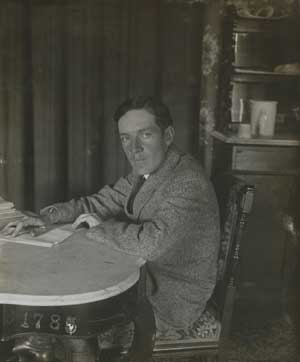 In 1906, UPTON SINCLAIR (1878-1968) published The Jungle, a bestselling fictional exposé that used Chicago's meatpacking industry as a stage upon which to dramatize the suffering visited upon laborers by unregulated capitalism. Though Congress swiftly passed the Pure Food and Drug Act, Sinclair's twenty-fourth novel had zero effect upon its intended target. ("So long as we have wage slavery," laments one character, "it matters not in the least how debasing and repulsive a task may be, it is easy to find people to perform it.") Sinclair, who griped that "I aimed at the public's heart, and by accident I hit it in the stomach," used his new wealth to establish a utopian colony (Helicon) in Englewood, N.J, before going on to churn out sixty-five more titles in various genres. It must be acknowledged that Sinclair was a mediocre novelist. We've included him in our pantheon because he participated in two Argonaut Follies: Helicon, which soon burned down; and the Forte Circle (1910-15), an international cabal of activist intellectuals — including Martin Buber and Gustav Landauer — who attempted to prevent WWI. However, certain of his books are worth the effort: The Brass Check (1919), a still-pertinent criticism of "objective" journalism; The Millennium (1924), a Radium Age sci-fi play; Oil! (1927), the novel on which Paul Thomas Anderson's There Will Be Blood was loosely based; and Boston (1928), a "documentary novel" about Sacco and Vanzetti. Co-Op (1936), a "novel of living together," also sounds promising.
***
On his or her birthday, HiLobrow irregularly pays tribute to one of our high-, low-, no-, or hilobrow heroes. Also born this date: Jay Ward and Stevie Smith.
READ MORE about members of the Psychonaut generation (1874-83).
***
In 2012–2013, HiLoBooks serialized and republished (in gorgeous paperback editions, with new Introductions) 10 forgotten Radium Age science fiction classics! For more info: HiLoBooks.
MORE RADIUM AGE SCI FI ON HILOBROW: HiLoBooks homepage! | What is Radium Age science fiction? |Radium Age 100: 100 Best Science Fiction Novels from 1904–33 | Radium Age Supermen | Radium Age Robots | Radium Age Apocalypses | Radium Age Telepaths | Radium Age Eco-Catastrophes | Radium Age Cover Art (1) | SF's Best Year Ever: 1912 | Radium Age Science Fiction Poetry | Enter Highbrowism | Bathybius! Primordial ooze in Radium Age sf | War and Peace Games (H.G. Wells's training manuals for supermen) | Radium Age: Context series | J.D. Beresford | Algernon Blackwood | Edgar Rice Burroughs | Karel Čapek | Buster Crabbe | August Derleth | Arthur Conan Doyle | Hugo Gernsback | Charlotte Perkins Gilman | Cicely Hamilton | Hermann Hesse | William Hope Hodgson | Aldous Huxley | Inez Haynes Irwin | Alfred Jarry | Jack Kirby (Radium Age sf's influence on) | Murray Leinster | Gustave Le Rouge | Gaston Leroux | David Lindsay | Jack London | H.P. Lovecraft | A. Merritt | Maureen O'Sullivan | Sax Rohmer | Paul Scheerbart | Upton Sinclair | Clark Ashton Smith | E.E. "Doc" Smith | Olaf Stapledon | John Taine | H.G. Wells | Jack Williamson | Stanisław Ignacy Witkiewicz | S. Fowler Wright | Philip Gordon Wylie | Yevgeny Zamyatin