Alasdair Gray
By: Robert Wringham
December 28, 2012
The Scottish author and artist ALASDAIR GRAY (born 1934) is known not only for sumptuous, complex novels like the four-volume fantasy memoir Lanark (which plays flirtatious tricks on the reader and anticipates its own critics), the lusty 1982, Janine, and his Poor Things (which tells a sort of feminist and ultra-Scottish version of Frankenstein with a nod to Flowers for Algernon), but for the glorious design of his books — particularly the winking ornaments and grotesque end panels. Gray's illustrations — often utopian or pseudo-religious, or dredging up something sexy and terrible from the unconscious — are awesome and devastating, but his art best shines in public masterpieces like the ceiling fresco (a sort of working-class Sistine Chapel) he did for a Glaswegian pub. There's a naivety in his paintings, which adds a humanity or a vulnerability that never fails to lift my spirits. The same goes for his books; for example, his fictional cities have inexplicably evocative names like Etterick, Glonda, and Unthank. Though Gray is highly respected in certain literary circles, outside Scotland his work remains — so far — an underground secret.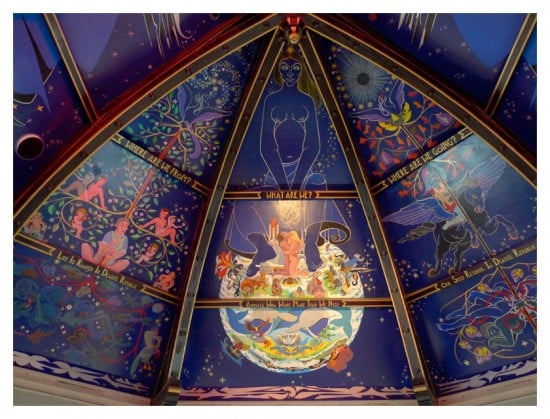 ***
MORE FANTASY ON HILOBROW: CROM YOUR ENTHUSIASM series | 65 Fantasy Adventures | Mervyn Peake | Lord Dunsany | H.P. Lovecraft | Edgar Rice Burroughs | Ursula K. LeGuin | Michael Moorcock | Gary Gygax | Clark Ashton Smith | Frank Frazetta | George MacDonald | John Bellairs | T.H. White | Wilkie Collins | M.R. James | Edgar Allan Poe | Lewis Carroll | Mikhail Bulgakov | Guy Endore | Alasdair Gray | Maurice Sendak | Tove Jansson | L. Frank Baum | Roald Dahl | Abraham Merritt | August Derleth | William Hope Hodgson | Madeleine L'Engle
On his or her birthday, HiLobrow irregularly pays tribute to one of our high-, low-, no-, or hilobrow heroes. Also born this date: Stan Lee, Guy Debord, Öyvind Fahlström, Arthur Eddington.
READ MORE about men and women born on the cusp between the Postmodernist (1924-33) and Anti-Anti-Utopian (1934-43) Generations.