David Lindsay
By: Joshua Glenn
March 3, 2013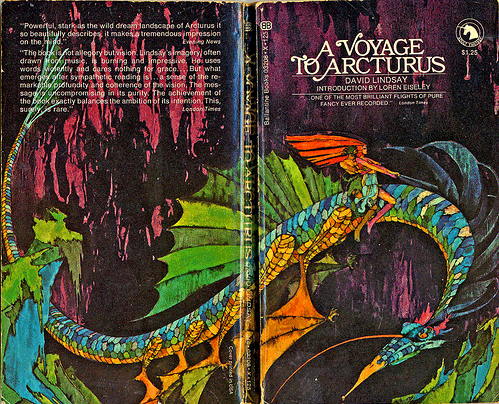 In 1920, the Anglo-Scot ex-insurance man DAVID LINDSAY (1876–1945) completed an existential science fiction novel, A Voyage to Arcturus. In it, two men — the giant Maskull and the thin, intense Nightspore — are taken from Earth to the planet Tormance by Krag, a mysterious figure who is a residue of the true godhead, Muspel, unassimilated by the false creations of Tormance's demiurge, Crystalman. Reality is fluid, on this planet; in fact, it transpires that the very notion of an absolute reality is merely a comforting illusion. Each chapter introduces a new moral order, persuades us to believe in it — then mocks us for doing so. This bewildering book, which was inspired by Nietzsche and Schopenhauer, sold a mere 596 copies. Lindsay's subsequent books — including the ghost story The Haunted Woman, the swashbuckler M. de Mailly, and Devil's Tor — were also flops. Just before WWII, Lindsay gave up writing and opened a boarding house in Brighton; the Germans dropped a bomb on it. Just before Lindsay died, his fortunes began to change: C.S. Lewis declared that Lindsay was the "real father" of his "Perelandra" sci-fi trilogy: "He is the first writer to discover what 'other planets' are really good for in fiction… To construct plausible and moving 'other worlds' you must draw on the only real 'other world' we know, that of the spirit." J.R.R. Tolkien was also a fan. In 1946, Victor Gollancz reissued Arcturus; in 1968, Ballantine reissued it as a mass market paperback (with a Bob Pepper cover); and in 1979, critic Harold Bloom published his first and only novel: a sequel to Arcturus. Since then, Lindsay has returned to obscurity.
***
On his or her birthday, HiLobrow irregularly pays tribute to one of our high-, low-, no-, or hilobrow heroes. Also born this date: Edward Thomas and Robyn Hitchcock.
READ MORE about members of the Psychonaut Generation (1874–1883).
MORE RADIUM AGE SCI FI ON HILOBROW: HiLoBooks homepage! | What is Radium Age science fiction? |Radium Age 100: 100 Best Science Fiction Novels from 1904–33 | Radium Age Supermen | Radium Age Robots | Radium Age Apocalypses | Radium Age Telepaths | Radium Age Eco-Catastrophes | Radium Age Cover Art (1) | SF's Best Year Ever: 1912 | Radium Age Science Fiction Poetry | Enter Highbrowism | Bathybius! Primordial ooze in Radium Age sf | War and Peace Games (H.G. Wells's training manuals for supermen) | Radium Age: Context series | J.D. Beresford | Algernon Blackwood | Edgar Rice Burroughs | Karel Čapek | Buster Crabbe | August Derleth | Arthur Conan Doyle | Hugo Gernsback | Charlotte Perkins Gilman | Cicely Hamilton | Hermann Hesse | William Hope Hodgson | Aldous Huxley | Inez Haynes Irwin | Alfred Jarry | Jack Kirby (Radium Age sf's influence on) | Murray Leinster | Gustave Le Rouge | Gaston Leroux | David Lindsay | Jack London | H.P. Lovecraft | A. Merritt | Maureen O'Sullivan | Sax Rohmer | Paul Scheerbart | Upton Sinclair | Clark Ashton Smith | E.E. "Doc" Smith | Olaf Stapledon | John Taine | H.G. Wells | Jack Williamson | Stanisław Ignacy Witkiewicz | S. Fowler Wright | Philip Gordon Wylie | Yevgeny Zamyatin