LOST OBJECTS (50)
By: Margaret Wertheim
December 20, 2019
One in an ongoing series of nonfiction stories about lost objects. In 2017, Project:Object's Josh Glenn and Rob Walker asked 25 writers to tell us about a significant object they'd lost (or thrown away, or destroyed), then assigned these stories to 25 illustrators. The first Lost Objects series was such a hit with readers, and so fun for us to publish, that we've decided it deserves a sequel.
UPDATE: The Lost Objects book was published in September 2022 by Hat & Beard Press. Check it out!
*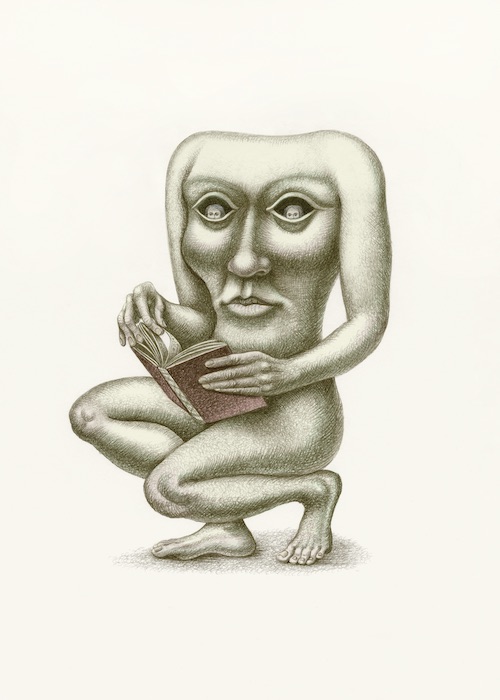 God is marveyllous in his Werkes
The little book had come into my possession as a gift from my twin, Christine, who'd found it in a London flea market. About 7 x 5 inches, the modest folio was stitched together by string, with coverboards bound in faded crimson fabric. The date 1898 was hand-written on the first of some 40-odd pages, each double-spread bearing a text on the left and a drawing on the right pasted into the book.
A sample page read as follows — I copy the orthography precisely:
And there growethe a maner of Fruyt, as though it weren Gowrdes: and whan thei ben rype, men kutten hem a to, and men fynden with inne a lytylle Best, in Flessche, in Bon, and Blode, as though it were a lytylle Lomb, with outen Wolle. And men eten bothe the Frut and the Best, and that is a gret Marveylle. Of that Frute I have eten, alle though it were wondirfulle, but that I know wel that God is marveyllous in his Werkes.
Facing this was a drawing of a tree sprouting clusters of sheep-like animals each in an open pod. Was it a reference to cotton, I wondered?
Another person had annotated the text in a few discrete places: "This is a pretty fair one!" the editor opined beneath the paragraph above. It was a damn fine one. But a fine example of what?
The pages were filled with snippeted descriptions of monstrous beasts and men: humans with one vast foot, or eares "bigger than Olifants." As the editor noted, a good deal of this was a cribbing of the 14th century traveler Sir John Mandeville, and of Pliny. On the final page the author was identified as Sir Gran de Bousjogne, with the text described as "a deathbed confession" to Gran d'Outremense, "a tricky witness however."
This treasure occupied a unique place among my books and when I moved houses in 1982 I took care to stow it in a special place. Needless to say, the special box was nowhere to be found in the unpacking, a sin for which my sister has never forgiven me.
Over the years she and I have often discussed the fateful Sir Gran, imagining him on his deathbed, spilling out god-knows-what to his "tricky" confessor. Who was he? What did he intend with these tales? One enigmatic drawing of a "cocodrille" bears a note from the editor: "I've sent this with article to be printed." There was more of it! And in published form. Could that book be traced? A lifetime of research stretched out from this slim volume, if only I hadn't lost it.
Then a miracle occurred. While I was writing this piece, my sister found a photocopy she'd made of some of the original pages, along with her now 40-year-old tracings of Sir Gran's drawings. Reading his words, I am struck again by the world they open up. Not merely another age is conjured here, but a near-alien mindset. Was Sir Gran mad? He claims to have eaten the "frutes." Opium, hashish, perhaps?
Physics tells us the universe is ruled by a set of inexorable laws. In the ravings of a dying lord we see the absurdity of that proposition.
*
ABOUT THE AUTHOR: See sidebar.
ABOUT THE ARTIST: Armando Veve is an artist and illustrator working in Philadelphia. His drawings have been recognized by American Illustration, Communication Arts, Spectrum, and awarded two gold medals from the Society of Illustrators. He was named an ADC Young Gun by The One Club for Creativity and selected to the Forbes 2018 30 under 30 list.

LOST OBJECTS 2: INTRODUCTION | Geoff Manaugh on MOROCCAN TRINKET (ill. Mariana Pita) | Joe Yonan on MACRAMÉ ART (ill. Theo Ellsworth) | Laura Lippman on LABYRINTH GAME (ill. Laura Didyk) | Ben Katchor on LUCITE CARRYING CASE | Neil LaBute on PICKLED OCTOPUS (ill. Disa Wallander) | Miranda Mellis on SEQUINED SCARF (ill. Adam Goldberg) | Chris Piascik on GENERAL HUSTLER BMX | Jenny Kroik on MISSING TOY PIECES | Anita Kunz on FLOWER NECKLACE | Debbie Millman on GLASS POODLE | Heather Kapplow on CERAMIC ARTWORK (ill. Matt Wuerker) | Lydia Millet on ROCKY HORROR NOVEL (ill. Berta Valló) | Ben Greenman on WARHOL CAN (ill. Clara Selina Bach) | Leah Hennessey on BATMAN RING (ill. Dean Haspiel) | Kathryn Davis on PRAYER CARD (ill. Dina Noto) | Mikita Brottman on PINK ELEPHANTS (ill. Sarah Williamson) | Nathaniel Rich on AUTOGRAPHED BASEBALL (ill. Ellen Rose) | Charles Glaubitz on TRACK SHOES | Seth on ENTERPRISE MODEL | Becky Stern on SKELETON SWEATER (ill. Monica Garwood) | Mark Dery on GRANDFATHER PHOTO (ill. Kelli Anderson) | Paola Antonelli on VINYL SKIRT (ill. Guillermo Meraz) | Sara Ryan on FINGER PUPPET (ill. Steve Lieber) | Alex Gerasev on KARMA PARKA | Margaret Wertheim on ECCENTRIC BOOK (ill. Armando Veve).
FETISHES: INTRODUCTION | Josh Foer on DEATH MASK | Beth Lisick on MURDERED-OUT KFC BUCKET | Christina Couch on LEECH ACTION FIGURE | Kenneth Goldsmith on THEWLIS SOCK | Abby Rapoport on MAGNATILES | & 20 MORE.
FOSSILS: INTRODUCTION | Allegra Huston on SKATAWAY JACKET | Kevin Obsatz on HOMEMADE NUNCHUKS | Ian Bogost on DESKTOP TELEPHONE | Jeff Lewonczyk on CHA-CHA JACKET SCRAP | Kelly Horan on VOLVO KEY | & 20 MORE.
FLAIR: INTRODUCTION | Cliff Kuang on ROLEX DATEJUST | Ethan Zuckerman on LAPTOP STICKERS | Ann Shoket on LEATHER JACKET | Kembrew McLeod on KEMBREW MERCH | Paola Antonelli on MERMAID TEARS | & 20 MORE.
LOST OBJECTS (vol. 1): INTRODUCTION | Kate Bernheimer on MULLET WIG (ill. Amy Evans) | Dan Piepenbring on COLOGNE (ill. Josh Neufeld) | Doug Dorst on STRATOCASTER (ill. John Holbo) | Paul Lukas on VANILLA BEAN (ill. Allison Bamcat) | Mimi Lipson on DODGE DART (ill. Mister Reusch) | & 20 MORE.
ILLICIT OBJECTS: INTRODUCTION | Kio Stark on PEEPSHOW TOKEN | Sari Wilson on TOMBSTONE PARTS | Annalee Newitz on CAR-BOMB REMNANT | Tito Bottitta on MOONINITE DEVICE | Eric Bennett on DIRTY MAGAZINE | & 20 MORE.
TALISMANIC OBJECTS: INTRODUCTION | Veda Hille on CROCHET SHEEP | Gary Panter on DINOSAUR BONES | Jami Attenberg on SELENITE CRYSTAL | Annie Nocenti on MINIATURE DICE | Wayne Curtis on CLOCK WINDING KEY | & 20 MORE.
POLITICAL OBJECTS: INTRODUCTION | Luc Sante on CAMPAIGN PAMPHLETS | Lydia Millet on PVC POLAR BEAR | Ben Greenman on MATCHBOX CAR | Rob Baedeker on PRESIDENTS PLACEMAT | L.A. Kauffman on WHEATPASTE POSTER | & 20 MORE.
ALSO SEE: PROJECT:OBJECT homepage | POLITICAL OBJECTS (1Q2017) | TALISMANIC OBJECTS (2Q2017) | ILLICIT OBJECTS (3Q2017) | LOST OBJECTS vol. 1 (4Q2017) | FLAIR (2Q2018) | FOSSILS (4Q2018) | FETISHES (2Q2019) | LOST OBJECTS vol. 2 (4Q2019) | MOVIE OBJECTS (2Q2020) | SEMIO OBJECTS (2Q2021) | SIGNIFICANT OBJECTS (cross-posted from Significant Objects website). ALSO SEE: SIGNIFICANT OBJECTS website | LOST OBJECTS (Hat & Beard Press, 2022) | SIGNIFICANT OBJECTS collection, ed. Rob Walker and Josh Glenn (Fantagraphics, 2012) | TAKING THINGS SERIOUSLY, ed. Josh Glenn (Princeton Architectural Press, 2007) | TAKING THINGS SERIOUSLY excerpts.