LOST OBJECTS (34)
By: Anita Kunz
October 27, 2019
One in an ongoing series of nonfiction stories about lost objects. In 2017, Project:Object's Josh Glenn and Rob Walker asked 25 writers to tell us about a significant object they'd lost (or thrown away, or destroyed), then assigned these stories to 25 illustrators. The first Lost Objects series was such a hit with readers, and so fun for us to publish, that we've decided it deserves a sequel.
UPDATE: The Lost Objects book was published in September 2022 by Hat & Beard Press. Check it out!
*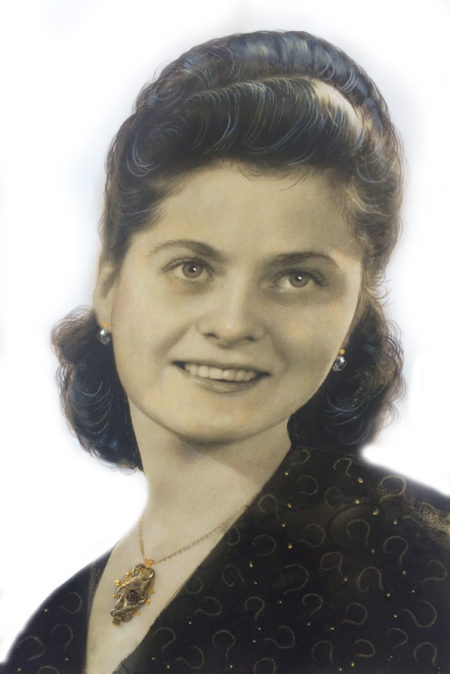 My mother died when I was in my twenties, and the entire time I was growing up she was almost never home. She was a traveling saleslady. I think that, at that time, it must have been an unusual profession for a woman to have. She sold pots and pans, and later she sold real estate; she was always on the road or on a call. So I didn't know her very well. When I think of her, there's mainly a blank slate.
There are so many things I don't know about her. I do know that her family were immigrants from Romania; she came to Canada on a boat with her mother and brother. I know she was a gregarious woman: She loved being around people, and was the life of the party. I also know that she didn't particularly like motherhood.
After my mother died, I came upon a necklace she'd owned. It was a gold tooled necklace with a tiny rose in the middle. I know it was hers because there's an old photo of her wearing it. I don't recall how I came to possess the necklace. But I thought it was pretty and wore it often. It's all I had of her.
One evening I went to a friend's house for dinner. I was wearing the necklace when we arrived at the party, but I was not wearing it when I returned home. I was in a panic. I went back the next day and searched everywhere. I looked in the apartment, I looked in the grass outside, I searched the sidewalks and road. But it was gone. I don't know if someone picked it up, or if it was just lost in a crack somewhere.
It was the only connection I had to a woman I barely knew.
I feel sad at having lost the necklace but I feel even sadder that I may have had a great mother-daughter experience had circumstances been different. As much as I miss the necklace, I also miss the experience of having had a mother. That's the loss I'll always carry with me.
*
LOST OBJECTS 2: INTRODUCTION | Geoff Manaugh on MOROCCAN TRINKET (ill. Mariana Pita) | Joe Yonan on MACRAMÉ ART (ill. Theo Ellsworth) | Laura Lippman on LABYRINTH GAME (ill. Laura Didyk) | Ben Katchor on LUCITE CARRYING CASE | Neil LaBute on PICKLED OCTOPUS (ill. Disa Wallander) | Miranda Mellis on SEQUINED SCARF (ill. Adam Goldberg) | Chris Piascik on GENERAL HUSTLER BMX | Jenny Kroik on MISSING TOY PIECES | Anita Kunz on FLOWER NECKLACE | Debbie Millman on GLASS POODLE | Heather Kapplow on CERAMIC ARTWORK (ill. Matt Wuerker) | Lydia Millet on ROCKY HORROR NOVEL (ill. Berta Valló) | Ben Greenman on WARHOL CAN (ill. Clara Selina Bach) | Leah Hennessey on BATMAN RING (ill. Dean Haspiel) | Kathryn Davis on PRAYER CARD (ill. Dina Noto) | Mikita Brottman on PINK ELEPHANTS (ill. Sarah Williamson) | Nathaniel Rich on AUTOGRAPHED BASEBALL (ill. Ellen Rose) | Charles Glaubitz on TRACK SHOES | Seth on ENTERPRISE MODEL | Becky Stern on SKELETON SWEATER (ill. Monica Garwood) | Mark Dery on GRANDFATHER PHOTO (ill. Kelli Anderson) | Paola Antonelli on VINYL SKIRT (ill. Guillermo Meraz) | Sara Ryan on FINGER PUPPET (ill. Steve Lieber) | Alex Gerasev on KARMA PARKA | Margaret Wertheim on ECCENTRIC BOOK (ill. Armando Veve).
FETISHES: INTRODUCTION | Josh Foer on DEATH MASK | Beth Lisick on MURDERED-OUT KFC BUCKET | Christina Couch on LEECH ACTION FIGURE | Kenneth Goldsmith on THEWLIS SOCK | Abby Rapoport on MAGNATILES | & 20 MORE.
FOSSILS: INTRODUCTION | Allegra Huston on SKATAWAY JACKET | Kevin Obsatz on HOMEMADE NUNCHUKS | Ian Bogost on DESKTOP TELEPHONE | Jeff Lewonczyk on CHA-CHA JACKET SCRAP | Kelly Horan on VOLVO KEY | & 20 MORE.
FLAIR: INTRODUCTION | Cliff Kuang on ROLEX DATEJUST | Ethan Zuckerman on LAPTOP STICKERS | Ann Shoket on LEATHER JACKET | Kembrew McLeod on KEMBREW MERCH | Paola Antonelli on MERMAID TEARS | & 20 MORE.
LOST OBJECTS (vol. 1): INTRODUCTION | Kate Bernheimer on MULLET WIG (ill. Amy Evans) | Dan Piepenbring on COLOGNE (ill. Josh Neufeld) | Doug Dorst on STRATOCASTER (ill. John Holbo) | Paul Lukas on VANILLA BEAN (ill. Allison Bamcat) | Mimi Lipson on DODGE DART (ill. Mister Reusch) | & 20 MORE.
ILLICIT OBJECTS: INTRODUCTION | Kio Stark on PEEPSHOW TOKEN | Sari Wilson on TOMBSTONE PARTS | Annalee Newitz on CAR-BOMB REMNANT | Tito Bottitta on MOONINITE DEVICE | Eric Bennett on DIRTY MAGAZINE | & 20 MORE.
TALISMANIC OBJECTS: INTRODUCTION | Veda Hille on CROCHET SHEEP | Gary Panter on DINOSAUR BONES | Jami Attenberg on SELENITE CRYSTAL | Annie Nocenti on MINIATURE DICE | Wayne Curtis on CLOCK WINDING KEY | & 20 MORE.
POLITICAL OBJECTS: INTRODUCTION | Luc Sante on CAMPAIGN PAMPHLETS | Lydia Millet on PVC POLAR BEAR | Ben Greenman on MATCHBOX CAR | Rob Baedeker on PRESIDENTS PLACEMAT | L.A. Kauffman on WHEATPASTE POSTER | & 20 MORE.
SIGNIFICANT OBJECTS at HILOBROW: PROJECT:OBJECT homepage | PROJECT:OBJECT newsletter | PROJECT:OBJECT objects (Threadless shop — all profits donated to the ACLU) | POLITICAL OBJECTS series (1Q2017) | TALISMANIC OBJECTS series (2Q2017) | ILLICIT OBJECTS series (3Q2017) | LOST OBJECTS vol. 1 series (4Q2017) | FLAIR series (2Q2018) | FOSSIL series (4Q2018) | FETISHES series (2Q2019) | LOST OBJECTS vol. 2 series (4Q2019) | MOVIE OBJECTS series (2Q2020). ALSO SEE: SIGNIFICANT OBJECTS website | SIGNIFICANT OBJECTS collection, ed. Rob Walker and Josh Glenn (Fantagraphics, 2012) | TAKING THINGS SERIOUSLY, ed. Josh Glenn (Princeton Architectural Press, 2007) | TAKING THINGS SERIOUSLY excerpts.