LOST OBJECTS (39)
By: Leah Hennessey
November 11, 2019
One in an ongoing series of nonfiction stories about lost objects. In 2017, Project:Object's Josh Glenn and Rob Walker asked 25 writers to tell us about a significant object they'd lost (or thrown away, or destroyed), then assigned these stories to 25 illustrators. The first Lost Objects series was such a hit with readers, and so fun for us to publish, that we've decided it deserves a sequel.
UPDATE: The Lost Objects book was published in September 2022 by Hat & Beard Press. Check it out!
*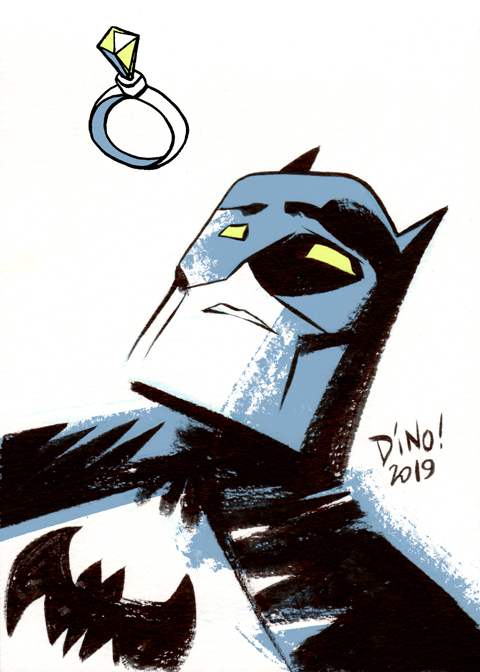 When I was finally starting to be cool (thirteen-ish), my unofficial godmother used to invite me over to try on hand-me-downs. On one of these lucky visits I was sifting through a lucite tray of costume jewelry and pairless earrings when I found a Batman ring: a dainty silver band with an inlaid logo of onyx-like plastic. It was the Batman symbol of my childhood, the Batman: The Animated Series/Michael Keaton Batman: a bonafide Bat Ring. There was no question of me having it, it was nothing. I don't think I dared expressed what a treasure this was for me, afraid I would alert its owner to its value.
I wore it as a wedding ring, and when people remarked on it, especially people who were boys, I always said, "Yes, I'm married to Batman".
I loved the idea of Claddagh rings; the Irish heart-hands-crown ring which signified relationship status. Wearing the heart facing outward means you're available. When your heart is captured, you turn the ring around. I wore a Claddagh ring at the time, but as my romantic entanglements became nebulous I found its symbology too literal and revealing. The binary of taken/not taken was not adequate for my teenage heart, and I found myself fidgeting, turning it back and forth, unable to express myself in its language.
The Bat Ring, on the other hand, was eloquent. If my heart was to truly belong to someone, it would be a Batman, someone secret and unquestionably superlative. I was not available, but the entity to which I belonged was fictional. Maybe it meant that I was Batman. It was a subtle and silly signifer, but people understood. I felt that I was given the respect due to a favorite of a god, and I moved through Gotham under the protection of His Shadow.
Weirdly, as I got older, I found men seemed to react to the wedding ring more viscerally; a nervous twitch of a frown, a step back. They had, perhaps recently, finally come to terms with Not Being Batman, and it was not a failure of which they wished to be reminded.
As the Age of the Comic Book Movie reached its apogee, it became clear that allegiance to a superhero no longer signified any misfit otherness. There was no nerdiness or awkward childishness in wearing a Batman ring, and Batman himself was just one among an ever expanding pantheon. In true reactionary hipster fashion, I set aside the talisman into which I had invested so much libidinal energy, most likely in a box of broken and unfashionable doo-dads, and forgot about it.
For the past few years I've been sifting through catchalls and repurposed ashtrays, dissecting the tumbleweeds of hair and Dickian kipple, searching for it. I have not made any lasting connections with a piece of jewelry in its absence. Maybe the cheap metal irritated my eczema, and that's why I stopped wearing it. Maybe it's at my mother's house.
*
ABOUT THE AUTHOR: See sidebar.
ABOUT THE ARTIST: Emmy Award-winning cartoonist Dean Haspiel is best known for creating Billy Dogma and The Red Hook, and illustrating for HBO's "Bored to Death." His published work includes writing and drawing for Marvel, DC, Archie, Image Comics, Heavy Metal magazine, and Webtoon. Haspiel collaborated with Harvey Pekar, Jonathan Ames, Inverna Lockpez, Jay Lynch, Jonathan Lethem, Stoya, and Stan Lee. In addition, Haspiel is an accomplished playwright and Yaddo fellow. He lives in Brooklyn, NY.
LOST OBJECTS 2: INTRODUCTION | Geoff Manaugh on MOROCCAN TRINKET (ill. Mariana Pita) | Joe Yonan on MACRAMÉ ART (ill. Theo Ellsworth) | Laura Lippman on LABYRINTH GAME (ill. Laura Didyk) | Ben Katchor on LUCITE CARRYING CASE | Neil LaBute on PICKLED OCTOPUS (ill. Disa Wallander) | Miranda Mellis on SEQUINED SCARF (ill. Adam Goldberg) | Chris Piascik on GENERAL HUSTLER BMX | Jenny Kroik on MISSING TOY PIECES | Anita Kunz on FLOWER NECKLACE | Debbie Millman on GLASS POODLE | Heather Kapplow on CERAMIC ARTWORK (ill. Matt Wuerker) | Lydia Millet on ROCKY HORROR NOVEL (ill. Berta Valló) | Ben Greenman on WARHOL CAN (ill. Clara Selina Bach) | Leah Hennessey on BATMAN RING (ill. Dean Haspiel) | Kathryn Davis on PRAYER CARD (ill. Dina Noto) | Mikita Brottman on PINK ELEPHANTS (ill. Sarah Williamson) | Nathaniel Rich on AUTOGRAPHED BASEBALL (ill. Ellen Rose) | Charles Glaubitz on TRACK SHOES | Seth on ENTERPRISE MODEL | Becky Stern on SKELETON SWEATER (ill. Monica Garwood) | Mark Dery on GRANDFATHER PHOTO (ill. Kelli Anderson) | Paola Antonelli on VINYL SKIRT (ill. Guillermo Meraz) | Sara Ryan on FINGER PUPPET (ill. Steve Lieber) | Alex Gerasev on KARMA PARKA | Margaret Wertheim on ECCENTRIC BOOK (ill. Armando Veve).
FETISHES: INTRODUCTION | Josh Foer on DEATH MASK | Beth Lisick on MURDERED-OUT KFC BUCKET | Christina Couch on LEECH ACTION FIGURE | Kenneth Goldsmith on THEWLIS SOCK | Abby Rapoport on MAGNATILES | & 20 MORE.
FOSSILS: INTRODUCTION | Allegra Huston on SKATAWAY JACKET | Kevin Obsatz on HOMEMADE NUNCHUKS | Ian Bogost on DESKTOP TELEPHONE | Jeff Lewonczyk on CHA-CHA JACKET SCRAP | Kelly Horan on VOLVO KEY | & 20 MORE.
FLAIR: INTRODUCTION | Cliff Kuang on ROLEX DATEJUST | Ethan Zuckerman on LAPTOP STICKERS | Ann Shoket on LEATHER JACKET | Kembrew McLeod on KEMBREW MERCH | Paola Antonelli on MERMAID TEARS | & 20 MORE.
LOST OBJECTS (vol. 1): INTRODUCTION | Kate Bernheimer on MULLET WIG (ill. Amy Evans) | Dan Piepenbring on COLOGNE (ill. Josh Neufeld) | Doug Dorst on STRATOCASTER (ill. John Holbo) | Paul Lukas on VANILLA BEAN (ill. Allison Bamcat) | Mimi Lipson on DODGE DART (ill. Mister Reusch) | & 20 MORE.
ILLICIT OBJECTS: INTRODUCTION | Kio Stark on PEEPSHOW TOKEN | Sari Wilson on TOMBSTONE PARTS | Annalee Newitz on CAR-BOMB REMNANT | Tito Bottitta on MOONINITE DEVICE | Eric Bennett on DIRTY MAGAZINE | & 20 MORE.
TALISMANIC OBJECTS: INTRODUCTION | Veda Hille on CROCHET SHEEP | Gary Panter on DINOSAUR BONES | Jami Attenberg on SELENITE CRYSTAL | Annie Nocenti on MINIATURE DICE | Wayne Curtis on CLOCK WINDING KEY | & 20 MORE.
POLITICAL OBJECTS: INTRODUCTION | Luc Sante on CAMPAIGN PAMPHLETS | Lydia Millet on PVC POLAR BEAR | Ben Greenman on MATCHBOX CAR | Rob Baedeker on PRESIDENTS PLACEMAT | L.A. Kauffman on WHEATPASTE POSTER | & 20 MORE.
SIGNIFICANT OBJECTS at HILOBROW: PROJECT:OBJECT homepage | PROJECT:OBJECT newsletter | PROJECT:OBJECT objects (Threadless shop — all profits donated to the ACLU) | POLITICAL OBJECTS series (1Q2017) | TALISMANIC OBJECTS series (2Q2017) | ILLICIT OBJECTS series (3Q2017) | LOST OBJECTS vol. 1 series (4Q2017) | FLAIR series (2Q2018) | FOSSIL series (4Q2018) | FETISHES series (2Q2019) | LOST OBJECTS vol. 2 series (4Q2019) | MOVIE OBJECTS series (2Q2020). ALSO SEE: SIGNIFICANT OBJECTS website | SIGNIFICANT OBJECTS collection, ed. Rob Walker and Josh Glenn (Fantagraphics, 2012) | TAKING THINGS SERIOUSLY, ed. Josh Glenn (Princeton Architectural Press, 2007) | TAKING THINGS SERIOUSLY excerpts.