LOST OBJECTS (45)
By: Becky Stern
November 29, 2019
One in an ongoing series of nonfiction stories about lost objects. In 2017, Project:Object's Josh Glenn and Rob Walker asked 25 writers to tell us about a significant object they'd lost (or thrown away, or destroyed), then assigned these stories to 25 illustrators. The first Lost Objects series was such a hit with readers, and so fun for us to publish, that we've decided it deserves a sequel.
UPDATE: The Lost Objects book was published in September 2022 by Hat & Beard Press. Check it out!
*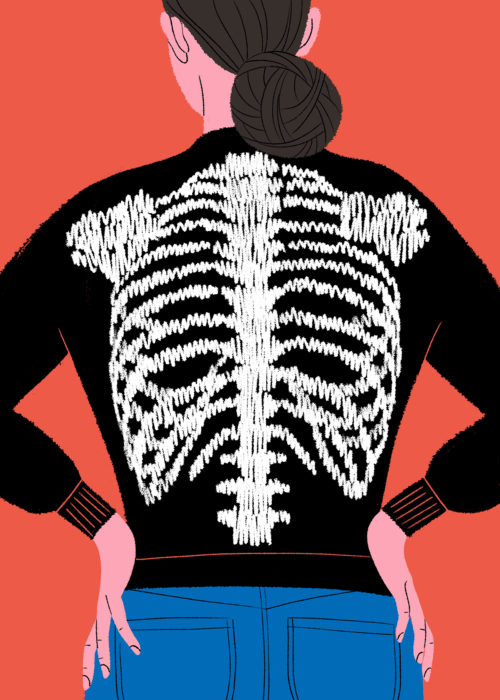 Hand-knitting an adult-sized sweater is a big achievement for any knitter. Making one that fits properly is the ultimate knitting win. I managed to accomplish this one time only, and with the addition of a complex custom two-color skeleton design, naturally I loved my handmade cardigan. I wrote up the pattern and posted it online with a tutorial — one of the first of hundreds I would create over the course of my career.
Shortly after finishing it, I brought the sweater, along with several other precious handmade projects, to Maker Faire to show them off. My luggage went missing on the way home⁠ — on a direct flight from SFO to PHX⁠ — and was never found. It felt like the previous creative year of my life had just vaporized. The business cards of all the contacts I had made during the event, the gifts I had purchased, and my original artwork that I had brought in the first place — all gone.
I made a claim with the airline for the lost bag, but they only take responsibility for clothes, tools, and toiletries, and you need to submit receipts for everything over a certain value. How could I possibly show the value of my handmade sweater? I phoned the alpha knitter in my life: my mom. She had a recent receipt for some expensive yarn, which I submitted with my claim. The reimbursement was some solace.
The lesson I learned from this experience is to never, ever check anything you're not willing to lose or able to replace. Ship stuff ahead with an insured carrier, or carry valuables on with you.
Making the skeleton cardigan piqued my interest in digital knitting machines, since it took over 80 painstakingly attentive hours to knit by hand. Surely a machine would be faster, and give a higher-resolution result. I later bought a computerized knitting machine, and became known online for having "hacked" it to knit out custom digital graphics made on modern software. I can draw a straight line between the desire to replace my lost sweater and the notoriety I gained later on regarding the knitting machine. My usual drive is fueled by curiosity and excitement, but this time I could also feel the palpable motivation to fill an empty space left by my missing sweater, since our time together came to a premature end.
I think about what happened to my suitcase — since it was green (not black), it wasn't likely in the luggage warehouse, but more likely stolen off the carousel in Phoenix, where I was living at the time. It's true the pickup curbs are right outside the luggage carousels at PHX, making bag-snatching a cinch. What did the thieves make of the bag contents? Six new blue blank notebooks, my embroidery samples, my hand-knit sweater, tools and camera accessories, and my recently-purchased Thingamagoop synth toy robot… did any of my things come to be significant to those who came across them next?
*
ABOUT THE AUTHOR: See sidebar.
ABOUT THE ARTIST: Monica Garwood is an illustrator, painter, and muralist based out of San Francisco.
LOST OBJECTS 2: INTRODUCTION | Geoff Manaugh on MOROCCAN TRINKET (ill. Mariana Pita) | Joe Yonan on MACRAMÉ ART (ill. Theo Ellsworth) | Laura Lippman on LABYRINTH GAME (ill. Laura Didyk) | Ben Katchor on LUCITE CARRYING CASE | Neil LaBute on PICKLED OCTOPUS (ill. Disa Wallander) | Miranda Mellis on SEQUINED SCARF (ill. Adam Goldberg) | Chris Piascik on GENERAL HUSTLER BMX | Jenny Kroik on MISSING TOY PIECES | Anita Kunz on FLOWER NECKLACE | Debbie Millman on GLASS POODLE | Heather Kapplow on CERAMIC ARTWORK (ill. Matt Wuerker) | Lydia Millet on ROCKY HORROR NOVEL (ill. Berta Valló) | Ben Greenman on WARHOL CAN (ill. Clara Selina Bach) | Leah Hennessey on BATMAN RING (ill. Dean Haspiel) | Kathryn Davis on PRAYER CARD (ill. Dina Noto) | Mikita Brottman on PINK ELEPHANTS (ill. Sarah Williamson) | Nathaniel Rich on AUTOGRAPHED BASEBALL (ill. Ellen Rose) | Charles Glaubitz on TRACK SHOES | Seth on ENTERPRISE MODEL | Becky Stern on SKELETON SWEATER (ill. Monica Garwood) | Mark Dery on GRANDFATHER PHOTO (ill. Kelli Anderson) | Paola Antonelli on VINYL SKIRT (ill. Guillermo Meraz) | Sara Ryan on FINGER PUPPET (ill. Steve Lieber) | Alex Gerasev on KARMA PARKA | Margaret Wertheim on ECCENTRIC BOOK (ill. Armando Veve).
FETISHES: INTRODUCTION | Josh Foer on DEATH MASK | Beth Lisick on MURDERED-OUT KFC BUCKET | Christina Couch on LEECH ACTION FIGURE | Kenneth Goldsmith on THEWLIS SOCK | Abby Rapoport on MAGNATILES | & 20 MORE.
FOSSILS: INTRODUCTION | Allegra Huston on SKATAWAY JACKET | Kevin Obsatz on HOMEMADE NUNCHUKS | Ian Bogost on DESKTOP TELEPHONE | Jeff Lewonczyk on CHA-CHA JACKET SCRAP | Kelly Horan on VOLVO KEY | & 20 MORE.
FLAIR: INTRODUCTION | Cliff Kuang on ROLEX DATEJUST | Ethan Zuckerman on LAPTOP STICKERS | Ann Shoket on LEATHER JACKET | Kembrew McLeod on KEMBREW MERCH | Paola Antonelli on MERMAID TEARS | & 20 MORE.
LOST OBJECTS (vol. 1): INTRODUCTION | Kate Bernheimer on MULLET WIG (ill. Amy Evans) | Dan Piepenbring on COLOGNE (ill. Josh Neufeld) | Doug Dorst on STRATOCASTER (ill. John Holbo) | Paul Lukas on VANILLA BEAN (ill. Allison Bamcat) | Mimi Lipson on DODGE DART (ill. Mister Reusch) | & 20 MORE.
ILLICIT OBJECTS: INTRODUCTION | Kio Stark on PEEPSHOW TOKEN | Sari Wilson on TOMBSTONE PARTS | Annalee Newitz on CAR-BOMB REMNANT | Tito Bottitta on MOONINITE DEVICE | Eric Bennett on DIRTY MAGAZINE | & 20 MORE.
TALISMANIC OBJECTS: INTRODUCTION | Veda Hille on CROCHET SHEEP | Gary Panter on DINOSAUR BONES | Jami Attenberg on SELENITE CRYSTAL | Annie Nocenti on MINIATURE DICE | Wayne Curtis on CLOCK WINDING KEY | & 20 MORE.
POLITICAL OBJECTS: INTRODUCTION | Luc Sante on CAMPAIGN PAMPHLETS | Lydia Millet on PVC POLAR BEAR | Ben Greenman on MATCHBOX CAR | Rob Baedeker on PRESIDENTS PLACEMAT | L.A. Kauffman on WHEATPASTE POSTER | & 20 MORE.
SIGNIFICANT OBJECTS at HILOBROW: PROJECT:OBJECT homepage | PROJECT:OBJECT newsletter | PROJECT:OBJECT objects (Threadless shop — all profits donated to the ACLU) | POLITICAL OBJECTS series (1Q2017) | TALISMANIC OBJECTS series (2Q2017) | ILLICIT OBJECTS series (3Q2017) | LOST OBJECTS vol. 1 series (4Q2017) | FLAIR series (2Q2018) | FOSSIL series (4Q2018) | FETISHES series (2Q2019) | LOST OBJECTS vol. 2 series (4Q2019) | MOVIE OBJECTS series (2Q2020). ALSO SEE: SIGNIFICANT OBJECTS website | SIGNIFICANT OBJECTS collection, ed. Rob Walker and Josh Glenn (Fantagraphics, 2012) | TAKING THINGS SERIOUSLY, ed. Josh Glenn (Princeton Architectural Press, 2007) | TAKING THINGS SERIOUSLY excerpts.