The Machine Stops (6)
By: E.M. Forster
August 20, 2015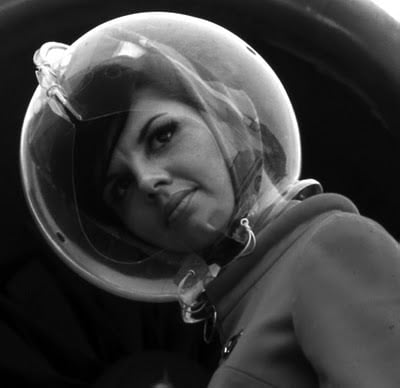 HiLoBooks is pleased to serialize E.M. Forster's 1909 novella The Machine Stops. Published between the author's much more famous works A Room With A View and Howards End, science fiction scholars remind us that The Machine Stops predicted the Internet and instant messaging… as well as a WALL-E-type dystopia.
ALL INSTALLMENTS SO FAR
***
CHAPTER II: THE MENDING APPARATUS
"Then a train passed. It brushed by me, but I thrust my head and arms into the hole. I had done enough for one day, so I crawled back to the platform, went down in the lift, and summoned my bed. Ah, what dreams! And again I called you, and again you refused."
She shook her head and said: "Don't. Don't talk of these terrible things. You make me miserable. You are throwing civilization away."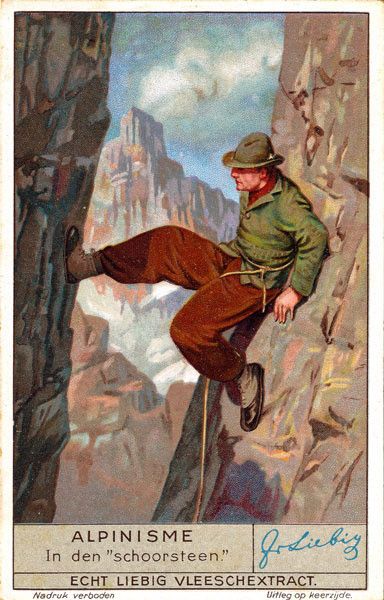 "But I had got back the sense of space, and a man cannot rest then. I determined to get in at the hole and climb the shaft. And so I exercised my arms. Day after day I went through ridiculous movements, until my flesh ached, and I could hang by my hands and hold the pillow of my bed outstretched for many minutes. Then I summoned a respirator, and started.
"It was easy at first. The mortar had somehow rotted, and I soon pushed some more tiles in, and clambered after them into the darkness, and the spirits of the dead comforted me. I don't know what I mean by that. I just say what I felt. I felt, for the first time, that a protest had been lodged against corruption, and that even as the dead were comforting me, so I was comforting the unborn. I felt that humanity existed, and that it existed without clothes. How can I possibly explain this? It was naked, humanity seemed naked, and all these tubes and buttons and machineries neither came into the world with us, nor will they follow us out, nor do they matter supremely while we are here. Had I been strong, I would have torn off every garment I had, and gone out into the outer air unswaddled. But this is not for me, nor perhaps for my generation. I climbed with my respirator and my hygienic clothes and my dietetic tabloids! Better thus than not at all.
"There was a ladder, made of some primæval metal. The light from the railway fell upon its lowest rungs, and I saw that it led straight upwards out of the rubble at the bottom of the shaft. Perhaps our ancestors ran up and down it a dozen times daily, in their building. As I climbed, the rough edges cut through my gloves so that my hands bled. The light helped me for a little, and then came darkness and, worse still, silence which pierced my ears like a sword. The Machine hums! Did you know that? Its hum penetrates our blood, and may even guide our thoughts. Who knows! I was getting beyond its power. Then I thought: "This silence means that I am doing wrong." But I heard voices in the silence, and again they strengthened me." He laughed. "I had need of them. The next moment I cracked my head against something."
She sighed.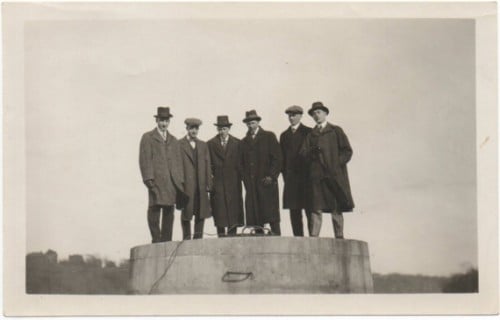 "I had reached one of those pneumatic stoppers that defend us from the outer air. You may have noticed them on the air-ship. Pitch dark, my feet on the rungs of an invisible ladder, my hands cut; I cannot explain how I lived through this part, but the voices still comforted me, and I felt for fastenings. The stopper, I suppose, was about eight feet across. I passed my hand over it as far as I could reach. It was perfectly smooth. I felt it almost to the centre. Not quite to the centre, for my arm was too short. Then the voice said: "Jump. It is worth it. There may be a handle in the centre, and you may catch hold of it and so come to us your own way. And if there is no handle, so that you may fall and are dashed to pieces — it is still worth it: you will still come to us your own way." So I jumped. There was a handle, and —"
He paused. Tears gathered in his mother's eyes. She knew that he was fated. If he did not die today he would die tomorrow. There was not room for such a person in the world. And with her pity disgust mingled. She was ashamed at having borne such a son, she who had always been so respectable and so full of ideas. Was he really the little boy to whom she had taught the use of his stops and buttons, and to whom she had given his first lessons in the Book? The very hair that disfigured his lip showed that he was reverting to some savage type. On atavism the Machine can have no mercy.
"There was a handle, and I did catch it. I hung tranced over the darkness and heard the hum of these workings as the last whisper in a dying dream. All the things I had cared about and all the people I had spoken to through tubes appeared infinitely little. Meanwhile the handle revolved. My weight had set something in motion and I spun slowly, and then —
"I cannot describe it. I was lying with my face to the sunshine. Blood poured from my nose and ears and I heard a tremendous roaring. The stopper, with me clinging to it, had simply been blown out of the earth, and the air that we make down here was escaping through the vent into the air above. It burst up like a fountain. I crawled back to it — for the upper air hurts — and, as it were, I took great sips from the edge. My respirator had flown goodness knows where, my clothes were torn. I just lay with my lips close to the hole, and I sipped until the bleeding stopped. You can imagine nothing so curious. This hollow in the grass — I will speak of it in a minute, — the sun shining into it, not brilliantly but through marbled clouds, — the peace, the nonchalance, the sense of space, and, brushing my cheek, the roaring fountain of our artificial air! Soon I spied my respirator, bobbing up and down in the current high above my head, and higher still were many air-ships. But no one ever looks out of air-ships, and in any case they could not have picked me up. There I was, stranded. The sun shone a little way down the shaft, and revealed the topmost rung of the ladder, but it was hopeless trying to reach it. I should either have been tossed up again by the escape, or else have fallen in, and died. I could only lie on the grass, sipping and sipping, and from time to time glancing around me.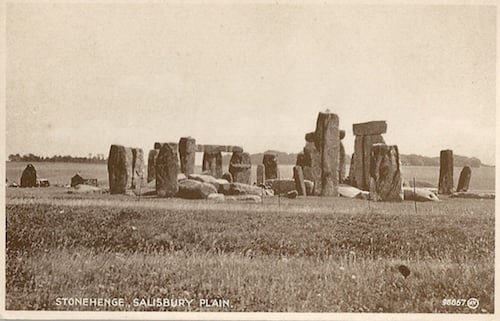 "I knew that I was in Wessex, for I had taken care to go to a lecture on the subject before starting. Wessex lies above the room in which we are talking now. It was once an important state. Its kings held all the southern coast form the Andredswald to Cornwall, while the Wansdyke protected them on the north, running over the high ground. The lecturer was only concerned with the rise of Wessex, so I do not know how long it remained an international power, nor would the knowledge have assisted me. To tell the truth I could do nothing but laugh, during this part. There was I, with a pneumatic stopper by my side and a respirator bobbing over my head, imprisoned, all three of us, in a grass-grown hollow that was edged with fern."
Then he grew grave again.
NEXT INSTALLMENT | ALL INSTALLMENTS SO FAR
***
RADIUM AGE SCIENCE FICTION: "Radium Age" is HILOBROW's name for the 1904–33 era, which saw the discovery of radioactivity, the revelation that matter itself is constantly in movement — a fitting metaphor for the first decades of the 20th century, during which old scientific, religious, political, and social certainties were shattered. This era also saw the publication of genre-shattering writing by Edgar Rice Burroughs, Sax Rohmer, E.E. "Doc" Smith, Jack London, Arthur Conan Doyle, Aldous Huxley, Olaf Stapledon, Karel Čapek, H.P. Lovecraft, Charlotte Perkins Gilman, Yevgeny Zamyatin, Philip Gordon Wylie, and other pioneers of post-Verne/Wells, pre-Golden Age "science fiction." More info here.
READ GORGEOUS PAPERBACKS: HiLoBooks has reissued the following 10 obscure but amazing Radium Age science fiction novels in beautiful print editions: Jack London's The Scarlet Plague, Rudyard Kipling's With the Night Mail (and "As Easy as A.B.C."), Arthur Conan Doyle's The Poison Belt, H. Rider Haggard's When the World Shook, Edward Shanks' The People of the Ruins, William Hope Hodgson's The Night Land, J.D. Beresford's Goslings, E.V. Odle's The Clockwork Man, Cicely Hamilton's Theodore Savage, and Muriel Jaeger's The Man with Six Senses. For more information, visit the HiLoBooks homepage.
SERIALIZED BY HILOBOOKS: Jack London's The Scarlet Plague | Rudyard Kipling's With the Night Mail (and "As Easy as A.B.C.") | Arthur Conan Doyle's The Poison Belt | H. Rider Haggard's When the World Shook | Edward Shanks' The People of the Ruins | William Hope Hodgson's The Night Land | J.D. Beresford's Goslings | E.V. Odle's The Clockwork Man | Cicely Hamilton's Theodore Savage | Muriel Jaeger's The Man With Six Senses | Jack London's "The Red One" | Philip Francis Nowlan's Armageddon 2419 A.D. | Homer Eon Flint's The Devolutionist | W.E.B. DuBois's "The Comet" | Edgar Rice Burroughs's The Moon Men | Charlotte Perkins Gilman's Herland | Sax Rohmer's "The Zayat Kiss" | Eimar O'Duffy's King Goshawk and the Birds | Frances Hodgson Burnett's The Lost Prince | Morley Roberts's The Fugitives | Helen MacInnes's The Unconquerable | Geoffrey Household's Watcher in the Shadows | William Haggard's The High Wire | Hammond Innes's Air Bridge | James Branch Cabell's Jurgen | John Buchan's "No Man's Land" | John Russell's "The Fourth Man" | E.M. Forster's "The Machine Stops" | John Buchan's Huntingtower | Arthur Conan Doyle's When the World Screamed | Victor Bridges' A Rogue By Compulsion | Jack London's The Iron Heel | H. De Vere Stacpoole's The Man Who Lost Himself | P.G. Wodehouse's Leave It to Psmith | Richard Connell's "The Most Dangerous Game" | Houdini and Lovecraft's "Imprisoned with the Pharaohs" | Arthur Conan Doyle's "The Sussex Vampire."
ORIGINAL FICTION: HILOBROW has serialized three novels: James Parker's The Ballad of Cocky The Fox ("a proof-of-concept that serialization can work on the Internet" — The Atlantic); Karinne Keithley Syers's Linda Linda Linda (which includes original music); and Robert Waldron's roman à clef The School on the Fens. We also publish original stories and comics. These include: Matthew Battles's stories "Gita Nova", "Makes the Man," "Imago," "Camera Lucida," "A Simple Message", "Children of the Volcano", "The Gnomon", "Billable Memories", "For Provisional Description of Superficial Features", "The Dogs in the Trees", "The Sovereignties of Invention", and "Survivor: The Island of Dr. Moreau"; several of these later appeared in the collection The Sovereignties of Invention | Peggy Nelson's "Mood Indigo", "Top Kill Fail", and "Mercerism" | Annalee Newitz's "The Great Oxygen Race" | Flourish Klink's Star Trek fanfic "Conference Comms" | Charlie Mitchell's "A Fantasy Land" | Charlie Mitchell's "Sentinels" | Joshua Glenn's "The Lawless One", and the mashup story "Zarathustra vs. Swamp Thing" | Adam McGovern and Paolo Leandri's Idoru Jones comics | John Holbo's "Sugarplum Squeampunk" | "Another Corporate Death" (1) and "Another Corporate Death" (2) by Mike Fleisch | Kathryn Kuitenbrouwer and Frank Fiorentino's graphic novel "The Song of Otto" (excerpt) | John Holbo's graphic novel On Beyond Zarathustra (excerpt) | "Manoj" and "Josh" by Vijay Balakrishnan | "Verge" by Chris Rossi, and his audio novel Low Priority Hero | EPIC WINS: THE ILIAD (1.408-415) by Flourish Klink | EPIC WINS: THE KALEVALA (3.1-278) by James Parker | EPIC WINS: THE ARGONAUTICA (2.815-834) by Joshua Glenn | EPIC WINS: THE MYTH OF THE ELK by Matthew Battles | TROUBLED SUPERHUMAN CONTEST: Charles Pappas, "The Law" | CATASTROPHE CONTEST: Timothy Raymond, "Hem and the Flood" | TELEPATHY CONTEST: Rachel Ellis Adams, "Fatima, Can You Hear Me?" | OIL SPILL CONTEST: A.E. Smith, "Sound Thinking | LITTLE NEMO CAPTION CONTEST: Joe Lyons, "Necronomicon" | SPOOKY-KOOKY CONTEST: Tucker Cummings, "Well Marbled" | INVENT-A-HERO CONTEST: TG Gibbon, "The Firefly" | FANFICTION CONTEST: Lyette Mercier's "Sex and the Single Superhero"