Spooky-Kooky Micro-Fiction Contest
By: Patrick Cates
March 1, 2011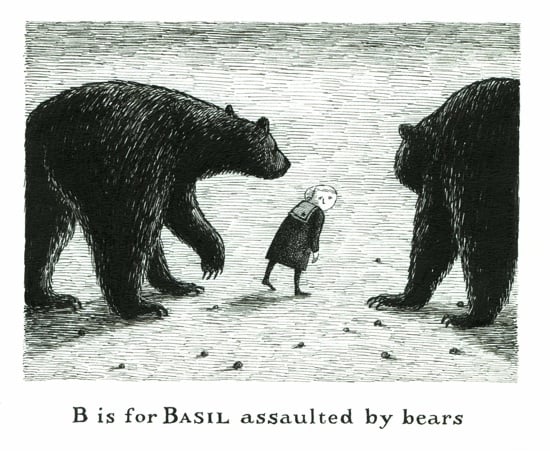 HILOBROW is pleased to announce our sixth micro-fiction contest. The contest is sponsored by our friends at the World Book Market, a co-operative formed by quality booksellers around the world.

THE CHALLENGE: Sebastian Smee captures what we mean by "spooky-kooky" when he writes:
"[Edward] Gorey's 1977 book, The Loathsome Couple, included a drawing with the caption: 'That year Mona Gritch was born to a pair of drunkards.' … The scene itself is egregiously dismal … cast-iron bed, sex gone wrong, deep-set funk. The baby's mother is sprawled on the bed, the father is flopped at its foot, and the poor, dear, bare-bottomed brat has fallen on the floor…. And yet we laugh. We laugh and laugh. It's wonderfully funny."
Readers, we challenge you to write a short-short story that's egregiously dismal, spooky, perhaps scary, yet also funny.
THE JUDGES: HiLobrow coeditor Matthew Battles, Pazzo Books proprietor Tom Nealon (Tom is a HiLobrow contributor; Pazzo is a charter member of the World Book Market), and HILOBROW's Magister Ludi (Master of Games) Patrick Cates.
THE PRIZES: First prize is a first-edition hardcover copy of Edward Gorey's collection, Amphigorey Too [pictured below]. First runner-up prize is a discount of 50% (maximum discount: $35) for a purchase from any World Book Market member, PLUS a Gorey coloring book. Second runner-up prize is a discount of 50% (maximum discount: $25) for a purchase from any World Book Market member PLUS a Gorey bookmark assortment. NOTE: These discounts will expire at the end of May 2011.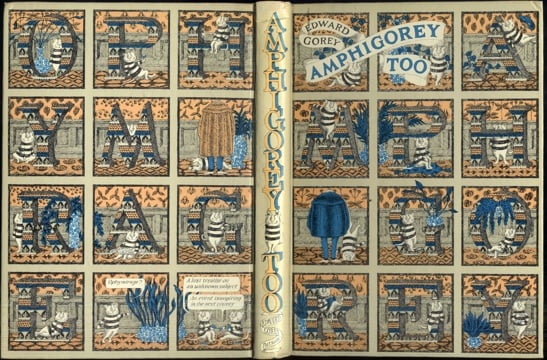 DEADLINE, GUIDELINES: Email a spooky-kooky story of NO MORE THAN 500 WORDS to microfiction@hilobrow.com. The deadline for submissions is 9pm EST on Sunday, March 20.
THE DEAL: The winning entry in the contest, and also the two runners-up, will be published here at HILOBROW. Though work published on this site that was created by HILOBROW is licensed under a Creative Commons Attribution-NonCommercial-ShareAlike 3.0 License, original work (i.e., by the winners of this contest) published on HILOBROW is protected by copyright under the copyright laws of the United States and other countries. HiLobrow's contributors (listed by name in the post's author field) control the copyright to their work. See our Policies Page for more info.
RSS: Follow contest updates by subscribing to hilobrow.com/tag/contest/feed/
PAST CONTEST WINNERS! 1. TROUBLED SUPERHUMAN: Charles Pappas, "The Law" | 2. CATASTROPHE: Timothy Raymond, "Hem and the Flood" | 3. TELEPATHY: Rachel Ellis Adams, "Fatima, Can You Hear Me?" | 4. OIL SPILL: A.E. Smith, "Sound Thinking | 5. LITTLE NEMO CAPTION: Joe Lyons, "Necronomicon"